Back in the Caribbean

Karma Daze
Chris and Penny Manley
Wed 27 Mar 2013 16:43
We have escaped the cold weather in the UK and are now back in Grenada. The weather here is hot and windy. We arrived last Wednesday (20th) and had a wind generator in our hold luggage. We decided we should declare it to customs and we were charged duty at 5% as we did not have the correct form. If we had, the duty would have been 2.5%
On Friday we took the boat to Spice Island marina to have the stainless steel work done for the Wind generator to be attached to; then back to Port Louis for the installation to be completed.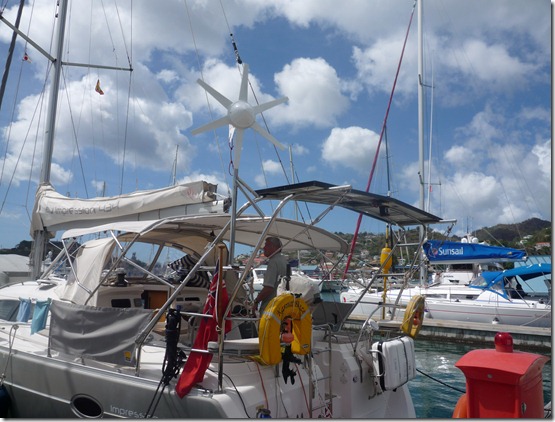 Wind Generator plus the Captain in the background.
We have also had to replace the main halyard as it was beginning to chafe and wear where it goes through the top of the mast when the full sail is up. As we have never done this before we got some help and everything went very smoothly.
We just need to do some further shopping then we will leave tomorrow to head back up to St Lucia to meet up with Ian and Gerry on "Spray" and have some sailing in company.
---