Back in St Lucia

Karma Daze
Chris and Penny Manley
Thu 11 Apr 2013 19:26
"14:04N 060:57N
Back in Rodney Bay, St Lucia after spending the last couple of weeks sailing up the chain of islands between here and Grenada. We checked out of Grenada in Port Louis and had a good sail up the east coast of Grenada, spent the night in Tyrell bay on Carriacou, and then sailed into Clifton on Union Island to check into St Vincent and the Grenadines. Checking in has to be done at the airport and involves filling in a form (in triplicate) which is checked by one customs official, then a further wait to see the next customs official who works out how much we owe for cruising permits etc. As this was Good Friday we also had to pay overtime! After this we had to go to immigration to get our passports stamped and part with more money (? more overtime).
We spent 2 nights in Clifton on a buoy. At 10 pm we were hailed by an incoming catamaran who announced we were on his buoy and he had told the boat boys not to use his buoy. As he ranted for a while it gave us time to get the boat prepared for moving and finding an anchoring space. This we did and the captain came across and apologised and helped us pick up another buoy. He said he would get our money back that we'd paid for the buoy the following day, but we left at 9 the next day so we will never know if he was successful.
After Clifton we sailed to Mustique which was a bit of a slog into the wind, and picked up a buoy in the bay. We spent 3 days just relaxing and then headed of to Admiralty bay on Bequia.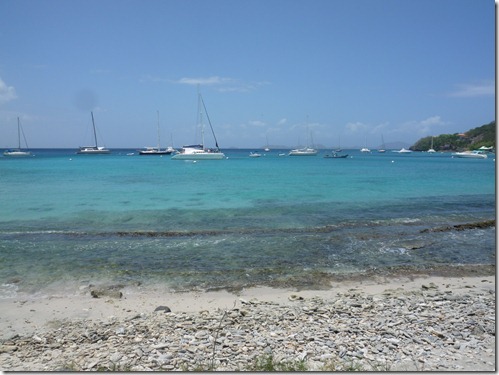 The anchorage in Mustique
Enjoying a light refreshment in Bequia.
After we had checked out of Bequia (only one customs man here!) we had a longish sail – 60 miles – to Marigot bay on St Lucia. Bit rough crossing between Bequia and St Vincent but a nice sail after that. We picked up a buoy just outside the lagoon and checked in with customs and immigration. Immigration seemed to be having a 2 day strike so we had to return the following day to get our passports stamped.
In Marigot we had one of the best meals of the trip so far in the Rainforest Hideaway – as recommended by Liz and Stuart on Finnrose. We would certainly eat their again next time we're in Marigot.
We spent 3 nights there and then sailed the 10 miles up to Rodney bay, spent the night anchored in the bay and the came into the marina yesterday (Wednesday 10th April) to meet up with Gerry and Ian on Spray. Tomorrow we set off for Martinique and then on up the islands to Antigua.
---