Last few days with friends

Regina
Espen Aalstad
Sun 4 May 2008 20:05
18:26.51N 64:45.62 W Sandcastel Bay
Our last few days in the Caribbean and on BIV we have spent with Jigsaw.
A wonderful way to also find some closure both for adults and children of our year on the seas. We share memories and reflections: we are all intrigued by how relationships and roles on board have unfolded. Maybe Mary writes a book. We explore, including a few last Happy Hours, and become creative as we finish our supplies. Our most enjoyable dinner in a long time is a Pot Luck on Regina with what little is left on our boats:)
The children have enjoyed sailing on each others boats and lot's of playtime. Their role plays are all about the experiences they have had like storms, sharks and lizards. They have been given a school break as reward for their great work over the year, but continue with exploring.
At Marina Cay they set new records for collecting hermit crabs. Einar joins the pirate show at Pusser's Rums own Pirate Bar.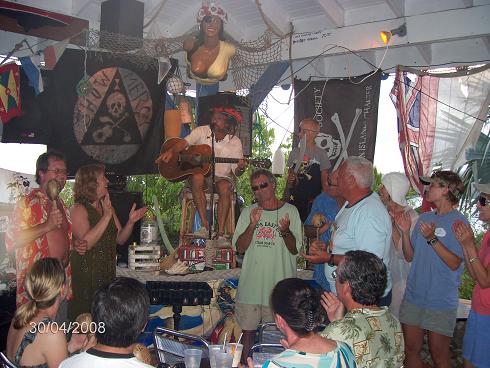 The NE swell is back and the only advantage is a much more fun Bobbly Pool. A refreshing and exhilirating natural jacuzzi!
Is this one big....................................?
YES!
WOW!
Magnus has been waiting long for his birthday: not liking to be last in the family. Extra fun to have Molly and Kate around when it finally is the big day.
HAPPY BIRTHDAY MAGNUS!
Jigsaw has a few days more before their cargo ship comes to take their boat back to England.
We will meet again with wind in our sails somewhere!
---