Out of the water

Regina
Espen Aalstad
Fri 4 Apr 2008 21:23
Phillipsburg 18:00.4N 63:03.3W

Regina has been slowly 'growing', especially as we lately go slow. She has not been out of the water since she was new in May last year, but has kept surprisingly well.
We are immediately pleased with the place we have chosen for haul out. Small Bobby's Marina seems to welcome more normal boats like us: you don't have to be a superyacht to get great service. Friendly staff and efficient lifting.

The boys have been waiting for this and is not disappointed. They have not seen this before! We are all a little nervous as she comes out.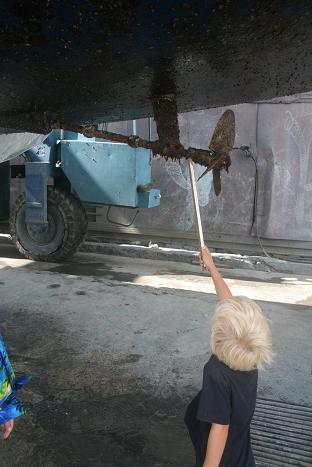 Cleaning, scraping and painting here was hot work.....for the boys.
Living on board was a challenge in itself, but everybody adjusted quickly: climbing 3 meter ladder, no water nor toilet, and far down! High wind of 37 knots was not fun while up on 4 legs....shaking in the rig. Eating outside means holding onto your salad even!

Kristoffer managed a last dive before leaving.....and before another round of swell stopped the diving for a few days.
Swimming through a wreck was the highlight, but 'as usual' close encounters with turtles and stingrays.
But there is always work to do on Regina: she is soon going up for sale. She also got thorough cleaning after a messy yard and days at sea: we sweat it out.
In between school, we also finally get a hair cut done!
Phillipsburg is also quite a place for cruiseship passenger watching: up to 4 ships a day here. Phillipsburg lives on them and as a tax free port is crowded with jewellery stores and tourist shops. By late afternoon everything shuts down as the ships leave.
The long boardwalk is then a heaven for our young crew with their tri-cycles. Even more fun is finding new friends among the local boys.
Back in the water, the wind is still howling. We are 'stuck' until new large swell comes down for our next long passage to British Virgin Island.

---