ARC - across the finish line to the Caribbean!

Regina
Espen Aalstad
Sun 16 Dec 2007 14:41
Fortunately, the last few days was also the best sailing we had! Almost 600 nm in three days of the some 2700nm we did in total!
It certainly helped with the impatience slowly spreading on board. Our last night we saw a few boats finally and passed them...., but land fall was harder to spot in the grey low pressure we could see ahead. Finally St. Lucia....
We avoided the rain, and did 16.6kn in one of last surfs before Pigeon Island and first contact with the ARC control. Suddenly we were razing two other boats to the finish!
The adrenaline flew, we trimmed sails and felt like we were in a race.....! Boat Lily (from last night) managed to get just ahead having gybed overnight whereas we did not want to deal with our spinnaker boom in the dark. But we made it ahead of the big one behind and managed to get our flags up to look good at the finish line!
Finish line straight ahead and we can enjoy a smile!
An efficient ARC berthing, and we were welcomed by St.Lucia with fresh fruit and rum punch...in a humid tropical rain.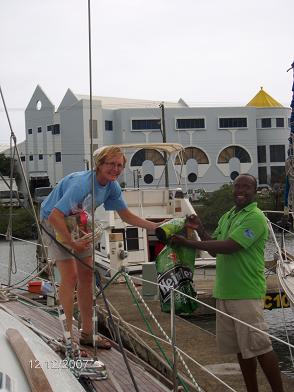 For the first few hours we found we could get very used to 'hanging loose' caribbean style.
---