Who says vacation?

Regina
Espen Aalstad
Sun 24 Feb 2008 12:24
16:18.4N 61:47.79W Deshaies, Guadeloupe
A good friend who follows this blog told me it appears we are on one long swim and sun vacation....fortunately this year out is so much more of a personal and family learning experience. Yet, looking back at our blog this could perhaps become the perception.
But who wants to write a blog about our now daily routines on board:
About school which Einar most days wants to skip or tells us 'this is not the way it is done at La Chat' with tears not far away.
About stuffy marinas and sweaty hours provisioning or running around looking for other things we (the boat) needs.
About difficult rolly dinghy docks where getting ashore must be planned to get fresh food. Do not forget cleaning all vegetables as soon as they are on board to avoid coakroaches.
About windy passages in Atlantic waves where Magnus wonders 'why we went on this trip, really? and we play Kjersti's CD for the 100th time with ' fotball er supert!'
About rolly anchorages where the wind comes hauling down the island sides and the captain sleeps light.
About lifting out the dinghy and the engine every time we make a passage....another sweathy balancing act.
About changing the same reefline for the third time or repairng the lazy jacks for the.. (lost counting).
About crawling around to clean the boat for sand and lego or keeping our 20 square meters tidy to things stay in place when we roll in the waves.
About washing deck & cocpit for salt and polishing stainles steel.
About trying to figure out what a French weather forecast really means (was it beaufort or knots?).
About adjusting our hygine habits to safe water or thinking 'battery' when we turn on a switch..
About closing the hatches 10 times a day when the next tropical shower hits
OR about still not wanting to swap with our life back 'home'.
And just for the record, we have not been on a beach trip since Tobago Cays four weeks ago!
This last week has been busy without the stress of the office:)
Our trip up to Poit a Pitre on Guadeloupe's east side to get our oven glass was a long and windy detour.
After three days in the marina shopping and fixing we could not wait to get out on the water and get air! We did enjoy a big aquarium as a nice school outing and a pleasant adult evening in Maggie. Unfortunately with east trades in the high 20s and frequent rain, the small Ile de Gosier was the furthest we made it on this coast. It was anyway the filthiest island we have seen, including tags on the lighthouse. Sad. To head north again, we had to first come down G's south tip or a long 40 nautical miles around the Basse Terre. A rolly wet passage.
The high fever and throat ache moved to Magnus, who has slept a lot yet is now back strong...he even got to see our latest catch!
Now we know our mid Atlantic Blue Marlin would have been a lot of work, Ole and Kjell! This one we can not dry out....for the smell!
Our last French stop in this small fishing village of Deshaies has been a better end to the week.
Usually this bay acts as a wind scoop with gusts, but we have calm waters and the sun is back. More turtles here than in Tobago Cays.
This week in short: now we can bake again....... spiderman muffins.....and a no longer sick spiderman!
and yes...we don't write on the blog about kids living a cruising life in their underwear...
A morning trip up to the Botanical Garden was the most popular in a long time. Maybe then more fun for Einar to write his journal Monday morning.
Bogainvillas and orchides everywhere.... the strange Talipod palm who feeds a bay palm in front for when it dies.
Up close with the parrotts we may only have heard on our rain forest trips....they knew we had food.....
We are lucky our big sister loves animals!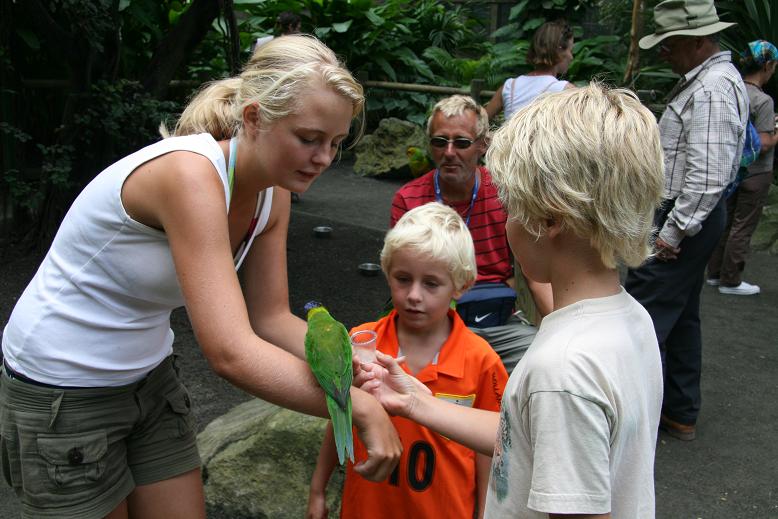 .....a little more tricky than expected with hungry birds
---