Carnival in Martinique

Regina
Espen Aalstad
Fri 8 Feb 2008 01:57
14:45N 61:04 W Fort de France
We did not make it to Trinidad for the lively carnival, but got a real feel for this important tradition also in Martinique.
Kristoffer has just crewed on and he certainly quickly felt Carnival fever and Caribbean heat. Quite unlike engineering school in Trondheim!
Almost everybody seems to participate in some way & dress up - whether in the parade or just watching.
Einar and Magnus thought this was at least as good as 17.mai!
We couold even anchor next to the parade: Regina in the back.
The theme is different every day preparing for finally the death of King Carnival by fire. We had left by then as we felt we had lived also loud music, ques, and traffic jams. It requires quite a stamina to enjoy this to the fullest as the parties runs also for weeks ahead of the Mardi Gras.
Tuesday was the 'Red Devil Parade' .
Dressing burlesque is also a part on the Carnival Extravagant og utrert). More fantastic was the more trandtional SUN: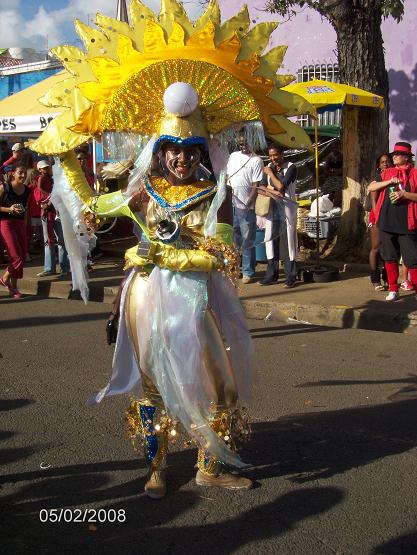 Unfortunately, carnival means also stores close for days so we have left the island without getting to some of the stores we really needed to. Crew was looking forward to a few things which now will have to wait for Guadeloupe. First we see Dominica, a real contrast to developed Martinuque.
---