Lanzarote - vulcanos and resting

Regina
Espen Aalstad
Fri 2 Nov 2007 22:01
28:51.45N 13:48.87
Oct 29: A relaxed late afternoon sail along Lanzarote's east coast: cool 15 degrees in 20 knot winds with the NE surf dying down half way to the south coast. The sea is turquise like and we could see the sandy bottom at 7 meters as we got closer to shore in the dark.
The volcanic nature of Lanzarote and its planned design of white villages is visible also from ashore.
Once the sun set, the more touristy coast on the south was more obvious with glittering lights ahsore and above: we passed right under planes arriving with visitors every few minutes. Spectacular with just us and the planes right over the mast top in the dark. Wow, said Magnus!

No wonder Marina Rubicon is one of the best in the Canaries. We arrived in the dark through a narrow breakwater passage and having called ahead we were met with keys and even wifi code. We are long overdue on internet. Right off the reception pontoon a sailors bar made the best Irish coffee for cold sailors. Barkeeper Jose called the airline and as gold member managed to get Elin a flight from Gran Canaria. We can then explore more of Lanzarote instead of rushing to Las Palmas.
The marina alone is a tempting break for a few days well designed around a basin and with lot's to do. Bungy jumb and mini golf for small mates will be a welcome change. I am do for the sweaty laundry runs! We need this kind of marina also after the busy fishing ports of Morocco.
The marina is also filling up with other ARC boats: kids are making friends and we are comparing notes so far and for the trip ahead.
Oct 31st: Elin is back from her Geneva trip and her young brothers are so happy! Big thanks to friends in Geneva hosting her and especially to you Ray and Christine! We are proud of her traveling alone and managing unexpected flights and airports!

Ünexpextedly, we have met up with friends of Espen from Lier and his younger days. Hilde is living on Lanzarote with her Spanish husband Blas and working as a nurse at a Norwegian clinic. Her friend Ingrid is here as "sleeping nurse" for two weeks (includes vacation as a deal). She is a teenage sweetheart of Espen so fun to finally meet her! We had a lovely dinner at Hilde's house in Tias and enjoyed stories from the past. Fun with dogs and TV as well!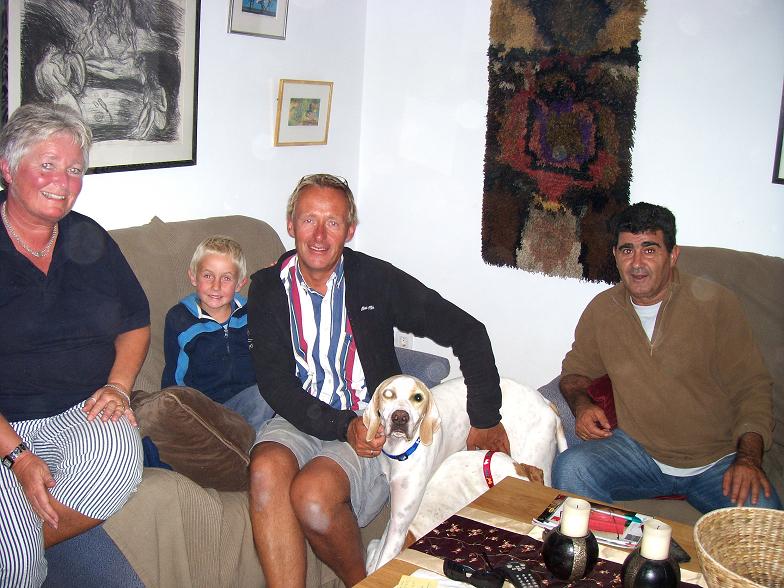 Nov 1st: An exploration day across the island in a rental car on this lovely island.
Volcanic close up at Montanas del Fuego (Fire Mountain). 10 cm under us it was 140 degrees warm and chicken fry over an open hole. We collected volcanic rocks and could only imagine the real thing.
On the Eastern coast, we climbed the Jameos del Agua caves and could imagine the underwater Atlantic tunnel: We would love to come back for the concerts that are held in the big cave. Small blind white crabs was most interesting for the boys...
On the Western coast we admired surfers in the Atlantic and felt the more desert like landscape and fishing villages.
---