ARC - cruising life across Atlantic

Regina
Espen Aalstad
Sun 16 Dec 2007 13:32
After an exciting start, we are really underway!
We find our (own) ways and routine as a crew rather quickly and the spirit is good. Maybe also helped by the weather for the first week being rather easy - though with too little wind.
It becomes obvious that those taking the Northern route is going faster. Oh well, we are out to enjoy.
Regular watches becomes route - and a time for privacy also. With music it is even more enjoyable for some of us, but as Ole say you will not hear the whale!
On my first morning, a rescue ship comes by to say hello.
Elin adjusts to the new life with ease, as expected. A chocolate calendar surprise on Dec 1 is popular and so is our first (and only) Atlantic swim. She does also watches.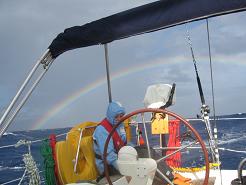 We spent a lot of time looking for natural life, and it was a big event every time (which was fewer than expected). A few whales mid way and then finally dolphins as we got closer to Caribeean. They enjoy wave jumping in the bow or on the surfs. This one was part of St. Lucia welcoming team!
Other boats was also an excitement every time, especially as we quickly lost sight of anybody and spent days without seeing anybody. We left the once we saw behind and only this catamaran passed us. The French guys wanted to get some wine and stop by for coffeee, but we all agreed the waves was not good for rendez-vous. Maybe in St. Baarths.
They were doing amazing 14 kn. and would make it in 10 days there. We still knew by VHF, that there were other ARC boats out there and frequently talked to many - especially when the weather got bad it was reassuring to check in on each other like Persuader Too. Once in St. Lucia, we have enjoyed meeting up with them and comparing notes.
After 10 days, we had first real rain - still with a laugh. We had not yet felt a squall nor did we know these thunderstorms would last for days and have winds up to 50knots.
Just after we were part of a Mayday situation with the boat Spam and helped Navillus with communication to ARC control and MRCC Falmouth. All three people were safe, but the Spam was lost.
But we came through with no damage fortunately: around us we knew booms had broken, sails were split and also a tragic and severe medical emergency.
We are certainly more humble for the forces of the Atlantic today - and its beauty....
---