Day 19

Moonshiner
Mon 3 Apr 2023 18:31
18 52.8N 53 21.2W
COG 275 Speed 8kts
TWA 180 TWS 21

FISH ON! At last we have caught a big fish…and what a whopa! A big Mahi Mahi early this morning, followed by another small fish. Had a delicious lunch of fresh bread and fish bible style.
As we head further west, the time of sunrise and sunset rapidly changes so we've turned our clocks back an hour as we passed 50degrees west.
We've had 2 days of force 6 directly behind us. We've been running on the spinnaker alone making 160nm/day. There's a big swell running and we've frequently been overpowered running off a wave (hitting 13kts) so have just opted for poled out Yankee and spare foresail on the separate forestay, feels much more balanced.
Sleeping has been a real challenge with the rolling motion, nobody slept at all last night, the spinnaker pole regularly getting dunked as we roll over.
We've just passed 500nm to go, everyone is in good spirits, the fish was a real boost!
Hand steering has been challenging overnight, everyone is starting to fatigue a little, but it feels like proper sailing and we are really learning what Moonshiner likes and how to balance her.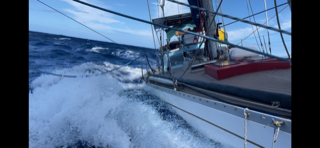 Sent from my iPad
---