Moonshiner
Sat 5 Nov 2022 18:58
B.O.A.T. Bring out another thousand. Having said previously I'm not agreeing with the boat jokes this time it was on us. Running out the ground tackle revealed a knackered main anchor chain.


Ann doing sterling work modifying sail covers, making safety straps and curtains.


Lots of gear in the house ready to be packed



Packing started!

Emergency window covers in case we loose a hull window.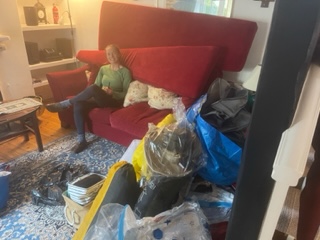 ---