Aborted Plymouth

Moonshiner
Sun 13 Nov 2022 21:07
Yet more tribulations. Set off early for Plymouth to meet friends and have dinner at Sufas, somewhere Katie has been promising to take me since we met.




Nice SE'ly forecast meant a since close hawled led there and then a broad reach home. We decided to motor sail, mainly to test the engine but also to speed quote a long passage and make dinner. After a 7am start and a good 4 hrs the engine decided to die. Our brand new engine!!!

We about turned and sailed onto an anchor in st just, opposite mylor.

A positive is that we fixed it all by ourselves. After problem solving the fuel system we narrowed it down to a blocked line upstream of the racor, blowing out the stand pipe we produced this!!

(This is something we paid Andrew cox a lot of money from clean out - don't ever use him!!)



Was a beautiful start tho pretty bumpy heading into wind over tide
My stomach needs some work. Was horrendously sea sick. Going to try the antiemetics next time
Had a bit of glorious sailing
And then an amazing hitch hiker on the way home.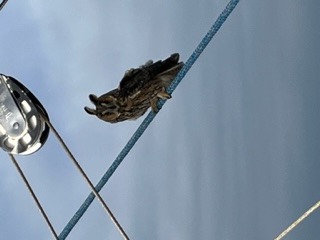 Sat on our jib sheet then foredeck for about 45 minutes. A long eared owl that was probably migrating back from Norway for the winter. No wonder he was a little tired! Apparently very rare so a really treat.
Dr Ben Warrick
Consultant Anaesthesia and Major trauma
Trust lead for Major Trauma
The Royal Cornwall Hospital, Truro.
Cornwall BASICS lead Doctor (joint)
Mob 07949 547603
---