Cook's Strait ferry and Nelson 41:28° S:174:77° E

SV Jenny
Alan Franklin/Lynne Gane
Sat 9 Apr 2016 10:04
31st March 2016
Interislander ferry, Wellington to Picton, South Island
Well they say this stretch of water is either flat calm or a real maelstrom. Cook's strait is noted for its wind and testing currents, high water being 6 hours different between north island's southern shore and south islands north shore. Our crossing was sunny and blissfully calm! Josh caught sight of some dolphins too. The ferry entered the Tory sound and then Queen Charlotte sound with still an hour until arrival, following the deep water channel between the ragged fingers of Marlborough sound, steep and wooden, mainly with fir, this has to be one of the prettiest ferry journeys!
Taking the coastal route to Nelson, the major city of the northern coast and a prime yachting destination, was a tortuous ever winding road, but the vistas of Marlborough inlets, steeply wooded hills and sleepy towns and sun to boot was well worth the effort.
1st and 2nd April 2016
The weather has not been kind after the brilliant day we landed here. Nevertheless we have walked the artist studios of Nelson, visited the Saturday street market, (bags of homemade foods and crafts), visited the WOW exhibition and driven the country roads close by. The WOW exhibition is a Tour de Force for petrol heads, a superb collection of vintage cars to suit all tastes; we could both reminisce about the models on display, but perhaps more surprising was the wearable art expo, the photos speak for themselves!
We would have liked to tour more but today the cloud levels were low again, the tops of the mountains were not visible, neither were the views good in the drizzle. Never mind it was a pleasant drive through mainly apple, pear, kiwi fruit, grape and hop growing valley fields. So much so, apart from the bigger hills I could have been back in Kent of 30 years ago. Fruit growing and grazing sheep and cattle seem to be the main industries in the country apart from the ever present hospitality. In town there are more services, Nelson is the centre for the north coast and a hub for creative talent.
Well that's all for the moment,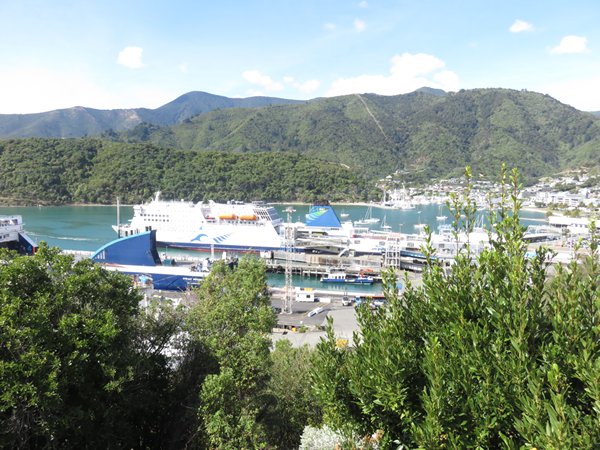 ---