Muros to Portosin 42:45.8N 08:56.6W

SV Jenny
Alan Franklin/Lynne Gane
Thu 14 Aug 2014 16:10
Dear Family and Friends,

Muros is a lovely fishing town on the Ria Muros, nestling in a wide bay to the north of the ria, it is semi protected from the Atlantic winds by the steep hills that rise almost immediately from the harbour. The town is another eclectic mix of the old buildings and the new, with a heart of the old town still very much looked after, (unfortunately not the case in some of the fishing ports visited where they stand as empty and roofless shells.) The Calle and Rua are a helter skelter mix of narrow winding passages, steps and granite paved streets just able to take the cars that use them. Every available plot of land has in the past been built upon, gardens a rarity a few floral balconies. The sea promenade has all the maniple gardening! Walking the streets we would often come across open doors showing an inner doorway, immaculately clean marble floors, beautiful varnished french doors (with a plant,) lead the eye to the cool interior hall. Now for those of you with an eye to the bargain there are falling down historic shells, some with a view, for some 25,000 - 40,000 euros, and best of all a grain store on stilts, like the one I posted a photo of, billed as one bed residence! for 6,000 euros, irresistible.

There is very little evidence of big brand shop presence here, just Gadis supermarkets which are often little more than local convenience stores. most shops are like those of England years ago, owner run, the displays and layout a reflection of the owner rather than finely tuned marketing! My new favourite shop is the fereteria, sadly no ferrets, but an ironmongers par excellence, a cross between Robert Dyas and B & Q, wonderful and a source of those odd things that stop working like the gas igniter.

As with so many of the ports we have visited fishing is still an important industry here although fish stocks have declined and with this level of activity, you can understand why. There are medium sized trawlers unloading their catch at the quayside, there is always a lonxo and Pescarderia or fish market on the quay and lorries queue to transport their catch to inland markets. The Spanish have an insatiable appetite for fish and shellfish.




With dull misty skies following our arrival our rally activity was to a restaurant in the fishing village of Freixo, where we enjoyed sardines cooked over coals and a paella, followed by a trip to Noya and a walk around its medieval centre.

The weather has been more lovely than wet, yesterday we enjoyed a wonderful trip up the river Tambre in a flotilla of ribs, in brilliant sunshine. As we bounced our way inland, small fishing craft rocked as our young boat captains vied with each other for speed, we passed through the mussel bed platforms, past private islands, and as deep waters and fishing villages gave way to shallower river estuary, reed beds and defined channels our river pilot navigated with ease as the river narrowed and the wooded hills enfolded us in the twisting river course. Close to our landing, a patch of mud beside the hydro electric station outfall the river became unexpected shall and our craft inched their way forward through the shallows to get us ashore, with so little water it was difficult to use the motors, those with oars, punted, one boat only had a mop! And yes they used that!

Ashore we walked along the riverside walk higher up the valley, beyond navigable limits. Rocky mountain river scenes, cooler breezes, waterfalls and wooded countryside, rocks often cloaked a deep green velvet of mosses. It was a wonderful walk, concluded as always by a superb Alfredo meal, in the shelter of pines trees. Unbelievably some braver sorts then donned their swimming gear and jumped from the nearby bridge to swim in the river, not for me, but the children showed no fear.




Today we had a short sail to Portosin on the opposite side of the ria, itself like many towns more modern than old. Clearly they don't have the same regulations about how a building will look, which is a shame, but avoiding the worst we had a lovely walk along the foreshore and around rocky headlands. Today is the final day of the rally and our final Alfredo meal at the yacht club with a late night expected as new friends say goodbye. Happily we shall be continuing with the next Eastern Atlantic rally along with some of the boats.



Arriving Muros
Sardines Spanish style, delicious
Preparing the paella
Medieval Noya
Street scene Noya
Wonderful carvings at church Noya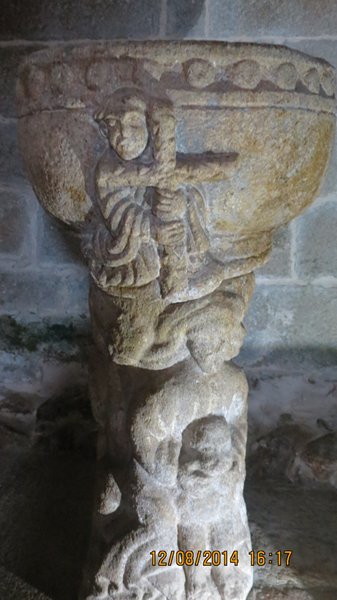 Ancient stone carvings from mausoleum Noya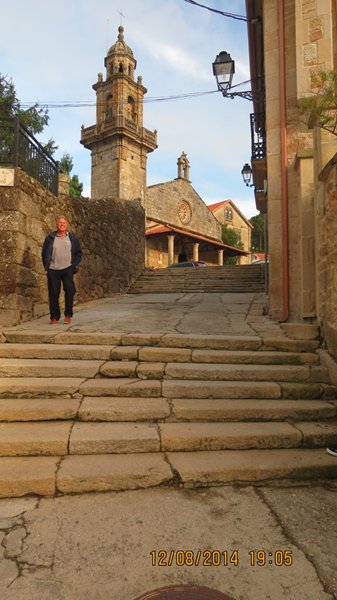 Alan in Muros
Marina and Muros
More photos in another blog, love to you all, Lynne, Alan and Derek
---