Back in Bayona

SV Jenny
Alan Franklin/Lynne Gane
Sat 23 Aug 2014 13:47
Dear Family and Friends,




On the home front we received wonderful news that Josh has a place on the Goldsmiths foundation course for jewellery just pending a satisfactory practical assessment next week. Well done to Josh, Rebecca for all her help and expertise in applications and to Ruth for suggesting this and her support in the run up. We are thrilled and routing for you Josh for next week.




Having had a wander around some rias on our way south, we are currently in Bayona as it is a lovely port!




We also came in for domestics, we needed to refill our water tanks as Alan didn't want to run the water maker with silty river water, quite understandably. The washing was mountainous and we needed to do repairs. Chores like washing become a whole other ball game, hand washing covers a sink load of daily stuff but bedding, towels and heavier clothing is something I try to do ashore. (Some lucky boat owners have washing machines aboard!) The costs can be eye-watering, I have just paid nearly 20 E!!! Yesterday we were not so much svJenny as the good ship laundry. You would think for all our lines there would be plenty of space. Thankfully the almost daily morning mists lifted around lunchtime and we got everything dry.




Having given the boat a hose down, amazing how dirty she gets, and a clean below, Alan had to change the water pump and a valve and we are now awaiting ruinously costly replacement boat batteries, not your AA's! At over 75lb and there are 5 of them, they are heavy in all senses!




We have cycled some more, explored some more of Bayona, purchased some fishing equipment, (fishing reel tested the tourist offices English limits,) so that we can fish off shore. We have enjoyed yet more lovely food, and marvels we find that both melons and figs are sweet and utterly lovely. How many melons have you bought at home, especially honeydew, hoping that this one will actually taste nice, too many disappointments. The secret appears to be not to put them in the fridge and to leave them longer ripening in the sun.




We have enjoyed some wonderful hospitality with new friends and it has been wonderfully relaxing. I will leave you with some images of the last few days, enjoy.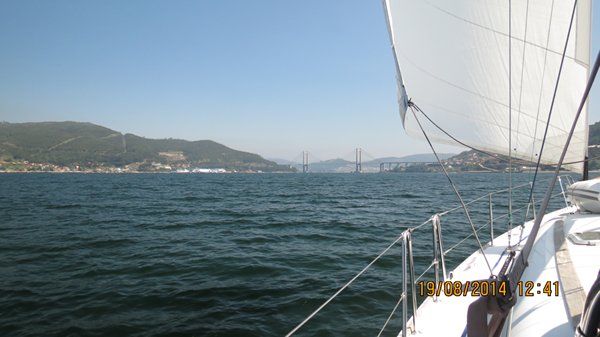 Sailing in Ria Vigo
Will we fit under the bridge, nail biting times!
here goes!
Mussel fishing beds Ria Vigo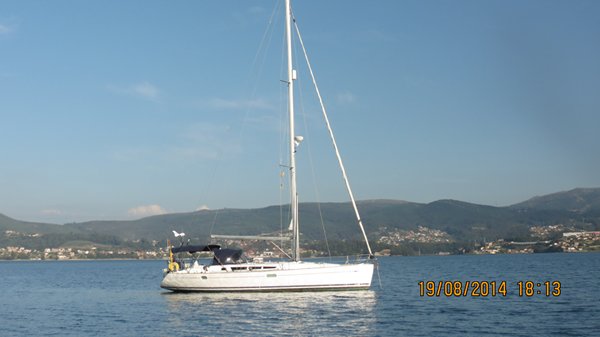 Jenny at anchor Ria Vigo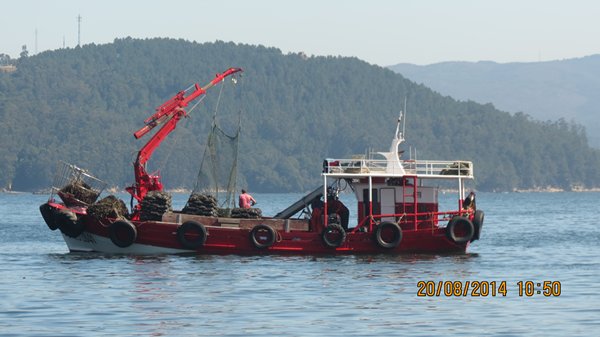 Mussel fishing boat preparing its catch for landing close by
Just across the bay from where we anchored, Ria Vigo
Spotted more dolphins in the Ria, as you can see its also very misty.
Good ship laundry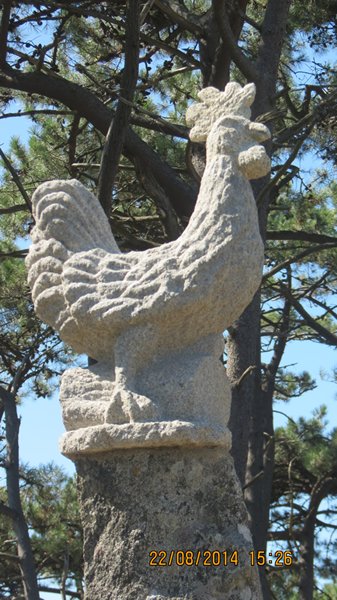 I climbed to the top of hill with a monument and amongst the crosses was a chicken on a pedestal, haven't worked that one our yet!
Sun was in the wrong place but here's the monument and yes someone was anxiously waiting to take your euros to go to the top!
Every marina has masses of these fish, they remind me of grey mullet, but any fishy minded of you will correct me. Surprisingly hardly fished, could be something to do with what goes in the marina?
All our best wishes to you, Love from Lynne and Alan
---