Photo Blog from Montserrat and Dominica

SV Jenny
Alan Franklin/Lynne Gane
Sun 1 Feb 2015 21:10
Dear Family and Friends,




Photo blog of Montserrat in passing and Dominica to enjoy from the safety of your homes! The noseemes biting insects have reduced us to tormented wretches in search of ice cubes to apply to the near total coverage of the lower limbs!



Sunset over Montserrat on our way past Guadeloupe to Dominica
After 20-25kts crossing the Guadeloupe Channel, approaching Rupert's Bay and Portsmouth, Dominica, was a relief.
Walking along the upper reaches of the Indian River, through tropical forest, winds sighing through the trees and bamboo, (not native) birds twittering and the river gently chuckling.
The Bloodwood tree has amazing roots! It can grow for 200-300 years and has red sap hence its name.
We took a guided boat trip up the Indian river, distant volcanoes rising above. Quickly the river banks closed in, the tree canopy closing the heat of the sun from us, all was cool and serene.
Alan took this which captured the atmosphere perfectly.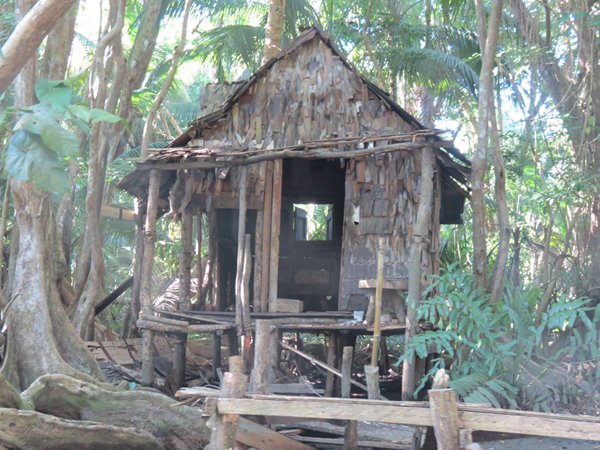 Film set from 'Pirates of the Caribbean (2) the witch Calypso' house, now in some state of disrepair! Filmed on the Indian River.
More photos to follow!
All our best, Lynne and Alan
---