Nuku'alofa

SV Jenny
Alan Franklin/Lynne Gane
Wed 21 Oct 2015 21:41
Jenny arrived in Nuku'Alofa after a boisterous 27 hour hard-on-the-wind sail from Neiafu, this routing passes Ha'afeva again and threads its way through the other lovely islands of the Ha'apai group before arriving at the capital of the Tongatapu group. It's been quite a bit windy over the last few weeks in the whole of Tonga so it's quite a treat to be now sitting in "Big Mamas" yacht club in a gentle breeze tapping this out - in these places simply a
bar seems to constitute a yacht club but suffice to say we have had a warm
welcome here, so there are no complaints.
Big Mamas is a well known yachtie spot to anchor, a lovely little tropical island called Pangaimotu a mile or so from Nuku'Alofa harbour, however it feels far more welcoming than the main town of Nuku'alofa and its somewhat dilapidated marina. This is stern to mooring - i.e. anchoring in the middle and running lines to the shore from each "corner" of the stern - you still need a dinghy to get ashore, however there are no good places
to land or tie the dinghy up!! - so Big Mamas wins for me.
We have a few other boats here, with others arriving soon, we are all waiting for a good "weather window" to depart for NZ. Both my crew have now arrived and are on board so apart from fuelling up tomorrow and last minute fresh food victualing we will be
leaving at the first opportunity. This looks like the earliest will be Monday 19
th
October, presently 2 days before the off we are still experiencing 30 knots of wind and the seas will be heaped up for a while after this dies down. The "Grib files", the wind strength/direction weather files we all download and study are not wholly reliable!! These are automated weather predictions and lack the human touch, come back Michael Fish!
It seems strange to be sailing south towards temperate latitudes again, although word is that North Island New Zealand is experiencing early heat wave!! Certainly there is more to consider weather-wise when planning the 1200 mile passage to Opua, North Island, various weather/routing strategies coming into play dictated by weather "gurus" whose expertise here is vastly superior to mine. We wait for the advice and for the word to go like runners on a start line!! It is not unusual to have to anchor at North Minerva Reef, a small, just
submerged circular haven 250 miles from the nearest land. It has a narrow passage into
the reef which provides good shelter from waves but alas not the wind, however it
is
just outside the cyclone zone. Boats may anchor for days waiting for better weather to take them towards NZ.
Apart from clearing into Opua and suffering the "Bio security" measures we hope to rest there awhile, then to sail a little in the Bay of Islands with its numerous anchorages. The boat hull is now clean - amazing how quickly growths appear underneath!! No major problems other than the cockpit plotter that is working intermittently at best and the SSB mic which probably needs to commune with the fishes, the miles have however taken their toll on the sails. We will have to repair the genoa foresail as it has suffered greatly from being use half furled in heavy winds, so now its repairs and a good overhaul, We have a tougher smaller sail that will do just nicely. We'll travel from Opua towards Whangarei until
the marina we've booked tells me "your time is up, come on in Jenny" and the
boat sits safely ashore whilst I make my way back to UK. We have the inevitable
list of things to do, however it's a great place to get it done.
I'm' really looking forward to an extended stay back in Blighty.
P.S. from Lynne, I am a bit late posting this so Alan and crew Chris and Natalie are on their way to New Zealand, hoping to arrive around 27th -28th October.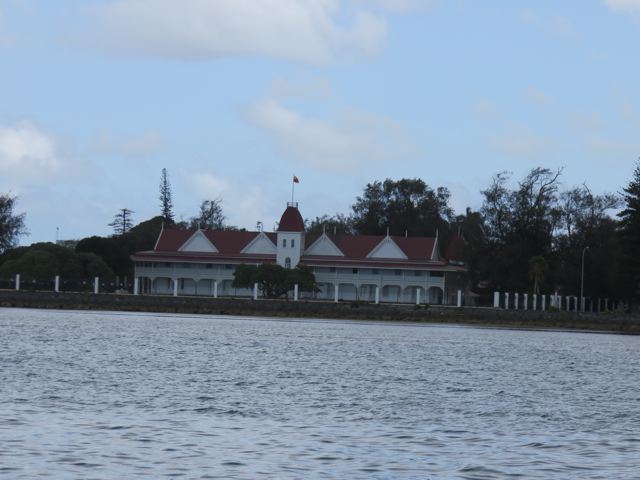 ---