Porto pictures

SV Jenny
Alan Franklin/Lynne Gane
Thu 11 Sep 2014 17:45
Dear Family and Friends,




This is our second attempt to send photos, hopefully this one will work!



Porto from the south side of the river in Vila Nova de Gaia, it is Porto's 2nd city and is of course a metropolitan sprawl, old Porto is concentrated around the river.
View from Porto towards Vila Nova de Gaia and the port warehouses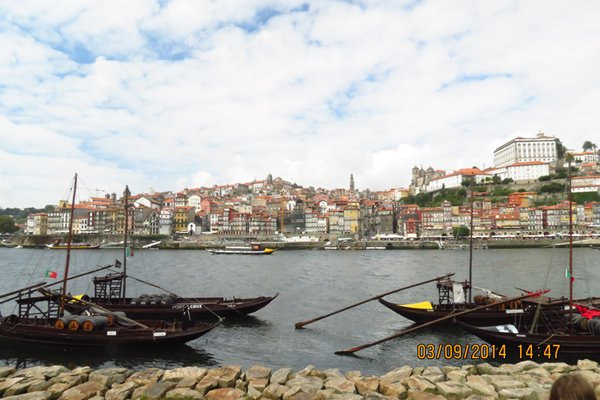 Looking towards Porto from Vila Nova de Gaia, foreground replicas of the traditional boats used to move the barrels of wine from the upper Douro down to the Port wine houses, in the spring following harvest. The grapes would be vinified up river, adding a clear and tasteless pure brandy/spirit to the grape must to stop fermentation after 3 days. This leaves grape sugar unfermented, normally it is fermented into alcohol, and the product naturally sweet.
In the background to the right the white building on the hill is the bishops palace and is just in front of the cathedral.
One of many churches, many with exquisite tiles.
Porto cathedral, once inside the interior is unusually austere, tall stone columns reach high into a vaulted ceiling. Unlike many other churches, the principle decoration is the altar itself. Much of the rest of the building is unadorned. The organ loft is above the main door and whilst we were there, in rehearsals for a concert. The most wonderful music filled in the church and you felt the sounds of the organ, I could have stayed listening much longer but we were on a bicycle tour!
Praca de Libertade, Liberty Square, central Porto. The square was modelled on the idea of the Champs de Elyses, Paris. It is a central point in Porto, their Trafalgar Square. We caught a yellow city bus tour, to orientate ourselves.
City hall, Liberty Square, surprisingly built in 1957, in the style of the surrounding architecture.
I will follow this up with more photos in another blog, just have to watch the file size!
All our best Lynne and Alan
---