last Huahine and onto Raiatea

SV Jenny
Alan Franklin/Lynne Gane
Thu 16 Jul 2015 01:15
Dear Family and Friends,




11the July 2015




Happily our visit to Huahine coincided with their Heiva Festival so we were able to watch the canoe racing. Women's teams set off arriving back about an hour later, some looking remarkable fresh, some exhausted! Similarly the men's teams who were quicker paddled several circuits of the bay as well! They have nifty tube fed drinking flasks which slightly reminded me of astronauts!



Canoeing is serious business and this shows the start of the race.
The guys at the front marks the change of sides with a whistle. We have had canoes slip streaming behind the boat and a single rower can easily keep pace with us at 6 knots, a five man team move considerably faster.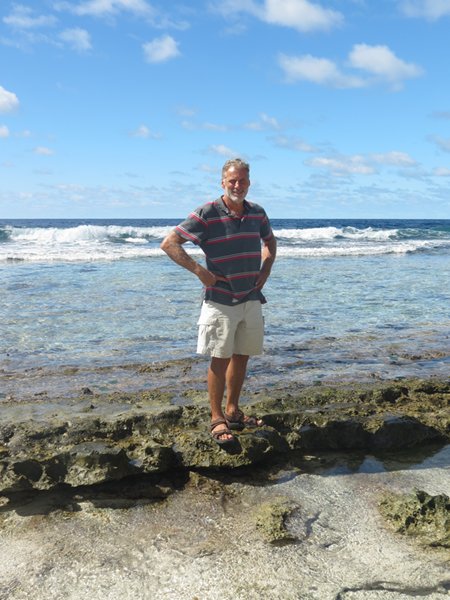 Alan enjoying the break from driving with a spot of unexpected paddling as the wave from behind catches up with him!
Thought this was a good one to include for keen gardeners!
And this, I think we have something vaguely similar in the Uk but not this size.
Looking from our bow, you can see the anchor chain is nicely wrapped around the coral, amazing clarity.
And now for Raiatea!
Sunday 12th July 2015
We sailed over on Sunday, anchoring in the lovely deep inlet of Faaroa.
Monday 13th July 2015
After breakfast on deck admiring the scenery we joined an armada of dingies, kayaks and surf boards, travelling up the only navigable river in French Polynesia. Shallow at the mouth of the river and on the bends we passed locals fishing, collecting coconuts and tending their fruit farms. At the limit of dingy navigation we even spotted some more river eels. I know this sounds daft but it made a pleasant change to sea journeys!
We moved on to anchor in Hotopuu Bay, ( either a depth of 25m or nothing, with a minimum of 3 times that depth of chain to deploy, thats a lot of chain)! And then took the dingy back to Opoa bay with the sacred marea of Taputapuatea. This is the father of all other marea found throughout the Polynesian triangle stretching from Hawaii to New Zealand. This was the centre of political and social affairs and later religious beliefs like the cult of Oro. The site is extensive, a number of large structures housed their canoes, their community halls, their sacred sites and temporary structures for preparing the dead for their journey. Land crabs that live in burrows in the sand, have taken up residence in numbers!
Strange creatures they seem to eat dirt!
And now we are anchored behind an island in the reef, NoaNoa. The guide books mentioned this as an uninhabited island but there seems to be at least one and with plenty of private notices, he doesn't seem to want visitors! A small oblong island full of coral sand and coconuts it has all the looks of an idyllic Pacific island, shame about the notices.
Tomorrow, we are off to the main town here for a spot of wifi, travelling up the west coast, inside the lagoon as far as we can. There is one point where the lagoon isn't passable and we must travel outside it and then its on to Tahaa, an island within the same lagoon and just a short trip from Raiatea.
All our best,
Lynne and Alan
---