Fwd: photo blog Southern Alps South Island New Zealand

SV Jenny
Alan Franklin/Lynne Gane
Fri 29 Apr 2016 09:16
-----Original Message-----
From: Lynne Gane <lynnegane {CHANGE TO AT} aol {DOT} com>
To: svjenny+597144- <svjenny+597144- {CHANGE TO AT} mailsail {DOT} com>
Sent: Wed, Apr 27, 2016 10:46 am
Subject: photo blog Southern Alps South Island New Zealand
Dear Family and Friends,
27th April 2016
I have been madly trying to catch up with the hundreds of photos, resize them, and decide which ones to send to the blog, a happy task just time consuming!
So this blog includes a small flavour of the crossing of the Southern alps from Christchurch to Hokitika on the west coast via Arthur's pass.
The roads are single carriage in each direction with passing places, sometimes single lane bridges so imagine tightly twisting roads, steep gradients and normal size trucks with the same size trailers come around these roads at a fair speed, truly not for the faint hearted.
Once the road started climbing, the green fields gave way to late summer brown tussock grasses, wide winding gravel river beds, hill sheep stations (large farms), amazingly some cattle too, (you wouldn't have thought it possible) rock screes, limestone boulders and snow capped peaks. There are only very occasional farmhouses, village names seem to be just a few houses, this is remote living with the road possibly closed in Winter. Authur's Pass is a small town with a few cafes and gift shops and fuel and fuel planning is essential, it's a long way between gas stations.
Hokitika had some interesting jade carving but really wasn't photogenic in the rain!
All our best,
Lynne and Alan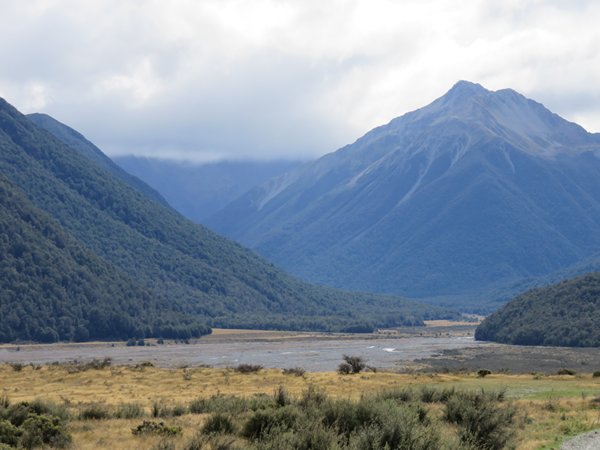 ---