My 49th birthday on the sea!

Knotty Girl
Tanya/Roberto
Wed 16 Aug 2017 03:09
38:47.898 9:47.762 enfin je peux lire mes messages de ma famille et de mes amis car nous approchons du sud de la Sardaigne - on sera au repos la vers 10h30 according to our 'estimated time of arrival' ! After many hours motoring since we left Vulcano, our captain allowed for us to swim in the middle of the ocean which is something pretty special if you think of the depth below!! Finally the wind finally came yesterday mid afternoon. A light wind from behind that allowed us to put the Spi on. Our crew was very impressed by it and rightly so as it is just such a beautiful red sail! We therefore enjoyed an amazing sun set under spi accompanied by a Risotto a la milanese from Roberto - all very very nice! Then Tanya went to bed to be able to wake up as 2 am for her watch while Roberto and Louis started their watch!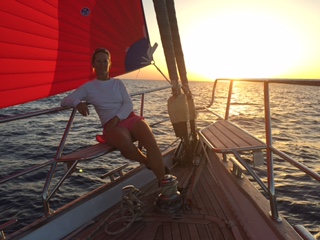 Envoyé de mon iPhone
---