Nisis Trisonia and birthday!

Knotty Girl
Tanya/Roberto
Mon 15 Aug 2016 19:02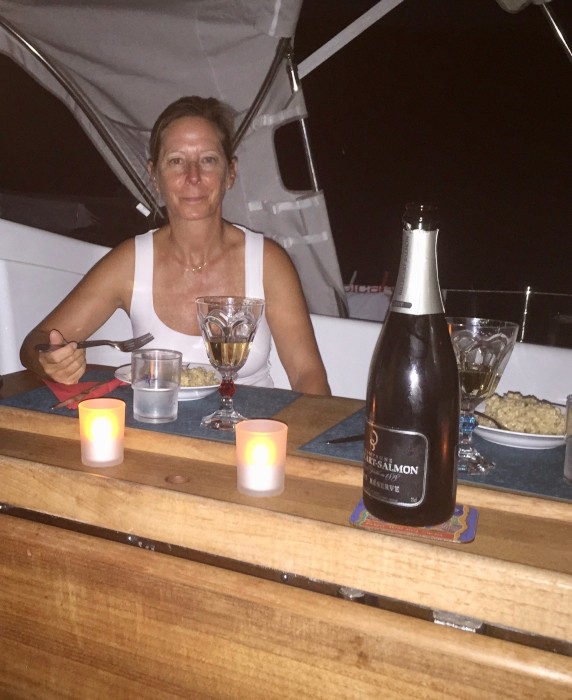 After breakfast we left relatively early, 09:30 as we had a long day ahead of 50 miles! As Roberto saw I was not inspired by the pond and hence did not have my morning swim, he suggested we stop in the magnificent bay on the South East of Nisis Oxia Island. As it was very deep, Roberto said he would stop the boat and watch me doing my morning swim! It was just a paradisiac bay and I SO enjoyed it! We then headed of towards Patras and as the wind started to blow between 15 and 20 knots, but of course straight in our face, we decided to stop earlier so we could sail there! At 4.15 pm we passed under the Rio-AntiRio bridge, which always looks less high than stated but definitively high enough for our 25 meters mast! We then continued to sail nicely and finally decided to go where we had initially planned, namely to the "abandoned" harbour on Island Trizonia, yet when we arrived around 6 pm, it was full so we had to continue to find another anchoring spot. When we passed the island we saw (Roberto saw two of them I only saw one) huge dolphins which slowly passed below the front of our boat before disappearing in the deep sea. We finally decided to anchor opposite the Island of Prasoudhi, in 25 meters water (when the charts were saying 10 meters!). The rocks surrounding the bay had some red in them and hence when the sunset came, the colors were just marvellous!. It was already 7 pm and we were tired and starving. As it was Tanya's birthday, she made an effort on the appetizers and we had toasts with "fake" caviar with a very nice bottle of Champagne (Billecart Salmon) that Roberto opened for the occasion! Roberto then treated Tanya with Risotto at Prosecco which was delicious, and eaten in front of an amazing sunset. Needless to say we ate and drank a lot! We then watched a couple of shooting stars, including 2 big long ones and went to bed!

---