Relaxed Sunday? Not here!

Knotty Girl
Tanya/Roberto
Sun 26 Nov 2017 20:14
20:13N 30:00W
For most of you, Sunday will probably mean a relaxed day with the family. Maybe you'll have a long lunch. Maybe you'll sit on the sofa and chat. Maybe you'll have a siesta. It all sounds very relaxed. Let me tell you what Sunday is like here in the middle of the Atlantic on board the mighty "Knotty Girl", because the worst of the weather seems to have passed and, frankly, we were all looking forward to a bit of a rest. No such luck. My morning began at 0400, with the famous 4-7 watch. Typically, this means that there is no chance of getting any sleep afterwards because the sun is up, but then you are rewarded with the most glorious sunrise. Regardless of the weather, dawn at sea is one of the great features of an event like the ARC because it takes you from starlit heavens to multiple layers of colour and light that are hard to explain. Consequently, Jean-Luc and I deployed our cameras - wide shots, short shots, and selfies followed (well, may be it was only me that took the selfies…)
Next up? Fishing. Yet another suicidal Mahi-Mahi leapt on to my bright pink lure before my watch was over, but was too young to keep and so he went back in. It was followed a few moments later by some expletives in French, and the promise of something truly enormous nibbling at my lure. Sadly, it wriggled off. The big ones always do.
So followed another morning task of checking the deck for flying fish. They leap out of the water and deploy their wings to escape predators, but often end up just crashing in to the side of the hull or landing on the deck. Clearing away the wreckage is a daily chore for someone!
The wind was all over the place this morning as the trades try to establish themselves. So it's sails in, sails out, engine on, engine off, tack, don't tack, anyone got time for breakfast? Crikey. And all this before 9am.
Olivier took off for a shower and came back a new man about 2 hours later. Undeterred by such frivolity, Roberto & I decided to start work on repairing the sail we damaged in the rain squall we encountered a couple of days ago, an exercise that took most of the day as we also had to repair a frayed halyard. Tanya popped a wash on (yes, we have a washing machine!) and later in the morning, the sound of the hoover was heard too. And we are 1,000 miles from there nearest plug socket…
After a superb lunch courtesy of Olivier (do the French put olive oil in everything?) and promises of tartiflette this evening, we downloaded the latest weather updates and planned our approach to the promised tradewinds. Typically, they are a regular feature of the ARC at this latitude, and reason why most people do it. However, they just have not materialised this year and a number of boats have retired - some with damage from the huge depression that has gripped moat of the fleet for the past 72h. We called our friends on "Pamela" who we noted were heading east - they had sustained quite a bit of damage as a result of winds of over 50kts at times. They were a lot further north than us and therefore closer to the depression, so we are grateful they are all OK. Well done to Roberto for choosing the more conservative 'middle' route option for "Knotty Girl".
The radar shows an approaching tanker on his way to Taiwan, who must have been jolly mystified by the sight of everyones socks, pants and bedsheets drying on our guardrails. However, we can't stop to wave as we've another fish on. No tuna this time, but a King Mackerel. That's dinner sorted.
We passed 30 degrees West this afternoon, so the clocks go back another hour. I had a shower to celebrate, and may even have run a brush through my hair. Very important to look good, before phoning home to check in with the family.
So now the sun is setting ahead of us and the watch system kicks off again but not before we land yet another King Mackerel! I've ben told by the boss "No More Fishing Alastair!", so in comes the line for one more day. Goodness knows what tomorrow will bring. Hopefully, some wind we can actually sail with properly.
From Alastair, and all on board "Knotty Girl"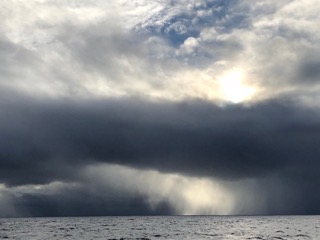 ---