SAILING TO POROS, GREECE. 37.30.36N, 23.27.27E

Restless of Auckland
Roland and Consie Lennox-King
Thu 22 Jun 2023 09:38
In our last entry we left Zakinthos in early May to round the Peloponnesus, as the Corinth Canal was closed for repairs. We Had Caitlin aboard with her father, Keir. We anchored in Laganas bay, famous for loggerhead turtles, and were lucky enough to see a few pop their heads up.
7 May we sailed to Katakolon, and on the way we saw Dolphins. As Caitlin had never lived aboard before, it was fun to catch her reaction: "My favourite moment so far was when we encountered wild dolphins. They surfed the waves with us, in between hunting shoals of tuna. I ran to the front of the boat and could feel all my energy move up my body. I thought my heart would explode!"
At Katakolon we took a taxi to Olympia, and although Greece is unseasonably cold this year, it was hot in Olympia and we wandered around the ruins, hunting shade trees and glad of our water bottles. Some brave people ran the length of the arena. The first Olympic Games were held there in 776, and all contestants had to be naked. I don't think that in the recent reenactment, this was enforced.
9.5 we left Katakolon for Navarinou, and from there to Pylos, on 11.5, where we walked up the hill to see Pylos castle, fortress, museum and Church. That afternoon we sailed to Methoni, because of bad weather forecast. We wanted to beat the fronts that were coming down the Aegean.
12.5 we left Methoni and had a great 100 n.mile sail to Monemvasia, with its ancient Byzantine fortified village. We had difficulty anchoring as our reverse gear disappeared.
13.5 we sailed to Ormos Zoyioryia, at the north end of Spetsai. Although it was cold, we swam in the bay, stayed a couple of days, before motoring a couple of miles to Porto Kheli.
16.5 From Porto Kheli we took a taxi to nearby Koiladhia, to look at a possible boatyard for winter storage, Basimakopoulos.
17.5 Caitlin and Consie took a taxi to Epidavros, and the ancient Temple of Askeplius, with its theatre for around 14,000 people, built in the 4th century BC. Caitlin studies some of these forms of sleep therapy, and was very keen to see Epidavros.
18.5 we left Porto Kheli and sailed to Ermioni, after a pleasant downwind sail
19.5 we headed to Hydra, with its very deep, crowded harbour, full of ferries, charter boats and super yachts, and decided to carry on to Poros, where we anchored in Navy Bay.
Poros was our destination, as daughter Olivia was due to arrive, as well as kiwi friends.
21.5 with Keir's help we managed to get a line ashore and winch ourselves stern into the quay without a reverse gear. Within minutes our friend Arris arrived offering us fuel. Roland said to him 'Yes we need fuel, but we also need an engineer.' Within the hour Engineer Stamatis had arrived, diagnosed the problem, and left with our 70kg Borg-Warner transmission between his knees, on his motorcycle. He returned on Tuesday 23rd with the repaired transmission, and an hour later we had a gearbox! Some God was on our side!
Keir and Caitlin left on the 8 am ferry and kiwi friends Geoff and Rowena arrived on the noon ferry. And we met up with friends Jamie and Renee on their yacht Manaia.
25.5 Olivia arrived in Athens, was off to a wedding in Sifnos, and arrived in Poros on 29 May, so we had some laundry and preparations for her arrival. She is a whirlwind, and although only with us for a week, we achieved a lot. She is a vegetarian, and Greece is paradise for vegetarians. Dutch nephew Dirk and partner Merlin was in Poros, so we had many Greek meals together, a wonderful one under the lemon trees at Consie's cousin Mia and Georgios olive and citrus farm, and a few at Apagio.
Olivia returns to Poros in July for a few days, she has left us some jobs to do to keep us busy. And the weather has improved and Consie and Mia have had their first swim together.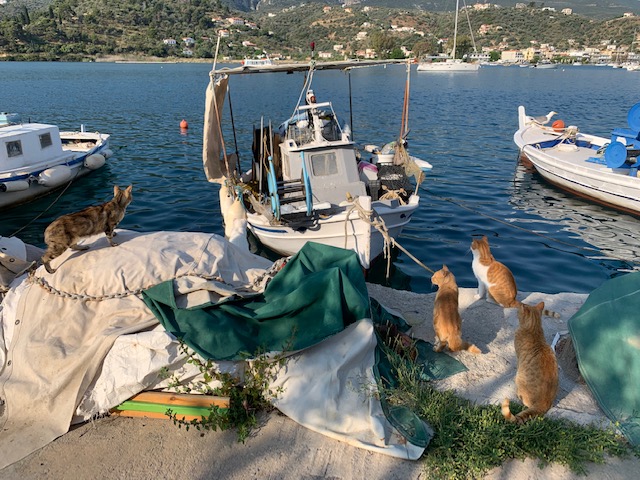 ---