Return to Rockland, MAINE from Nova Scotia. 44:06.60N, 69:05.30W

Restless of Auckland
Roland and Consie Lennox-King
Sat 10 Sep 2016 01:34
Return to Rockland, MAINE from Nova Scotia. 44:06.60N, 69:05.30W
17.8 Fi and Alan arrived in Halifax from Scotland, to cruise with us for a fortnight, bringing Scottish rain with them. They took a bus to Baddeck to meet up with us. Alan's birthday is on the 19th, the day after Consie's, and we have spent many birthdays together over the 45 years we have known each other.
18.8 is Consie, Feyona, and niece Monica's birthday. Monica and Tim, who live in Melbourne, got engaged. It was a lovely sunny day in Baddeck, a huge improvement on the previous day, we explored and had a joint birthday dinner in the old Telegraph office. The next day we spent a couple of interesting hours in the Alexander Graham Bell museum, after which we sailed to Herring Cove, and then to Maskells harbour for a quiet night. This is a delightful harbour and typified the lakes. Next day we wanted a nice on the wind sail, but the beeze faded and we slowly sailed through the straits of Iona to Little Harbour, near Malagawatch. We had not been there long when our friends off White Bird arrived and we had a pleasant dinner with Peter and Kathy aboard Restless.
Another few miles sail the next day took us to Cape George, where we witnessed the Sunday folks enjoying tobogganing and skiing around us before we sailed on to Damien's Cove for the night. Next morning it was off to the Lion Club's friendly marina at St. Peter's, near the entrance to the lock out of the Bras d'Or Lakes. After a trip to town for propane and provisions, we returned, to be invited aboard Kathy and Peter's boat, where we swapped sailing stories and information about harbours and safe bays. They elected to stay for a few more days for a better weather forecast.
23.8 we locked out of the Bras d'Or Lakes, to find, as expected, a windy and rough passage across Lennox Passage. We were glad to have our Navionics on our ipad, to show us where the rocks and shallow areas were as we motorsailed past Canso to anchor in Yankee Cove, Whitehead harbour. We felt we had to move on towards Halifax, with uncertain weather reports, and on the 25th we spent ten hours motoring into strong 30-knot headwinds and lousy seas, to reach Spanish Ship bay in Liscomb. It was great to find a quiet anchorage away from the big swell. The next day it was very wet and windy so we explored up the Liscomb river, enjoying a quiet day. Note there were no lobster pots, the season ends in late June in Nova Scotia.
27.8 we set off at 0600 and had a lovely motorsail to Halifax, 84.4nmiles. We tied up at the Royal Nova Scotia Yacht Squadron, and had dinner in their lovely Clubhouse. They have reserved carparking for the Club Champion, a great idea! The next morning we were given a lift into Halifax town by Dennis, a Club member who had sailed from Halifax to Ireland in a 27 ft yacht. The men went to the Maritime museum, and Consie to the supermarket. We enjoyed the novelty of getting back to the boat by bus.
29.8 we refueled, filled up with water and did laundry. Fiona and Alan were returning to Scotland, and Oliver surprised us by coming early enough to see them. We all had dinner together in the RNSYS, before they left for the airport and the long flight home to Glasgow.
30.8 we set off from Halifax, and sailed to Lunenburg, UNESCO heritage site. The waterfront is picturesque, with houses from the 1850s, a Maritime museum, and it is home to the famous schooner Bluenose II, and many other antique yachts. Oliver and Jane's son Peter phoned with the news that he and Ruth's son was born on 31.8; Ben, a brother for Jack.
1.9 we went to the Farmer's market, held every Thursday, and bought some fresh vegetables and smoked mackerel. Oliver took us out to dinner, a celebration that he was a grandfather for the fourth time.
2.9 The weather forecast was looking a little too busy, with hurricane Hermine crossing Florida and coming north. Rather than wait to see what it would do, we decided to set off at 0600 and motorsailed in the direction of the USA, anchoring for the night in Negro harbour.
Saturday 3.9 at 0700 we set off for Maine, we saw 3 Minke whales, and later a few Humpback whales in the distance, spouting and diving. There was little wind and a mirror-calm sea, and we motored 165.66nmiles in 25 hours, to arrive on a foggy morning in Vinalhaven, Maine. We cleared into Customs by phoning enroute, and picked our way past thousands of lobster pot-buoys to pick up George's mooring in The Thoroughfare. He was pleased to see us, and Roland spent the afternoon crewing for him on his lovely New York 40. We phoned our friends Alison and Mark, and invited them to dinner the next evening, Labour Day. Lobsters were all sold out, so we had steak and sweet corn and blueberry pie. Most of the boats in this area are put away for the winter in early September.
And so it is time for us to do the same. We can't believe that our cruising for this year is nearly over, the time has gone so fast. We have decided to put Restless away in Rockland, Maine, at Ocean Pursuits Boatyard, and will slip next week. We walked through town and had lobster rolls for lunch in a cute lobster restaurant, and bought 3 live lobsters to cook for dinner aboard.
7.9 the fog was thick so Roland and Oliver spent the morning walking to Thomastown to view Lyme and Morse Boatbuilders. In the afternoon the fog cleared enough to enable us to tie up to the town dock and remove the sails in bright sunshine.
8.9 Oliver left us to head for Mamaroneck, to meet his new grandson, Ben.
Restless is booked to go up on the hard on 15.9 and we have a few jobs to do before she is put away for a frozen winter. This year she will be shrink-wrapped for the first time. We both leave Maine on 18.9, to return to New Zealand for a few months, and Christmas. Roland is going to Toronto for a week, and Consie will stop for 2 weeks in Hong Kong to see Olivia, Shenton, Gilbert, Pip and Mia. Livi and Shenton are coming to NZ for Christmas. We plan to return to Restless at end-April 2017.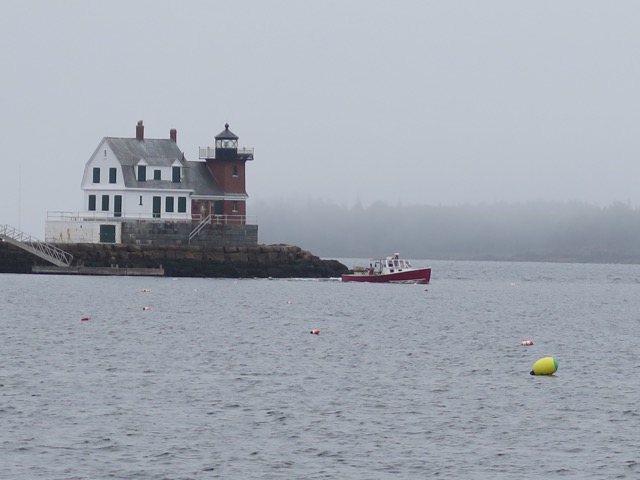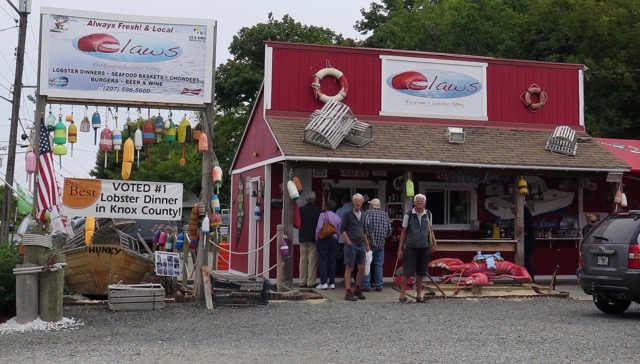 ---