Fw: Orkney and Shetland islands 60.454n Lat and 0.50w Long

Restless of Auckland
Roland and Consie Lennox-King
Mon 26 May 2008 16:10
On 6 May, after Keir had rejoined us, we left Inverness. We locked out of the sea lock at the end of the Caledonian canal and set off north out of the Moray of Forth at 1200 hours. By nightfall we had a strong SE breeze, so had a windy, but beautiful night's sail up the uninviting East coast to the Orkney islands. We tied up at Kirkwall marina at 1200 hours. Unfortunately, in doing so a rope caught in the bowthruster, making it inoperative. We have located and are in the process of ordering a new part.
Kirkwall was beautifully sunny and hot. It seemed all the local Orcadians were outside enjoying the good weather. We walked down the narrow ancient streets and stopped in the fishing tackle shop, the Orkney craft shops, and walked to St. Magnus Cathedral, built 1137. We had showers in the sailing club, an ancient grainstore dating back to the 1800s. Keir bought a bottle of the local Highland Park whisky . Fish and chips were purchased and brought back to the boat for dinner. We saw Norwegian boats who had sailed over for the weekend, loading up with trolley loads of alcohol, an indication of prices in Norway.
On 8 May, we had another downwind sail from Kirkwall to Pierowall on Westray Island (Orkneys), passing outside the Noup Cliffs, where thousands of seabirds have their nests on the cliffs. We could hear the birds screaming and through the binoculars we could see rows of young birds standing on tiny ledges. The sea was full of birds: puffins, fulmars, guillemots, kittiwakes, razorbills, cormorants, gannets, and on lower ledges hundreds of seals.
We came round Westray with up to 6 kts of tide, but as the wind was honking and the marina (of sorts) is very small, we decided it was safer to anchor out in the bay. After 24 hours of winds in the high 20's it abated, so next morning we set sail for Lerwick in the Shetland islands, about 80 miles away. A funny day with a bit of everything , including fog, but good speed all day. A highlight was sailing close by an ancient Broch, built in 100 BC, but still used against the Vikings in the eighth century!!
At Lerwick in the Shetland islands, a friend of one of R's ex-clients from NZ came and offered to drive us to see some of the Island, a wonderful treat. Eddie drove us to Scalloway castle and to the Shetland Bus memorial and museum, which commemorates a group of brave Norwegians who supplied Resistance from the small Nowegian port of Floro, in small fishing boats. Brave men indeed. We learned that there are more Shetlanders in NZ than in the Shetlands (23,000), including NZ's current prime minister. We cleared UK immigration at Lerwick and set sail for Yell island for a night and then on to Balta Harbour on Unst island, both in the Shetlands.
At Unst a local yachtie we met, Tony offered to drive us to the most northern part of Britain to see famous Muckle Flugga Lighthouse at the northern end of Britain. We also saw the most northern church and habitable house in Britain (an upturned lifeboat). The army's bunkers and communication systems on the most northern part of the island, were stark reminders of the Cold War. To be expected, there were Shetland ponies were everywhere!!
14 May at 0400 we left Unst in clear daylight to sail to Norway, hoping to pass the dozens of oil rigs some 70 miles out in the North sea in daylight. A nice reach became a motor, then a beat in 20 knots, covering 282 n. miles in 51 hours, arriving at Kristiansund, Norway early on the 16th May, we tied up at the Guest haven, near town. As planned we were in time for the Constitution Day parades the next day, which we had been told not to miss. From Krisiansund we have day sailed to some beautiful anchorages past snow-capped mountains and picturesque villages to the original capital of Norway, Trondheim, where Keir left us to fly home to Edinburgh.
We are now at 63 deg. North, which is the northern equivalent of the Antarctic Peninsula, well south of Cape Horn. There is so much to see that cruising south from here will keep us busy for the rest of summer. We will leave in a day or so to work our way south towards Bergen, where we hope to be in about three weeks.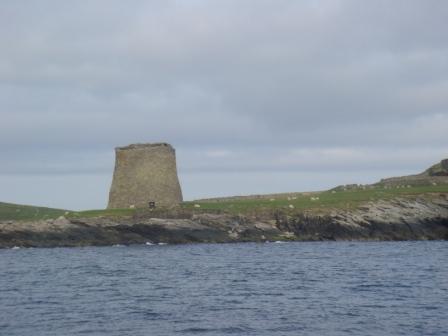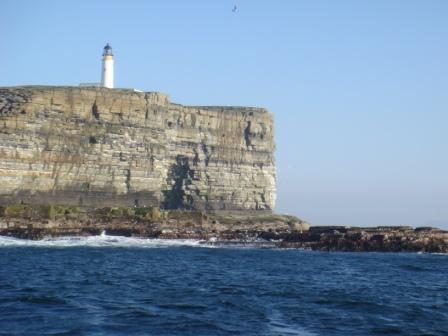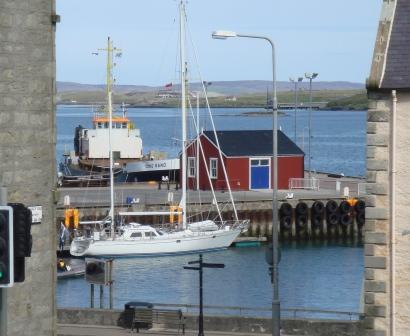 ---