10 June 2015, she's a girl, MIA! born in Hong Ko ng, while we were in MALTA, 36:03.80N 14:16.90E

Restless of Auckland
Roland and Consie Lennox-King
Thu 25 Jun 2015 09:22
10 June 2015, she's a girl, MIA! born in Hong Kong, while we were in MALTA, 36:03.80N 14:16.90E
3.6 We set off at 0530 to motorsail the 60nmiles to Malta, and encountered sea fog in the shipping lane, which was very eerie. We arrived in Malta about 1300, the two harbours are awesome, but quite intimidating, with fortresses and steep walls, and we were glad that we had emailed the Royal Malta Yacht Club to ask for a berth. We had a great welcome into their small yacht basin, and into the Clubhouse. There are many marinas, and hundreds of superyachts. After a good meal in the RMYC restaurant and a quiet night, we walked up over the hill past some of the ancient water cisterns and enormous underground granaries into Valletta town. A good way to see Malta is by 'Hop-on hop-off buses' and we went on the southern island route and then the northern island route, which gave us a feel for the size and layout of the island, much bigger than we expected. We were fascinated by the local fishing boats, brightly painted, with high prows and little eyes on the bows, said to be Phoenician style. The language is unique, originally Phoenician, but luckily for us most people speak English. Our Scottish friend Keir jumped on a plane and arrived 6 June to join us for 10 days.
Our son Gilbert and his wife Pip's baby was due in June in Hong Kong, and we wanted to be near phone and internet to receive the news. In the week we were in Malta we walked miles around Malta's fortresses and streets, took a gondola from one harbour to another, and visited Fort St Elmo where 3 weeks earlier, a series of videos to show the history of Malta's great siege in 1565 had been installed. There was also a museum of the part Malta played in World War I and II, with uniforms, an aeroplane and cannons.
Whilst in Malta awaiting news of our grandchild we were informed of the tragic death of Pip's father. Her mother Tessa had left for HK only to be told the sad news on her arrival. To say we were stunned is an understatement, and we really feel for her at this time.
In my last webdiary I made a typo, Gilbert and Pip's daughter, Emmaline Tessa Lennox-King (to be nicknamed Mia) was born at 20:04 on 10th June 2015 in Matilda Hospital in Hong Kong, she weighed 3.615kg. Her middle name she shares with Granny Cook and her nickname she shares with an abbreviated version of her Grandmama L-K's middle name, Maria. Gilbert and Pip sent us a daily photo of Mia in various outfits, always smiling or asleep. We can't wait to meet her in person.
9.6 We motored 22.2nmiles north to Gozo, drifting out of phone connection, and met up with our friends Jill and Tony on 'Nimbus', who catch a lot of octopus (they are mentioned in a previoua web-diary).
At 0600 on 11.6 we set off from Gozo island, off Malta, to motorsail 55nmiles to Sicily, Italy, reaching Porto Palo at lunchtime, where we received our first photos of baby Mia and her parents and Granny over the internet.
The next day we motored round to Syracusa, and went for a walk around the ancient town with its fortress. We went to the open-air market and bought fresh tuna for dinner, each fish-shop had a huge, about 50kg tuna on display, along with octopus, squid, prawns, sardines, and other unfamiliar sea-creatures. There was a huge selection of vegetables and fruits, with each vendor trying to out-shout his neighbour to attract customers. Everything shuts down for lunch, and we returned to 'Restless', meeting up with friends on 'Tangaroa' and 'Destiny', whom we had met in Malta and previously in other places in the Med., and we all had drinks aboard 'Tangaroa' with Helve and Rick. The next day we had drinks aboard 'Destiny' and the following night aboard 'Restless'. Very social!
15.6 Keir was returning to Scotland, and cousin Liz was arriving from Cornwall for 10 days with us, so we went on the bus to Catania to meet Liz and to say goodbye to Keir. We bought Italian simcards from Ita 3 to try and get internet, but the shopgirl did not authenticate our cards properly; so we bought new simcards from Italian Wind. We have had many problems with simcards and dongles in the countries we have visited.
16.6 Liz and Consie walked around Ortigia and Syracusa's ancient streets, and could not resist more visits to the open-air market, eating gelatos and local 'Arancini' Mt Aetna-shaped croquettes with rice and mince inside, a local delicacy. The fruit, vegetable, herbs and spices, and fish shops are amazing.
18.6 We hired a van together and drove north to Mt Aetna, setting off in shorts and tee-shirts on a hot day. As we drove up this 3,500metre high volcano with its black lava rivers the scenery became more sinister and temperatures dropped. Roland went up with some of our group on the funicular railway and on a truck to the top, where it was snowing, and they had little visibility. When they came back they were frozen. We drove south to the town of Noto, with its enormous churches and palazzos. From there we had a supermarket stop and returned to the boat laden with beer, champagne, wine and other heavy provisions.
Liz and Consie decided we could happily live in the market, and bought everything we saw. We walked again around the ancient streets, and enjoyed gelatos in the sun. One day Liz wanted to visit LIDL supermarket, to see whether it was the same as back home in Falmouth, where she has a farm with horses on it. (It was laid out identically). We found the fish-shops that supply the local restaurants, and bought some delicious octopus.
One night we invited Eva and John from 'Destiny' for a Chinese banquet aboard Restless, and Liz and Consie had fun choosing the foods from the market, and cooking sweet and sour pork, chicken and mushrooms in black bean sauce, Chinese steamed fish, squid and vegetables with Chow Faan! Followed by Jasmine tea and Eva's cake with strawberry ricotta cannoli.
Our time with Liz passed too quickly, and our next visitors are neighbours from the Bay of Islands, Pam and Freddie, and following them Olivia and Shenton are coming for 10 days.
---
This email has been checked for viruses by Avast antivirus software.
www.avast.com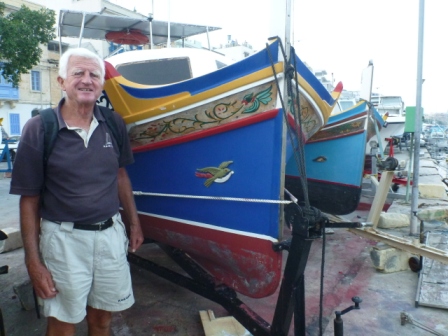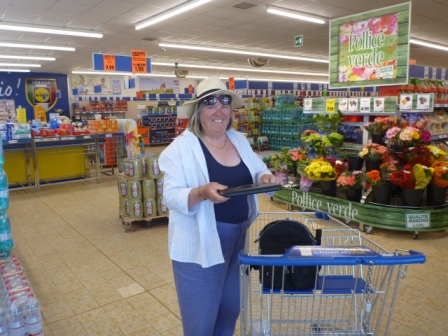 ---