BACK IN CROATIA 2012,Murter, 43:90.58N 15:35.40E

Restless of Auckland
Roland and Consie Lennox-King
Fri 18 May 2012 07:53
BACK IN CROATIA, May 2012
After Christmas and New Year in the Bay of Islands with cousins and friends, we made a fortnight trip to Sydney. Roland crewed in the Etchell Worlds, on the Bermuda boat, with Tim and Andy. They had a great regatta, out of Sydney heads. Consie had a reunion with all her brothers and sisters, the first time in 15 years, since our Papa's funeral, we managed to get Mama out to dinner, and she enjoyed having her children and grandchildren around her. She is amazing, after a diabolical year medically, with over 40 cardiac arrests, she still manages to play bridge regularly. Bonnie has been her nurse and companion over the past year, a tough job.
We flew back to NZ, in time to meet Gilbert, who had come over for our niece Deborah and Johnathan's wedding at the family farm. We had a wonderful party, and danced all night.
Roland and Gilbert dug a lot of new drains under our house, we had the worst summer weather since records began.
In mid-March we had a Royal Cruising Club get-together, about 20 members had a BBQ at our place, a picnic lunch on Paradise beach, dinner in NZ's first capital, Russell, and lunch and photo on Sea Rover.
In April, Roland had his 65th birthday, in NZ this means you become an Old Age Pensioner! We had a party for him in the Bay of Islands, and about 20 friends came, and sang a revised version of a nursery song to him.
We took the bad weather with us to Hong Kong, where we stayed 12 days with Gilbert and Pip in Taikoo, and had thunder, lightning and rain most days. Gilbert and Ben took us out for a sail on their Etchell 'The Blitzwagon' on a sunny Sunday, and we sailed out round Waglan island, some 10 miles away. We caught up with Olivia and the animals: 4 dogs, 2 cats and 1 horse. We had a BBQ at Carolyn and Jan's new house, and we went aboard 'Trident' with James, not much change in her since November, everybody too busy.
We left HK for London, and again took the weather with us. We had a wet day in Sunbury with Pip's parents, and then hired a car and drove to Lymington. Our friends Annette and David could not have been delighted that we were dragging bad weather with us, their new house had become waterfront property, with delays because of the weather. We caught up with many ex-HK, ex-Manila and RCC friends. We drove back to London in the rain, and stayed a night with nephew Peter and his wife Ruth, before flying out to Zadar.
It seemed ages since we had seen 'Restless' and she had a new Yanmar engine installed over the winter. We antifouled her, cleaned and polished the topsides, decks, and insides, and then launched her on a sunny day in Murter. The engine sea-trials went very well, and we can now cruise at 8 knots. We had ordered a new Rocna engine, and a sailing dinghy, and a BORA arrived a few days ago, with 35-45knots of wind. 18 May and the Bora has abated, we have settled our bills and are setting off for the Kornati (Moonscape) islands and then to Sibenik, where the Customs want to see our new engine.
Our first visitors are Alan and Fi from Scotland, arrived on 17 May for a fortnight, then we will collect David M and Dutch cousin Maurits in Dubrovnik, and sail south to Montenegro, the Ionian and through the Corinth canal. This summer we have a lot of friends joining us as we sail from Croatia to Greece to Turkey, this has been an area that Consie has really been looking forward to cruising, with all its wonderful history and food.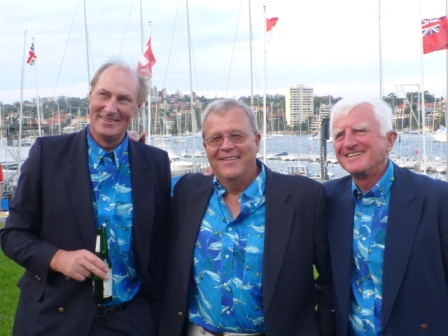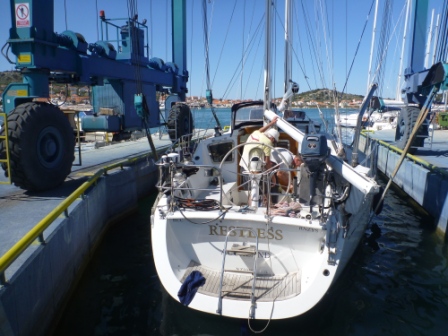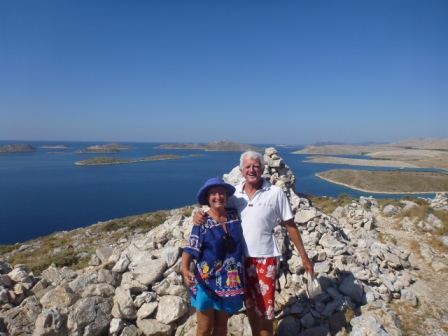 ---