Fwd: Long Island Sound to Camden, MAINE 44:12.73N 69:03.06W

Restless of Auckland
Roland and Consie Lennox-King
Sun 29 Jul 2018 17:26

I could not resist putting in a photo from Olivia and Shenton's wedding in Poros, Greece on 16 June, so here is the latest edition of our family.




We arrived back in the USA on 22 June, together with Our friend David from Scotland, and after getting Restless back in the water, headed north, to motor through New York on 11 July, a total of some 500 miles, and headed into Long Island Sound, and Old Greenwich.
12 July we motored to Norwalk, where we met up with Pip's uncle Rodney and Aunt Jenny. We also met up with friends from Ft Lauderdale, David and Alycia, and Jim, so we had a very social time.
14 July we had our first real sail of the season, 34 miles to the Thimble Islands, a group of rocks with houses perched on. Ferries brought party-goers ashore, and we enjoyed their fireworks. The next day we sailed across to Block Island, where we rented bicycles and rode around for 2 hours. 16.7 We heard that Gabrielle and Johnathon were heading south on their yacht, and we met up and had a great meal aboard Aqualuna at Block Island. The next day they headed south to New York, while we sailed 27 miles to Newport, and anchored in front of the Ida Lewis Yacht Club and the beautiful New York Yacht Harbour Court Club House. A great spot.
18.7 We walked around the IYR Boatbuilders and saw the 'Coronet', being rebuilt.
David's friend Ann invited us to lunch in the gardens of the New York Yacht Club, a great treat.
19.7 we sailed 70 miles away from Newport, through the Cape Cod Canal, where we reached a speed of 12.7 knots with the tide, to anchor in Plymouth, famous first stop in the discovery of America.
20.7 we motorsailed 37 miles to another famous yachting area, at Marblehead, Boston, where 3 yacht clubs share a bay with about 2,000 boats moored. Here we met up with more friends, Mike and Lizzie, and we had brunch at the Boston Yacht Club. We invited the immigration officer who had helped us with our Cruising Permit, Peter and his wife Maria-Grazia, to a Chinese meal aboard. The next day we walked past a fisherman selling lobsters, and bought 6 for $34.-, which we ate with sweet corn at Mike and Lizzie's Federalist-style home, built around the 1700s.
23.7 we left Marblehead, 0500 and had the most wonderful sail of 100 miles to Boothbay Harbor, Maine. We saw a few sunfish and seals, but no yachts. The FOG moved in, but we just managed to make the moorings off The Carousel Marina on dusk.
After a lay day exploring Boothbay town on 25.7 we crept 11 miles through dense fog and thousands of lobster-pot-buoys to anchor at Poorhouse Cove, with seals and terns around us, for a quiet night amongst rocks.
The next morning we set off through a huge swell to anchor after 20 miles at Maplejuice Cove, near the famous Olson house, painted by Andrew Wyeth, in his painting 'Christina's World'. Next day, We bought 6 more lobsters to cook up onboard. After lunch we set off in more Fog across Muscongus Bay, and anchored in Tenants Harbor, where there is a General store, we bought supplies.
28.7 we set off early, hoping to avoid the fog, but within an hour we were in zero visibility with lots of lobster pot buoys. We headed across Penobscot bay as the fog cleared, to Camden, where we watched a lot of stunning boats getting ready to race, but just on noon the fog closed in. The fog drifted in and out, and the race went ahead.
We have gone 800 miles in the 3 weeks since we left Deltaville on 5 July. From Camden we are heading to the Wooden Boat School for the Eggemoggin Reach Regatta next weekend, and from there back to Rockland for the Lobster Festival. In the meantime there are lots of coves we have not yet visited to explore, although more fog is predicted this week!!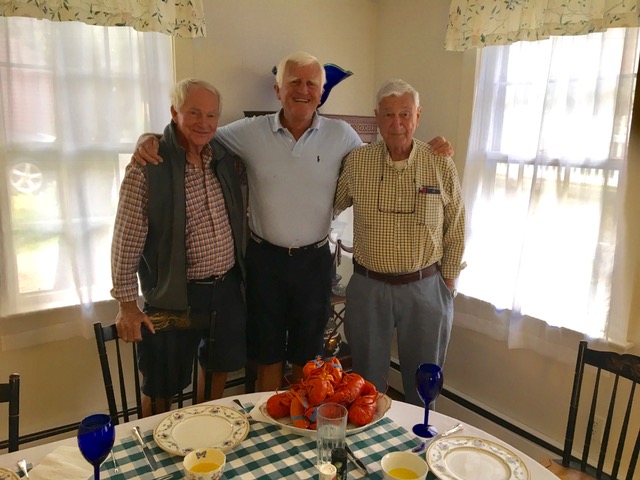 ---