Restless in the Chesapeake Aug-onwards

Restless of Auckland
Roland and Consie Lennox-King
Tue 26 Sep 2006 18:28
We were hoping to be in the Adirondacks for a combined birthday celebration with niece Sarah and Consie, but could not get our car insurance and registration completed in time, so we went to dinner at the Harborshack with liveaboards Penny and Stephen from Rainbow's End. We spent time making sure Restless would be as safe as possible in case a hurricane came up the Chesapeake, and on 19 August we left her in Spring Cove Marina in Rock Hall, and drove north in our toyota corolla to the Adirondacks, to visit Caroline and Duncan at Camp Winnetaska, near Lake Placid. This month away would be the longest time away from Restless since we started living aboard 19 months ago.
We had a lovely drive past ripening corn fields, then the motorway, then on the beautiful road through the lake district and forests arriving at Camp Winnetaska about 10 hours away, and about 100 years back. We saw a deer in the driveway and fell asleep to the sounds of loons laughing on the lake and the unfamiliar sound of a woodpecker. Caroline puts out birdfeeders, and there were lots of birds we don't know, including hummingbirds, chickadees, and something yellow – goldfinch? Chipmunks and squirrels try to get a share, too.
The Adirondack Camps are famous, families used to come to camp, hunt and fish here every year over the past 120 years, and the campsites became more permanent until they became cabins with wooden floors and walls, keeping some of the tent feeling by using canvas wallpaper, maps, and wooden posts with the bark left on. They have adirondack chairs and huge pots of red white and blue flowers. Caroline and Duncan often send a photo Christmas card, and it looks spectacular in the snow, they usually spend Christmas at the Camp with their daughters, Sarah and Anne, and it looks very cozy with fireplaces in many of the rooms.
We had a wonderful few days there, with Caroline and Duncan, canoeing, touring the lake, fishing, walking, swimming, hiking, had a trip into Lake Placid and one into Plattsburgh, and an evening of 'Arsenic and Old Lace' at Saranac Lake's Pendragon theatre. Roland raced several times in an Idem, a 32ft 100-year-old design of yacht exclusive to Upper St Regis Lake. Roland kept busy doing odd-jobs around the Camp, Caroline cooked us fabulous meals and we had lovely evenings by a roaring fire, with Duncan's brother Stuart for the first few days, and Caroline's NZ friend Sas for our last few days. She gave us news from NZ, including that the Maori queen had died.
We left the Camp to cross over the border into Canada, and drove to Montreal. We found a hotel in the Latin Quarter, walked the streets and watched the Agassi Pavel tennis match. Montreal is a city of churches, many of them being renovated. The next morning we drove up Mont Royal to see the panoramic view of the city, and walked up to the cross at the top. We set off for Ottawa, and got an enormous room for the night, then walked around the houses of Parliament at sunset. Ottawa at sunset is like fairyland with castles overlooking the Ottawa river. Such a beautiful capital city, it does not get its share of publicity.
We arrived in Toronto in time to help with preparations for the wedding celebration, on 1 September, when about 80 people came to Jane and Oliver's house and garden, to wish Matthew and Adrienne a happy life together. Matthew's brother Peter had flown in from New York, and Adrienne's parents and sister had come in from Vancouver for the celebration. A very special touch was that Matthew's sister Sophie had designed and made Adrienne's wedding dress out of her mother's wedding dress. The food was wonderful, and the wine was from Oliver's vineyard, Norman Hardie wines. We were very lucky with the weather for the party, as the next day it rained non-stop.
Jane made a wonderful Sunday kiwi dinner – bbq lamb, roast potatoes and ratatouille, with peach cake for dessert, 8 Lennox-Kings at the table! We provided the magnum of champagne, that we had won at Anguilla Race Week. We said goodbye to all the young, who were heading off in different directions, Matt to Labrador, his bride Adrienne to Vancouver, Peter to New York and Sophie to Montreal. Wonder where we will see them all again. The next day we drove to Jane and Oliver's cottage at Lake Methuen, a lovely drive past old farms and small lakes. A tornado had been through the area around Lake Methuen about 6 weeks earlier, many trees had been uprooted, and large areas had to be cleared before the road was usable. We canoed, walked, sailed, swam and had a lovely fire in the evening. We saw a deer and some loons, chipmunks and squirrels gathering their winter foodstore.
Back in Toronto we caught up with liveaboards, Bill and Barb on 'Suncast' who we met in the ICW last year. We went into Toronto and lunched with Sandy, who makes sure our foreign currency bills get paid, and we walked round Chinatown. Roland and Oliver raced together on Strange Device, in a Thunderbird regatta, and won with 4 x 1sts, 1 x 2nd and 1 x 4th places.
9/11 The fifth anniversary of that disaster got a lot of news coverage. We got up at 0400 to drive south from Toronto to the Chesapeake, across the Canadian border; a 10 hour drive, arrived at Restless about 1800 with provisions. Oliver took us to a lovely dinner in a restaurant in Rock Hall, and we spent our last night in Spring Cove Marina. We had driven a total of 2,000 miles round the Adirondacks and Canada, and the car used $104 worth of gas! The next day we cleaned and tidied, filled up with water, then motorsailed up the Chester River, had a BBQ steak dinner and a peaceful night. The next day we set off further up the Chester River, to Lank Ford Bay, went ashore and had a walk around several marinas, and another small watermens village.
The next morning, after a breakfast visit from 2 white swans, Oliver & Roland set off to walk in the rain back to Rock Hall to collect the car from the garage. Oliver and I took the boat to Annapolis, while Roland drove the car. We motored through the shallows and under the Chesapeake Bay Bridge, arriving in heavy rain and fog, back at our old anchorage in Back Creek, met up with Roland and had hot soup and bangers and mash. The next day we walked around Annapolis, got provisions, the men went to boatshops and looked at hundreds of boats. We drove to Baltimore to pick up nephew Peter who arrived from New York by train about 1930, drove back to Annapolis, and had dinner at Pussers Restaurant on Annapolis waterfront, the same chain that are in the British Virgins.
We heard from Gil that he had an awesome time at Hamilton Island Race Week, coming first equal. He has since been asked to join the well- known Australian Ichi Bahn racing team. Olivia sold her horse Davy to a woman in Dannevirke, they have had 8 great years together, but as she goes to Beijing to a language school next year, Davy needed a new home.
Saturday morning Joan and Jack kayaked past as Roland was up the mast changing a lightbulb, and invited us all for dinner that night.. We went for a lovely sail around Annapolis Harbour, amongst hundreds of racing yachts. One class being part of the US Naval Academy consisted of 20 matching navy blue racing yachts, about 40 ft long, No.16 was Restless (the others were Fearless, Dauntless, etc.) so we kept an eye on our little sister. We had a great dinner with Joan and Jack, the talk was all about spies and adventure stories. The next day we had another lovely sail on the harbour, and got a little sunburnt, before Peter and Oliver had to return home.
The following week was spent in Annapolis as we did various jobs aboard and tried to clear the boat of 18 months of accumulated gear. We even managed to ship 110lbs of books, too valuable to throw away, back home. The following weekend we went to dinner at the Annapolis Yacht Club which has reciprocal rights with the RNZYS and also a similar location, right by the town bridge, at the entrance to the harbour. The dining room has a Commodores table, but no Cobweb Corner. The banquet room bar is made out of a Skipjack, a Chesapeake oyster boat, with a bowsprit. Roland and Jack went for a fast sail in Jacks new Flying Scot. We had lunch the next day with them, discussing our sail to Bermuda and on across the Atlantic. We feel as if we know the Chesapeake area quite well, have explored many of its 2000 miles of waters-edge and have made wonderful friends who we know we will see again.
Au revoir to our Chesapeake friends from Consie, leaving 2 October for Auckland and Sydney, Roland stays on board to work on the 1001 jobs on his list in preparation for the transAtlantic crossing, and to winterize Restless in Deltaville, a small town about 70 miles further south on the Chesapeake. Then Roland will be best man at Rory and Joanie's wedding in Los Angeles on 24 November, before flying to NZ for family Christmas, returning to Restless in mid-March.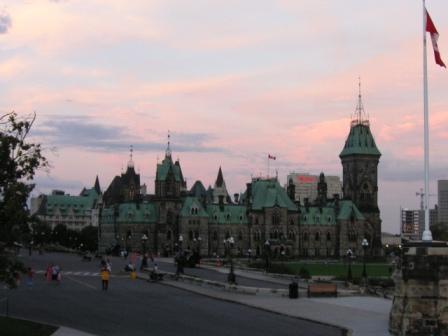 ---