PULA, CROATIA/HRVATSKA, 44:52.90N, 13:50.60E

Restless of Auckland
Roland and Consie Lennox-King
Thu 28 Jul 2011 12:12
Dobar dan again, from Croatia.
Our last web diary came from Trogir, where we said goodbye to Keir, who returned to Edinburgh, after sailing 2,500 nautical miles with us, we were sad to see him go. Friends Inger and Tuxen we had met in Denmark were on a luxury cruise on a gulet, and we met up for dinner together in a Trogir restaurant, in an ancient courtyard, in the marble cobbled streets. It was wonderful to meet up with friends we have made during our cruise.
Roland's cousin Caroline and husband Duncan arrived in Split on 9 July, and we took a ferry together back to the boat in Trogir. We spent a few almost windless days together, very hot, and we swam several times a day in the clearest water one would ever see. Together we sailed from Trogir north to Ciovo, Veli Drvenik, Polebrajak, Necujam and Stomorska on Solta island, and then back to Split, some 40 nautical miles. We went ashore at several tiny bays and islands, and walked through ancient cobbled streets and past crumbling village houses. At Split we walked around Emperor Diocletian's Palace, 2,000 years old, now mostly ruins with tourist shops in every corner.
We celebrated Caroline's birthday at a tiny restaurant in Stomorska, a few feet away from the water, and we ate a traditional Peka dinner, a 2,000 year old traditional dish of chicken, lamb, olive oil, herbs and potatoes in a metal dish with a lid, roasted on a wood fire for 1 and a half hours. Caroline and Duncan left by train for Zagreb, and then to Budapest and Vienna by train, before returning home to the States.
We met up with friends on catamaran 'Hawk Eye', whom we had met in Minorca, and we had meals together with Paul, Zoe, and their 4-year old twins Joshua and Lily. They remind us of our own Gilbert and Olivia when we sailed together on 'Reverie' 20 plus years ago.
Our friend David, who lives in Scotland and Antigua, arrived in Trogir on 15 July. Together we sailed north and walked around the villages at Ciovo, Vinisce, Primosten, Luka Grebastica. We sailed up the Krka river past Sibenik to Skradin, where we walked up to the Krka waterfalls and the second oldest hydro-electric plant in the world. Upriver there was an ancient water-driven washing machine and a flour-mill, thousands of years old, still working. We came back down the river, and anchored at Sepurine on Prvic island, then to Jezera on Murta island, passed the barren Kornati islands, and anchored at Uvala Dumboka, where we saw yet another bunker for hiding naval ships in, huge manmade caves, that we have seen several of.
We had a lovely sail north to Losinj island, where we walked into Mali Losinj and Veli Losinj, two famous historical harbours. This area was loved by the Austrians and Hapsburgs for the gorgeous clear water, and many of their fantastic coloured summer villas remain. We have not seen many natural beaches, people put their umbrellas and towels on a stretch of rock or concrete, and swim for miles in the clear water. At Mali Losinj we had a delicious Fish Peka dinner, and walked around the harbour-town. The next day we sailed to Osor canal, and walked around another ancient walled city, settled by the Romans, who dug the canal to make a passage between the islands of Losinj and Cres, around the time of Christ, some 2,000 years ago.
We sailed from Osor to Istria, and anchored at Luka Kuje, but a fisherman told us a Bora (a sudden strong wind from the northeast/mountains) was coming, and we should move to a safer anchorage. We ran with the wind in 25knts and watched a huge waterspout pass, followed by a rainbow, and anchored off the holiday town of Medulin. This area is part of the European mainland, and there are many campsites under the trees, and huge marinas. We walked around Medulin, and relaxed for two days whilst the low pressure system passed. On Tuesday 26 July we sailed to Pula in brilliant sunshine and a light sea breeze—bliss!!!
Pula has a huge, industrial harbor and shipbuilding yards, and the city has a 2,000 year old coliseum, where a reggae band was performing. We found a nearby café, and watched from above, a surreal scene in the ruins of the amphitheatre. We said goodbye to David on 28 July; after exploring the sights of Pula, the citadel, archaeological museum, markets, and Hercules triumphal arches, he flew back to London.
We were lucky enough to find a refrigerator mechanic, who fixed our fridge, and we left Pula to find June and Pat, on 'Antares' in a nearby bay.
James, our son-in-law, arrives in Venice on 6 August and he is running in a marathon in the Dolomites, so we plan to hire a car to watch him run, see some of inland Slovenia and Italy, and will leave 'Restless' in a marina in Pula for a couple of nights. Then Olivia arrives in Venice on 13 August, and we will be in Venice on 18 August for Consie's 60th birthday. Gilbert and his girlfriend Pippa will come to join us a few days later. We are very excited about having them all on the boat again. Hope you enjoy our photos, the sea really is that blue!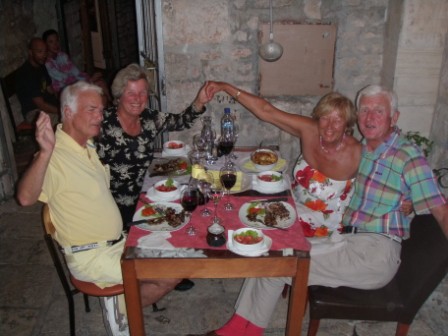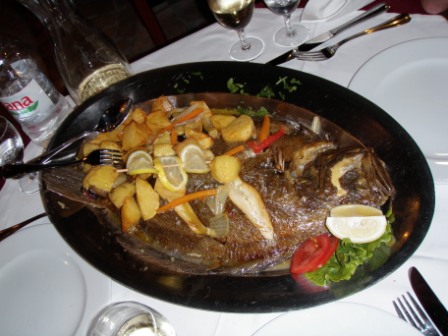 ---