GIL, PIP AND MIA IN THOUSAND ISLANDS, LAKE ONTARIO (43:13.80N 79:27.00W)

Restless of Auckland
Roland and Consie Lennox-King
Mon 17 Jul 2017 17:07
GIL, PIP AND MIA IN THOUSAND ISLANDS, LAKE ONTARIO (43:13.80N 79:27.00W)
3.7 Gilbert, Pip and Mia arrived in Toronto, and after staying a few days at Jane and Oliver's house, we went to their cottage on Lake Methuen for a night, while Oliver and Roland motored Restless down the Lake, to Cobourg and the next day on to Trenton via the Murray Canal, a total distance of some 90nmiles. Next day Oliver took Gil and Pip to his vineyard, Norman Hardie's wines on Prince Edward Island.
10.7 We said goodbye to Oliver, and motored to Sandy Bay on Prince Edward Island. Mia slept her first night aboard Restless at anchor, getting used to wearing a lifejacket when on deck, and enjoying a cold swim before dinner. She has no fear of the water, and is a busy little bee, repeating each new word, and we all joined in with colouring, reading, dancing and singing.
11.7 After a morning of circling the boat swimming on Daddy and Poppa's backs, Mia collapsed whilst we motored 22nmiles around Prince Edward Island to anchor off the delightful town of Picton in glorious sunshine. We put the Bic dinghy in the water and Gil took Mia for a sail, which she loved. Late afternoon we all went to explore town using what is now dubbed 'Mia's Boat', the inflatable, to get ashore. Picton is a very picturesque spot, with marinas, and a busy town.
12.7 we motored 35nmiles to Kingston, and anchored in Deadmans Bay, just to the east of town. We all went to Cedar Island for a walk ashore near one of the towers overlooking Fort Henry, which was originally built by the French, but greatly enhanced in 1783 to its present form by the British Loyalists. It was never used. To our surprise fireworks were let off from the fort while we ate our dinner. The next day we walked around town, with its antique steamtrain on the waterfront. We motored 13.4nmiles to the 1,000 islands area, and anchored in a lovely spot for a roast NZ lamb dinner. Consie found she had a little supervisor as Mia discovered if she used the bag of dinghy lifejackets she could see over the top of the divide and keep a good eye on Oma whilst she was in the galley. How long before she can actually help!!!
14.7 After an early morning swim and breakfast we took a 'tiki-tour' around some of the 1,600 islands, many of which had a single house and boat-shed on, many islands are 50ft X 50ft, some even smaller. The lake levels here are also abnormally high this year, and many of the boatsheds are half underwater. We motored back to Kingston, where the La Salle bridgemaster lifted his bridge for us at 1800 and we anchored off the Kingston Marina some 400 metres from the bridge.
15.7 Time to say goodbye to Gil, Pip and Mia, but we delayed the farewells by hiring a car and driving 3 hours to Montreal, we had a quick tour around the very French city, and then dropped them at Montreal airport, before returning to Kingston, feeling flat after the busy days with them on board.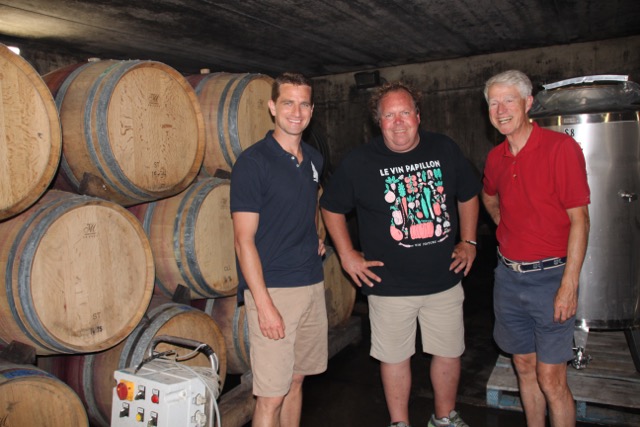 20/21 July Shenton and Olivia will fly into Toronto, and stay with Jane and Oliver before taking a bus to Kingston to join us on Restless in the Thousand Islands, and we will get an update on their wedding plans.
---