South from ROCKLAND, MAINE, to NANTUCKET, MARTHA 'S VINEYARD, and MYSTIC SEAPORT 41:21.70N, 71: 57.90W

Restless of Auckland
Roland and Consie Lennox-King
Sat 1 Sep 2018 21:41
5 Aug. we left Eggemoggin Reach and motored 11.5 miles to Buck's Harbor, where we had a peaceful night, got fresh water from the Yacht Club, and walked through the unchanged scene from the children's book 'One Morning in Maine'. The next morning we left, motoring 21 miles, past Pumpkin Island lighthouse in light fog, to anchor at Rockland, a convenient place for a crew change, as it has a bus terminus, and is becoming the Art Capital of Maine. We saw John in his new gallery, Art Space, and went with John and Kelly to 'Claws' for David's last lobster meal. The next morning John and Kelly came to give us a lift with our provisions from the supermarket to the Harbormaster's dock. Sandy joined us for lunch aboard, and drove us to pick up propane gas. We refueled in Rockland, and waved goodbye to David, who had motor/sailed 900 miles with us in 6 weeks. We motored the short 12 miles across to Fox Island Thorofare, and tied up to George's mooring outside his house and boatshed. Allison and Mark collected us and took us home for dinner of fresh corn and Lobsters!
12 Aug we motored 13.3 miles to Dark Hbr, on Islesboro, where we met up with Louise and Steven on their schooner 'Wolfhound' together with their friends Pat and Chris, whom we had met in NZ. Louise made us dinner aboard, a standard I cannot match in our smaller galley. Louise had lived on this island some years ago, in a 65 window house, and we counted the windows in the enormous houses ashore, to see if we could guess which house she had lived in. John Travolta was one of her neighbours.
14 Aug we set off in light fog, to find our steering had failed and a ferry was very close, blowing its horn. We managed to get to safety, and anchored by Warren island, whilst Roland repaired the problem. We went for a walk ashore on 2 Islands, found wild raspberries and blackberries, but left when the mosquitoes found us. Roland spent two foggy days sanding and varnishing, but was disappointed with the results.
16 Aug we motored back to Rockland, to get provisions and to do laundry, and had a farewell dinner with John and Kelly, we hope to see them in New Zealand one day. The next morning we motored to Pulpit Hbr, to have Allison and Mark aboard for a Chinese meal before we set off south. We had more Fog, and Roland did more sanding and varnishing.
18.8 Consie's Birthday, and our new generator stopped dead. Roland tried for hours to fix it, but decided to take it on Monday into the dealer, at Camden. Wolfhound invited us aboard Wolfhound for a birthday dinner of BBQ Lamb! We had not seen lamb for sale in supermarkets here, so it was a welcome treat! We had no phone or internet reception, so received many birthday wishes from family friends on the 19th.
20.8 we set off at 0600 for Camden, and Lyman-Morse got an engineer aboard to fix the generator, a tiny installation problem, which caused many hours of hunting for the cause. Once fixed, we headed to Maplejuice Cove for a quiet night, more Fog, and a visit ashore to new friends.
23.8 No Fog, so we headed south to Quahog Bay, and the next day reached Portland, where Geoff was arriving from NZ to join us for 10 days. We walked around Portland, a Town full of wharves for Fishermen, Lobstermen, Crab-men, and Oystermen.
25.8 Geoff arrived, and once settled in, we set off the next day to motor 77.5 nmiles in a lumpy sea south to Gloucester, where we gave him Maine lobsters for dinner. 27.8 we motorsailed 60nmiles south to the Cape Cod Canal, where we rushed through with the current at up to 10 knots, and anchored in Onset. We had a swim and went ashore for a walk and dinner.
28.8. We had a morning coffee visit from Lynn and Peter, before setting off with Geoff from Onset for Woods Hole, which cuts through to Nantucket. We had a lovely sail, and arrived at dusk in Nantucket, after 55nmiles, having read the book 'In the Heart of the Sea' which Geoff had given us. It is the true story of a sperm whale attacking and sinking a whale boat in the Pacific in 1820, a story which became the basis for 'Moby Dick'. We walked around this very picturesque town, with its historic whalers' homes, and we visited the museum with its full sized whale skeleton suspended over the small whaling boat. Roast lamb for dinner aboard! The next day we walked around historic Nantucket, full of Whaling captains' homes with small lookouts on the roofs.
30.8 we motored 28nmiles past sandbars to Edgartown on Martha's Vineyard, again the historic home to hundreds of whaling captains, and found a restaurant overlooking the harbour, where we could eat dinner and keep watch over the riding lights of hundreds of boats.
31.8 we motorsailed from Edgartown to picturesque Vineyard Haven, full of schooners, then to Menemsha, an artist's dream harbour, before motorsailing to Block Island for the night. The next day we sailed to Mystic Seaport, where we tied up alongside the Museum. Geoff left us to return to his own catamaran, 'Salanjo' in the Chesapeake. We will head down Long Island Sound, and meet up with Keir, before heading south to the Chesapeake.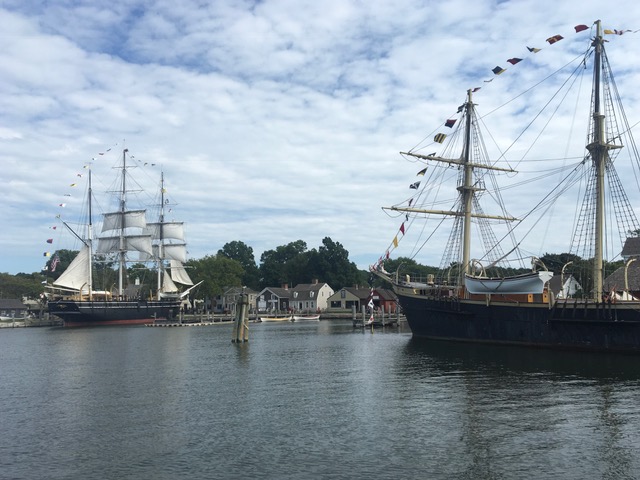 ---