We are back on Restless in Marmaris, TURKEY, June 2013, 36:50.00N 28:18.00E

Restless of Auckland
Roland and Consie Lennox-King
Sun 23 Jun 2013 16:33
We are back in Marmaris, TURKEY, June 2013, 36:50.00N 28:18.00E
2013 started with the annual New Year's Day race in Parekura Bay, Roland was the handicapper, and Gilbert and Pip sailed 'Alibi' with a crew of mum Consie and Auntie Flick. Gilbert and Pip had spent two weeks with us over Christmas, and we had a fine summer after the previous summer's downpours. 2 January they returned to their jobs in Hong Kong: Pip with the British Council, and Gilbert at Energenz.
In January the fine weather in NZ turned into drought, lasting until April, so there was no point replanting our garden. We had beautiful sails and walks around Orapukapuka and other islands with NZ and overseas friends, including Jane and Oliver who visited us from Toronto.
In February we had a lovely fortnight visit from Olivia, with her friends Jo and Konrad. Olivia cooked most of the meals, banana bread, chocolate cake and spanakopita, and we had fresh salads from our garden. Olivia left 12.2, and a few days later we had bad news that Roland needed an operation, which altered our plans to return to Restless 4 April. He spent his spare time restoring our old Flying Dutchman, 'Gypsy Rose'.
Our delayed plans gave us time to replant our garden with 300 NZ native plants with exotic names like Ponga, Nikau, Astelia, Harakeke, Kiokio, Oi Oi, Kaha kaha, Manuka, Kiwikiwi, Rengarenga lilies, hukihuki, Coprosma kakaramu, Korokio, Tanekaha, Totara, Kowhai and Kauri. Don't they sound like a Pacific Dance? Let's hope they thrive in the shade of our giant Pohutakawa and Puriri trees. We got help from neighbours Christine and Michael, and from Phillip, an expert on native plants, he has a collection of over 100,000 NZ natives. We planted the last plants 3 days before we flew from Auckland to Sydney, for a few days with Feyona and Andre and family, and Bonnie and Mum, who still plays bridge 3 times a week.
24 May we flew from Sydney to Hong Kong for ten days with our young, stayed a few nights on board 'Manihiki' with Gilbert and Pip at the Royal Hong Kong Yacht Club. They took us to Po Toi for seafood lunch and a swim, then on to Shelter Cove for the weekend, Olivia joined us. Then Olivia took us to Stanley, where Consie grew up, and we had diem sum lunch.
2 June we flew to Pisa, saw the Leaning Tower, and Annabelle and Bill collected us to drive to Rosignano for the Etchell World Championships. Bill, Roland and David launched Chelsea Lady, and sailed 9 races in very light winds, coming half way down the fleet of 45. Meanwhile, Consie went sightseeing with Annabelle, Sally, Patsy, Grescha, Jill and Sandy. We went to Piombino, Cinque Terre, Volterra, San Gimignano, Lucca, Florence, Bulghiera, and Bobbina, while the men sailed. We ate an amazing dinner on the beach one night, and all had too much seafood and pasta and wine.
17 June we flew into Istanbul at midnight, woke up and walked to the Blue Mosque, Hagia Sofia, round the Spice Market and Grand Bazaar. We went on an evening Bosphorus cruise, and saw kiwi friends' catamaran Salanjo. 19 June we flew to Dalaman and taxi'd to Yatmarine Marmaris, where 'Restless' was waiting on the hard, and we fell into our bunk. The next day our agent/friend Ali drove us around Marmaris town, and invited us to Turkish dinner at home with his wife Burcu.
'Restless' had a busy winter, with a new Galley, all systems checked and renewed for her thirtieth birthday, and after a quick antifoul, went back into the water on Saturday 22 June, and whilst we have not confirmed our cruising plans, hope to spend the summer in Turkey and the Greek islands.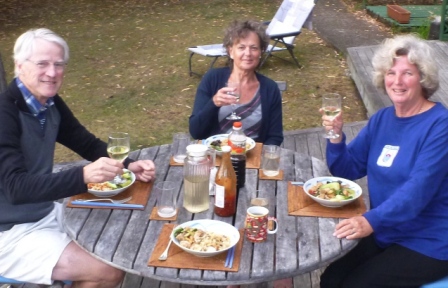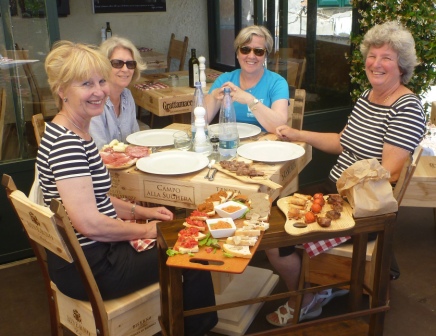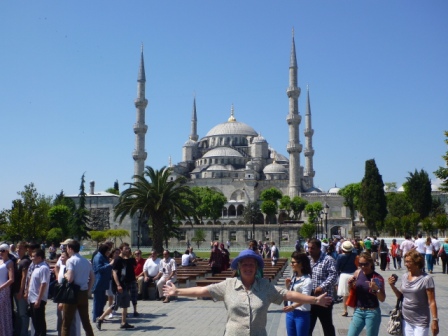 ---