FROM MALTA BACK TO SICILY, 37:03.50N 15:16.80E

Restless of Auckland
Roland and Consie Lennox-King
Sat 27 Jun 2015 06:44
FROM MALTA BACK TO SICILY, 37:03.50N 15:16.80E
Firstly, I need to correct another another typo from me, our grand-daughter's name is Emmeline Tessa Lennox-King, did I make this mistake or did my computer change it when I was not looking?
We spent many days anchored in the bay at Syracusa, and during the day we walked around the town and went to the amazing open-air market. Every day there were huge tuna and swordfish in the fish shops, and young men opening up kina/ sea urchins and taking out the edible parts. The fresh fruit and vegetables are amazing, and also herbs, spices, honey, olive oil, ricottas, sliced hams and salamis in the salumeria, fresh breads, and meat in the marcelleria. After visiting the market we go to one of the many gelato shops and have a stracciatella or fragola or limone sorbet. It is fun to be in one place for a few days, as the people in the shops start to recognise you and even start to understand your Italian words.
In Syracusa we met up with many other boats we had seen in other places in the Mediterranean, and we got together for a drink and chat many evenings, swapping stories, recipes, sewing patterns, getting advice on parts of engines, and more.
C's cousin Liz left us after 10 days aboard, flying home to her farm near Falmouth, having had her first holiday away from her farm for many years.
Our next visitors were our neighbours from the Bay of Islands, New Zealand, bringing news of friends from home. Their luggage had been mislaid by Alitalia, and they had a frustrating 5 days trying to get any information from the airline. They were en route to a wedding in Capri, so were glad to eventually get their bags with wedding outfits back. We went together to the market and bought fresh fish and vegetables, and cherries at E1 a kilo, and set off for a lovely 30nmiles sail from Syracusa to Marzamemi on the southern coast of Sicily, we saw a huge swordfish jump a few times, but nowhere near the lure we had out. We had fresh tuna for dinner that night. Today we plan to return to Syracusa for them to catch a train north on 29 June, the train would go on a ferry across the Straits of Messina, passing through the famed whirlpool 'Charybdis' that we have experienced twice, losing steerage in the magnetic field.
29 June our daughter Olivia and boyfriend Shenton are due to arrive in Catania and Syracusa, from Hong Kong via Rome. Olivia is a vegetarian, so she will enjoy the beautiful vegetables in the market.
---
This email has been checked for viruses by Avast antivirus software.
www.avast.com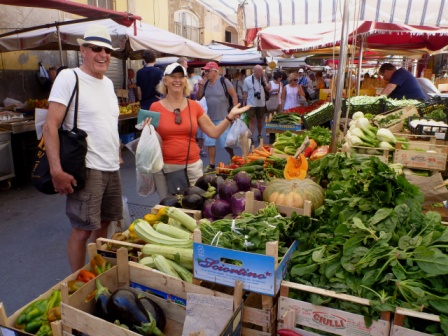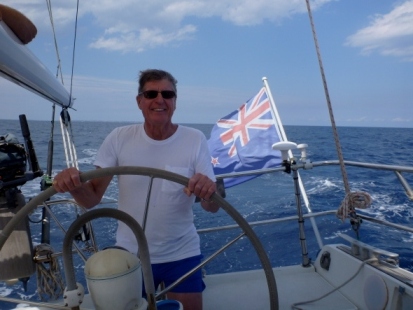 ---