October 2013, BACK TO MARMARIS FOR ANOTHER WINTER ON THE HARD IN TURKEY: 36:50.00N 28:18.00E

Restless of Auckland
Roland and Consie Lennox-King
Fri 11 Oct 2013 02:20
October

2013, BACK TO MARMARIS FOR ANOTHER WINTER ON THE HARD IN TURKEY: 36:50.00N 28:18.00E
This may be the last webdiary for the year, as we have left 'Restless' in Marmaris for another winter, while we returned to NZ, via Hong Kong, and Consie flew to Sydney with Olivia to go to nephew Willem and Zoe's wedding on 18 October.
Olivia was due to join us on the boat on 26.9 in Gocek, and we left Kalkan on the 24th to sail north to meet her. Unfortunately, as we motored past Patara beach, the wind got stronger with a large swell, and we found ourselves going nowhere, so we turned around and went back to Kalkan for the night. We got up early to set off again the next day 33.5nmiles, past the Seven Capes to Wall Bay, where we had calamari dinner at a waterside restaurant. This is a short distance to Gocek, so we motored across to collect Olivia that night. The next morning we motored across the bay to Yassica Adlari, where Alan and Fi had a last snorkel and swim before we took them back to Gocek for another delicious calamari meal ashore before they caught their flight home to Scotland.
Olivia was keen to see the ruins called Cleopatra's Baths, so we went to Skopea Limani, and took our dinghy over to swim over the baths, patted some donkeys nearby, saw some turtles, and sailed the Bic dinghy. Livi always wants to cram everything into her short holidays, so we motored to Ekincik, where Livi and Consie took a ferry to see the cliffside tombs in Dalyan. We walked around the ruins of ancient Caunos, with a fine amphitheatre, baths, mosaics, and some very large, alive lizards living in the remains of cobbled marble streets with temples and shops.
1 October we had a great sail to Marmaris, with the wind picking up and thunderclouds building overhead. We got our sails down just as the front arrived with 35 knots of wind and the rain we had not seen all summer. We managed to refuel and motored across to the marina, to see a large seal playing foot- or tail- ball with an octopus outside the entrance to the marina. We squeezed Restless into a berth at Yatmarine, ready for haul-out on 3 October, and managed to get our sails down and folded away in a break in the gale-force winds. Olivia and Consie took a dolmus/ minibus into Marmaris for the day, to look at the irresistible carpet shops along the waterfront, and the carpet seller showed us how he could magically fold them into a tiny bag, which could easily fit into our luggage!
Haul-out in Yatmarine is easy and efficient, with a 70 ton and a 330 ton crane, and as they put away a couple of thousand boats a year, our little Restless was no problem. A last night aboard, a 5a.m. taxi to Dalaman, an hour flight into Istanbul, and we were in the Grand Bazaar by lunchtime, with a huge drop in temperature from mid-30s to 8 degrees, the seasons had changed from summer to winter overnight.
Istanbul is a traveller's dream, Europe and the Orient in one city, Christianity and Islam under one roof at the Hagia Sofia, men in jeans and t-shirts, women in full burka (horribly invisible). We went to the ancient underground water Cisterns, and to the glorious Blue Mosque, then had lunch in a restaurant with a stairway underground to an ancient Palace. Olivia stroked the famous white Sultana cat, with one green eye and one orange, sleeping on a mound of Turkish carpets. Our 24 hour stay in Istanbul was soon over, and we flew to Doha and on to Hong Kong. Back to work for Olivia, a quick hi to HK for Roland, who flew to Auckland on 9 October, and 11 days for Consie, before flying with Livi to Sydney for Willem and Zoe's wedding, then Consie flies home to NZ on 29 October, and Livi returns to Hong Kong.
Gilbert and Pip announced their engagement and we are all very happy. Livi and Consie and Pip first met in Beijing in 2007, Gilbert met Pip in April 2009. Pip has come sailing on Restless in Sweden, Scotland, Croatia and Turkey. Her family live near the Thames in England, and have come to stay in the Bay of Islands. Gilbert is following a family tradition, with an identical twin grandmother, mother and fiancée!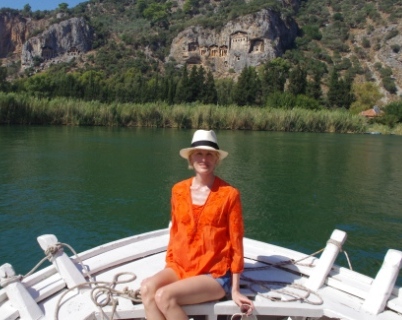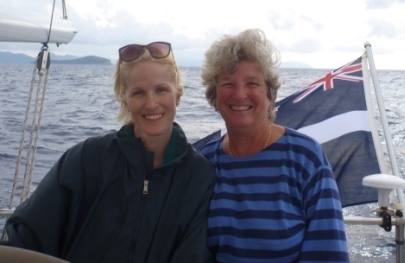 ---