Fw: RESTLESS leaves STOCKHOLM, 59.192N 18.066E

Restless of Auckland
Roland and Consie Lennox-King
Mon 13 Jul 2009 15:21
Summer has arrived at last! We tied up at Navishamnen marina on one of the 14 islands that make up Stockholm. When we wrote our last webdiary, on the eve of the Scandinavian midsummer celebration, it was 10'C, now at the end of June it is up to 30'C. We have been sailing through the beautiful archipelago west of Stockholm, on freshwater lake Malaren. The Swedes are on holiday, and many of them are sunbathing on warm rocks, swimming and boating.
We left the Gota canal and anchored at Lindoja, Oxelosund, Ringson, Langosundet, Batsviken, Sodertalje, Mariefred, Gunnviksviken, Bjorko, and by the King's palace at Drottningholm. We walked round Mariefred and around Grippsholm slott (the red castle on the front of Abba's album Waterloo) with its National Portrait Gallery of 4,000 portraits, and rooms not redecorated since the 1500s! At Bjorko we walked up to the 750AD viking burial town. Several evenings we saw hot-air balloons drifting past in the late dusk, there is no real night-time at this time of the year.
Our kiwi friends Prue and Warwick joined us in Stockholm for a few weeks aboard, and we will travel together to St Petersburg by train at the end of the month. We walked around the old town of Stockholm and spent a day at the Wasa museum. We also had Lotta for dinner aboard, she was the cook on Stormvogel, that she and Roland sailed together 42 years ago, and had not seen each other since. James' stepfather Hugh came to Stockholm on business and we persuaded him to spend 24 hours aboard while we sailed to Vaxholm island, where there is a fortress castle and a lovely old town, and Hugh took a ferry back to Stockholm.
We motored and sailed on to Storon, to Paradiset on Idholmen, where we picked wild blueberries, and on to Grano then Lidon. We had an email from Scottish friends on Seewolf II, who were in the Aland islands, so we set off on a foggy morning, and after the fog burned off we had a beautiful sail across to Finland. Helen and Dave were on the pier at Mariehamn, where we tied up bows in to the dock, and we stocked up on food, gaz, Finnish phone chip and euros. We also put our clocks forward after nearly missing a drinks invitation on board Seewolf II.
Everybody loves a storm story except the people who are in it! And we have an exciting tale to tell. At Mariehamn a storm blew up while we were in the marina with 170 other yachts when the pontoons started to move, the pontoons were bouncing, boats were bouncing, masts bouncing, it was raining, the wind was whistling, it was very noisy, and it seemed all the tv cameras and newspapers and the hundreds of locals came to watch and photograph us. The young harbourmaster got very nervous and decided to call in the coastguard and they made the decision to drag all the bigger boats off the pontoons with the search and rescue boats.
Two young Germans who had invited us to dinner the night before on their beautiful double ender, Red Robin, were the first to be dragged off, and with the combination of the wind, waves, noise, and the search and rescue on the tannoy it was quite hair-raising. The search and rescue basically wanted to cut stern lines and drag everyone off in reverse, fast, and we were all very lucky that nobody (as far as we know) was injured, though a couple of boats may have had prop damage from dragging ropes etc. When it was our turn they cut our new clip and rope and dragged us off so fast, with the people on the dock trying to release our forward lines, it was a bit fraught, but as I said, everyone is fine and we are all anchored across the bay where it is calmer, and the harbourmaster has just sent a boat around to ask if we need anything.
By then the 2 young Germans (Rolf and Wolf) were sitting on our boat having beer and crackers and when the harbourmaster's attractive young assistant came past and asked if we needed anything, Rolf asked "Do you take orders for ice cream and pizza, if so, yes we want some!" She said ok, and called his bluff, but he was joking. So all's well that ends well, and this morning we woke up to a visit from a kiwi!
Prue and Wog have taken all this excitement as part of their adventure aboard!
T6 arrived in our bay last night and this morning we saw they were flying a RNZYS squadron ensign! The first kiwi boat we have seen in 2 years, and the first ensign we have seen in 5 years! John came over and joined us for a coffee and has invited us back to see his beautiful boat that was in Corfu a few weeks ago - how I wished he had brought Gilbert over with him. He is on his way to have his helicopter serviced in Stockholm.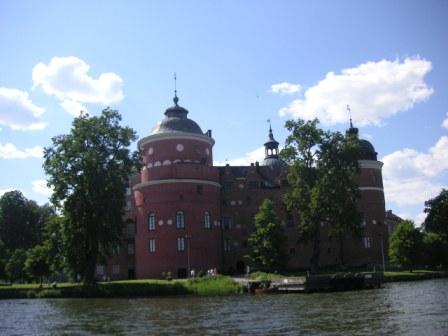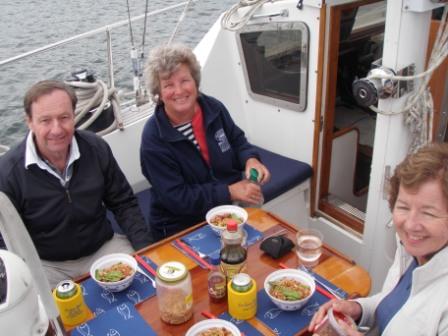 ---