OUTER HEBRIDES, SCOTLAND JULY 2010, 56:57.27N, 7:29.47W

Restless of Auckland
Roland and Consie Lennox-King
Tue 27 Jul 2010 09:47
June 2010 found Restless moored in Loch Duich, near the island of Skye in Scotland, with a broken starter motor and gales sweeping past the north of Scotland. Luckily our friends David and Eve have a cottage in Letterfern, and their neighbours also made us welcome while we waited for a new starter motor to be delivered. We had a short visit from Margaret and Tony from New Zealand, and our friends Annette and David brought their yacht 'Nordlys' north. We walked again to the 2,000 year old ruin of a broch nearby, and drove around the nearby countryside and over the bridge to Skye with Tony and Margaret. David sailed with us early July south from Letterfern to Bunessan on Mull, to meet up with the West Highland Race fleet, and we photographed 'Erlanic' under spinnaker. We sailed with the fleet in cold, rainy conditions and 46+kts of wind, big seas and tidal races, past Iona and round Mull, Luing, and the famously dangerous Corryvreckan, to Ardfern, 2 yachts were dismasted. We tied up to a safe mooring in Ardfern lagoon and said goodbye to David, who was getting a lift back to Letterfern with Anne, who stayed overnight on board.
We met Fiona and Alan's new grandson Finlay, before driving home with them to Helensburgh for a few days 'holiday' from Restless, dinner parties with friends and provisioning for the next 2 weeks on the Clyde Cruising Club Centenary Cruise meet from Ardfern to Vatersay on the Outer Hebrides. I also visited Fiona's father with her, 94 years Young, and we had cullen skink (fish chowder) for lunch, a typical Scots dish. We all returned to our boats on the 16th July, in 2 cars loaded with food and gear, to find Jan and Keir's schoolfriend Louise had collected Keir and driven him out to Ardfern to join us, and we had a huge meal at the Galley restaurant in Ardfern.
The next day, 17 July, was registration day for the CCC meet, and NZ friends Ginny and Tim arrived in Ardfern in time for a big ceilidh/party in a marquee. About 200 boats had mustered in Ardfern, including 30 American yachts, either sailed across from the States or chartered locally, the remainder were mostly Irish, Scots and Brits, but some yachts were from further offshore. It was a great party for renewal of old friendships and the making of new ones, as we tangled our way through Scottish dances. The band very cleverly interspersed Scottish music with some well-known American songs in the same tempo, so you found yourself dancing Eightsome reels to the tune of "I'm a Yankee Doodle Dandy". The next morning the fleet set off early to race from Ardfern to Tobermory, 40 nautical miles with all conditions, setting off in rain, fog and light winds, through the whirlpools at Luing, and into bright sunshine up the sound of Mull, to picturesque Tobermory. We overtook and were overtaken by the same boats all day, and had many opportunities to take photos of friends' boats with our new camera from Olivia and James. The Canadian crew of Milvina came aboard, and we laughed when we heard we were all having haggis for dinner.
20 July was the date set for the record-breaking Giant Sunflower with over 187 boats, and we all motorsailed across to Loch Drumbuie, while Tim spent a colourful hour putting our bunting into the correct order. Ginny, Fiona and I climbed to the top of a nearby hill to photograph the event, and then returned to climb across 50 yachts to get back to Restless. Most boats had put up bunting, and it was very colourful in the sunshine, a piper played from a nearby dinghy, but only 183 boats turned up, so no record was set. We had a little trouble extricating our anchor, before the break-up of the sunflower and a nightcap aboard 'Erlanic' with Mike, Fiona and Alan.
The following day was a rough sail in wet and cold conditions and gusting to 35 kts of wind as we beat around Ardnamurchan point, the most western point of mainland Britain. Once you have sailed around this point you are entitled to put a sprig of heather on your bow (but we had done it at least 4 times already). We went into the very narrow entrance of North Loch Moidart to meet up with the Royal Cruising Club raft-up with Commodore Nigel and Bindy Wollen on Wish Hound. Everyone was in wet weather gear at the party, and one skipper told us he had been chest deep in water at the mast en route to the meet in his lovely old ketch, everyone had clothes out to dry the next morning. We all went for a walk to see the ruins of MacDonald castle Tioram. Later that day we sailed northwest to the Hebridean island of Canna, a quiet anchorage with churches at each corner, and 25 boats anchored in the bay.
23 July was the day Ginny and Tim saw their first puffins, hundreds of them were fishing from the rocks around Canna, and we also came close to a dozen basking sharks and a few dolphins, before arriving at the Hebridean island of Eriskay, after a lovely day's sail. Eriskay is where Bonnie Prince Charlie mustered his troops in his unsuccessful bid to regain his throne, and he left a few white ponies behind, the ancestors of the present wild ponies, we saw 13. We walked along Bonnie Prince Charlie's beach and saw the cairn commemorating his landing this day, 23rd July, in 1745. Five Americans came aboard for a drink, they had chartered a yacht, and later I set my new lobsterpot, catching 20 small crabs by morning, most of which Ginny turned into delicious mulligatawny crabsoup for lunch.
We motored 15 miles in a lumpy sea on a dreich day, to Barra, in the Hebrides, to the beautiful white sandy beach chosen for the Vatersay Beach BBQ on 25 July. The BBQ started at noon in uninspiring weather, which changed into a lovely sunny day, with more than 100 boats anchored in front of the beach, 100 dinghies lying along the shoreline, and a row of BBQs manned by the Clyde Cruising Club, cooking tons of langoustines, steaks, sausages, chicken, corn and hamburgers, for the Vatersay locals and 500 yachties. It was a great party. Roland and I went to dinner on Pinocchio, and said goodbye to good friends Dinky and Peter, Fiona and Alan, and many others, where will we all meet again? This was Ginny and Tim's last night aboard, and they curried up some fresh langoustines, Keir stayed with them, as he had caught Tim's virus and needed an early night. On the morning of the 26th we motored through peasoup fog, rain and cold, to Castle Bay (with the ruin of Kiessimul Castle overlooking the ferry pier) and waved farewell to Ginny and Tim, and other friends returning to Oban. Ginny and Tim will fly to Norway to join Jesta of Lisia for the RCC Norway meet. Our next visitors are cousin Lizzie and her 2 girls, Tamzin and Zoe, having a week's holiday from their farm in Truro, where they have 20 horses, sheep, pigs, geese and hens. We are hoping the weather will improve, we have had only about 10 summery days so far!
Soon we will be off south to Ireland, France and Spain, together with our Scottish friend Keir, and we hope to leave Restless in Portugal before we return to New Zealand for Christmas.
Keir asleep on the long beat around Ardnamurchan point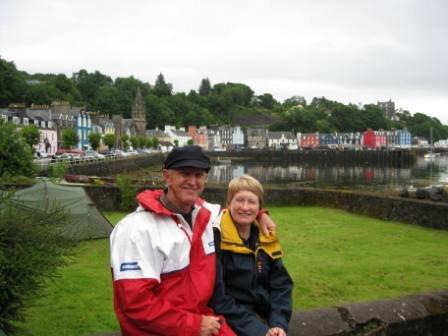 ---