April and May 2015, PREVEZA TO CORFU, IONIAN GREECE, 39:39.80N 19:51.30E

Restless of Auckland
Roland and Consie Lennox-King
Tue 12 May 2015 15:41
April and May 2015, PREVEZA TO CORFU, IONIANS, 39:39.80N 19:51.30E
We left New Zealand, stopping for a week in Hong Kong to catch up with our young, and arrived in Preveza, western Greece on 21 April, to find 'Restless' booked to launch 27 April at 1300 for the start of another season aboard, our 11th year of this cruising life.
Our plan for this year's cruising is to sail from Preveza, cruise the Ionian for a couple of weeks, before crossing to Italy, Sicily, Malta, Sardinia, then west to Mallorca. After having everything checked and serviced we will explore the coast of Spain south to Gibraltar, then to Morocco at the end of the season, to Lanzarote in the Canary islands, before a planned Atlantic crossing to the Caribbean, maybe in Jan/Feb 2016.
Once again, we went through our long list of pre-launching jobs, this year Roland had made a new coaming for the propeller in his workshop in the Bay of Islands, and he fitted it in place. We painted another coat of blue anti-fouling on the hull. Our friend David from Scotland arrived on 25 April, and set straight in to help with scrubbing and Roland and he took all the stanchions off and re-bedded them, and then replaced our navigation lights. Roland went up the mast with our halyards, and came down polishing the mast on his way. No problems with putting Restless back into the water in Cleopatra Marina, they handle a couple of thousand boats every season. Consie took a ferry across the harbour into town to see the Port Police and Customs, and got our Transit Log renewed for 6 months. Preveza was where Antony and Cleopatra had their fateful battle with Octavius, with most of their troops either dying of malaria or defecting to Octavius. We had some fabulous fish meals ashore in Preveza, filled up with water and provisions, paid our bills, and set off for the inland waterways of Amvrakikos Kolpos.
We motored across to Koromisia and walked up to a Byzantine church, but with a building onshore breeze, we motored across to Vonitsa, where we anchored by a Chinese-looking bridge for a peaceful night with Greek fishermen around us. An ancient fortress overlooks the bay, and we walked up the hill, but it was closed, it is a little early in the season. David and Roland re-wired our centreboard and lifting rudder. Consie knitted a toy for Gilbert and Pip's baby, due in June, our first grandchild, we are very excited.
6 May we set off for 35.5nm of motorsailing, stopping for our first swim at Emerald Bay, on Anti-Paxos island. This bay has the most fantastic peacock-blue water, and later in the season is very crowded with large tourist boats crammed with people. After a swim and lunch we motored on to Mongonisi beach, on the southern end of Paxos, where we enjoyed Greek music till midnight, with a fleet of charter-boats ashore. The next day we motored to Gaios, still on Paxos island, where we anchored outside the harbour-wall, and had dinner in a taverna looking out at Restless under a full moon. Next day we motored Restless through the harbour with its hundreds of brightly painted fishing boats, and anchored in picturesque Longos for a rolly night. The next morning we motored 2nmiles to Lakka, (Paxos) to anchor again in swimming-pool coloured green water. We hired a car and David drove us around Paxos, from the northern lighthouse to the southern beach at Mongonisi, where we had lunch by the beach; through the ancient olive-groves, some trees as old as 1,000 years. We stopped again at Gaios, and Longos, and returned to Lakka, having driven a total of 46km! A shopkeeper told us about thousands of fireflies in the dark trees near the beach, so after dinner aboard we went in our dinghy to the beach and saw thousands of fireflies flashing among the trees, winking like Christmas tree lights, a magical experience.
David had booked a flight back to the UK on 11 May from Corfu, so we motored north 28 nmiles, and luckily we had a nice sail for about 2 hours, the first sail of the season, as we had not had any wind till then. There is a wonderful fort at Corfu town, we had seen it on previous visits, so we went to the entrance to the marina in the shadow of the fort, and there was room for us, so we tied up in the Corfu Yacht Club, had dinner at the Club, and then walked through the fort into town for a coffee in this lovely city with its marble streets and lovely old buildings. The next morning, after an early breakfast, we walked with David through Corfu city, had a coffee and bought some fresh bread, and waved him goodbye as he flew off into a clear blue sky, heading for Gatwick and home to Loch Duich, in Scotland.
We then motored 4.8nmiles to a sheltered bay near Gouvia marina, in sight of the skeleton of old Venetian galley sheds. We have a few more jobs to do on Restless, and then we will reluctantly leave Greece and set off for the heel of Italy and on to Sicily, where friends are joining us in Syracuse, followed by Olivia and Shenton, who may sail with us to Sardinia. We have had a wonderful time in Greece, and it will be as hard to leave Greece as it was to leave Turkey, and many of the other places we have visited over the years. We have met some lovely people and seen some gorgeous places. How lucky we are to live this cruising life; we tell each other every day how lucky we are.
---
This email has been checked for viruses by Avast antivirus software.
www.avast.com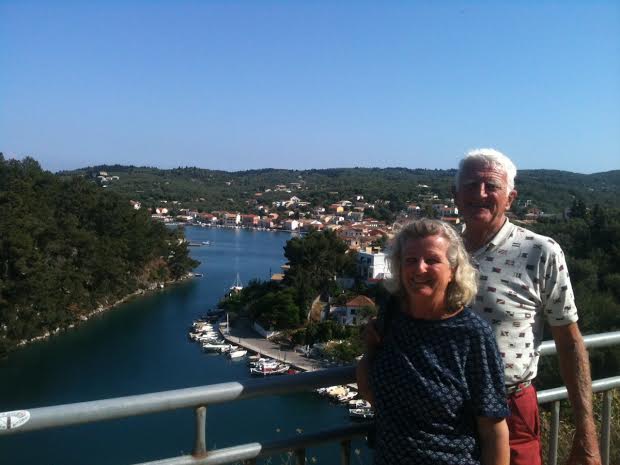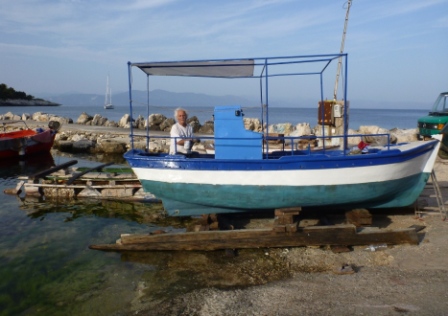 ---