CROATIA, 42:40.20N, 18:07.30E

Restless of Auckland
Roland and Consie Lennox-King
Wed 8 Jun 2011 07:27
Portuguese – Spanish – French – Italian – Croatian
We spent 3 nights in Palma, then sailed to the SW corner of Mallorca, to Playa de Santa Ponsa, where we met up with 'Alize', our friend Mike Lunch was on board with his friends Mike, Tim, and Ian. They came on board for calamari dinner, and fixed our wifi booster. The next evening we had paella ashore with them, and they came to tea before setting sail for Barcelona, where Mike keeps 'Alize'. 9 May we motorsailed back to Palma, where we booked in for a further 3 nights, as we had a crew change, Maurits returned to Holland, and Fiona and Alan arrived from Scotland. Our serviced liferaft was delivered back to us, and we caught up with Dutch friends Cees and Marjan, who have a holiday home in Mallorca.
12 May we set off from Mallorca to Mahon, Minorca, stopping for a swim at a couple of gorgeous bays, including Portopetro, a tiny fishing and holiday village,where we stayed for a night. During the passage across to Mahon we saw sunfish, porpoises, a dancing swordfish, and a sperm whale, that spouted near us for about 15 minutes, and then sounded, very exciting, got a few photos. 15 May we arrived in Mao/Mahon, with a gale in the area, so we tied up at the town dock and stayed for 2 nights, walked around town. Gilbert had been to this island as well as Mallorca while working on superyachts. We left Mahon on 16 May, arriving on 18 May in Bonifacio, Corsica, 41.5 hours for 255 n.miles. It was a first passage for both Alan and Fiona, and they were surprised to find how much there was to do. At Bonifacio we walked up to the fortress and had dinner in the ancient (now French) town, built 828. From there we hopped from anchorage to anchorage in Sardinia, swimming at each of the bays: Punta Testiccioli, Porto Palma on Isola Caprera, Porto Cervo (the Aga Khan's famous resort), Cala de Volpe, Porto Retondo, and Olbia. Fiona and Alan were booked to fly out of Olbia, Sardinia on 21 May, and we had a real Italian spaghetti lunch together, before waving goodbye, having done 426 nmiles together.
22.5 After provisioning in Olbia, we set off in very light winds and calm waters, for Salina, one of the Aeolian islands north of Sicily, motorsailing 53 hours, 298n.miles, catching a large tuna en route. We anchored one night at volcanic Salina, and in the morning walked through the tiny fishing village, bought some vegetables, lemons, postcards, and local wine, speaking in basic Italian. Late morning we set off for Lipari, another volcanic island, where we stayed in a marina for a night and explored the hilltop town. The water is so deep it is almost impossible to anchor near town. Next we went to Vulcano island, and anchored near the mudbaths and strong sulphur smells. We walked ashore and saw people with only their heads showing out of the mud (are they stick-in-the-muds?). We could see puffs of smoke coming out of the volcano.
27.5: We set off for the Straits of Messina, but at 1 pm our trusty motor suddenly died. Roland straight away suspected the lift pump, as Diesel engines do not normally just stop. So, he climbed into the engine room in the sweltering heat, and checked and cleaned everything for about 4 hours, but it would not start. Around 5 pm we realised that we had to go to Plan B, whatever that was, as we had been drifting around for 4 hours, watching the local fishing boats with their 40 foot bowsprits hunting for swordfish. We decided we could probably make Messina Marina before dark, passing through the famous whirlpool Charybdis, which we had been through 22 years ago on Reverie. Keir phoned the Marina, to ask if they could fit us in, and to advise that we would need extra help as we had no engine. They agreed to have a rib standing by 50 metres outside the marina to take a line. We put our own rib in the water with the big outboard, and Roland used it to push us along at around 4 kts, with all sails and not much wind. Luckily, Charybdis was quiet, sometimes 2kts in one direction, sometimes 2kts in the other direction, whirling down through the Straits. The wind picked up, and by the time we reached the marina we were moving along quite fast, so Consie's turn in the rib and she reversed full throttle to try and slow us down, while Roland and Keir stood by to tie up, with the marina boy's help, and with a few scarey moments, we were tied up safely in Messina with no damage. Keir and I went into the office to sign up with all the documents: registration, insurance certificate (in Italian), passports, crew list, and most importantly, credit card. The marina manager found a mechanic who would come to the boat on a Saturday, very luckily for us. The mechanics were an enormous fat man and a thin man, neither of them spoke any English, but with Italian hand-signlanguage and goodwill, they managed to fit the spare lift pump we had on board and all was well. Greatly relieved, we walked around Messina and had a pizza dinner, then watched football on TV in an Irish Pub. (Barcelona beat Manchester United, if you were interested).
We set off on the following morning Sunday 29.5 at 0900 with the tide and through many small whirlpools for the 27nmiles to Taormina, on Sicily. There we tied up to a mooring, and took a taxi up the mountain to the old town, which was very crowded with tourists. We walked down the mountain, checked the train timetables, and invited the mooring manager George back to the boat for a beer and gave him some slabs of tuna. 30.5: We left the boat at 8:45 am, and went to the train station. Our 9:11 train was cancelled so we took a different train at 10:30 to Catania and walked around for an hour before catching another train. It went for a few stations and then we all had to get out at Letinia and take a bus to Syracusa, as there was a train strike. We eventually got to Syracusa at 2:30 and were due to get the only train back at 5pm, so we walked quickly to Ortygia, and around the streets. We found the fort closed for renovations, but were happy to see that all the archaeological sites are open to the air and free to view. It was a very long day by the time we got back to the boat at 8 pm, having gone all that way for about 1.1/2 hours walk around Syracusa and Ortygia, but we took lots of photos, there was a lot to see! Keir and I had just finished reading a book about the Tyrant Dionyssus, who lived about 400 BC, and built his fort on Ortygia. Luckily on 31.5 at 7:30 am the mist cleared from the top of Mt. Aetna so we saw the top with a puff of smoke on it, before we left Taormina for the toe of Italy.
26 hours later, after 136.9 nmiles, at 4pm on 1/6/11 we anchored at Crotone, in the arch of the boot of Italy, after filling up with diesel,at NZ$2.80 it was not a cheap exercise.. On the way we saw a Rizzo dolphin, a different one to others we have ever seen, this fellow came up a meter away beside the boat, his whole body was covered in white scratch-marks. He fished behind us for several minutes. It was a quiet sail, little wind and flat calm, with just one scare for me on night watch, after 9 pm, a red and green light coming towards us fast, which turned out to be a low flying plane! We planned to leave Crotone at 5am, but when the local nightclub woke us at 2am we decided to up anchor and be off for the 75 miles to Santa Maria di Leuca at the entrance to the Adriatic, and ashore Mussolini had built a great stairway up the hill. There are forts, crumbling, on many headlands, some have been incorporated into people's garden walls. We had our last tunafish meal and planned to set off in the morning for Otranto. The next morning, while Roland was fixing the rachet on the rod, a tunafish jumped on the line 15 feet away from the boat. Consie reeled him in, about 5kgs, and we had him for dinner for the rest of the week. 3.6 we tied up at the marina in Otranto, and walked around the Aragonese (Medieval) castle and went to the Salvador Dali exhibition in the castle. We provisioned, and set off on 5.6 for Gruz, near Dubrovnik, Croatia.
We arrived in Gruz on 6.6, having had a quiet motorsail the whole way. We cleared into Croatia at the Harbourmaster, Police and Customs, filled out many forms, and then motored round to ACI Marina, in Dubrovnik, this marina is more like a club or resort than a marina. We celebrated our arrival in Croatia and 2,100 nautical miles (about 3,800 kms) of sailing this year. The next morning we took a bus to the Castle/Fort at Dubrovnik, and walked around inside the castle walls through the narrow cobbled streets and churches, and round the outside of the wall and around the little fishing harbour. It is very sobering to see a chart with the bomb sites from the war in 1991-1993, inside the castle, now mostly restored and renovated.
We look forward to slowing down and enjoying cruising in the style that it should be done We hope to spend two months cruising north to Venice at the top of Adriatic and another two coming south again,so hope to be more regular in our updates from now on.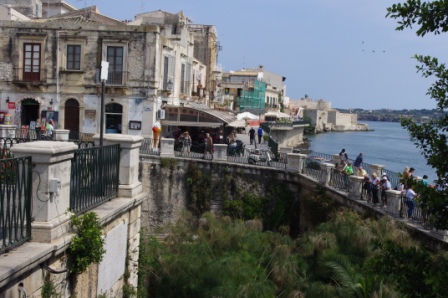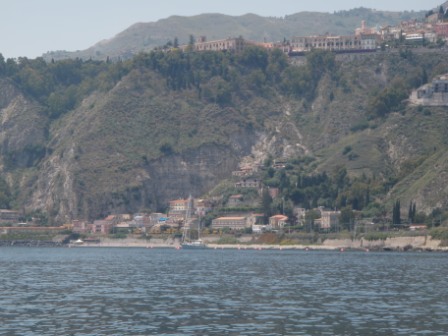 ---