Fw: 63.38n 9.31e TRONDHEIM, NORWAY

Restless of Auckland
Roland and Consie Lennox-King
Mon 26 May 2008 16:11
We arrived in Norway at Kristiansund on 16 May, after sailing 282 n. miles in 51 hours, from Unst, in the Shetland islands, leaving Muckle Flugga Lighthouse and passing many oil rigs in the North Sea. We tied up at the Gjesthaven and walked into town to find a supermarket and chart shop and Norwegian cellphone, and walked into town on 17 May for Constitution Day, we watched 2 parades and saw many people in National dress.
We then sailed north up the Trondheimsleia, past 63 deg. North, which is the northern equivalent of the Antarctic Peninsula, well south of Cape Horn. We walked around Trondheim, the historical capital of Norway founded by Viking King Olav in 997. We saw the medieval Gamle Bybro bridge and colourful wooden riverside warehouses, star-shaped Fort Kristiansten, Nidaros Cathedral (built 1070), and the Ravnkloa Fishmarket, selling Whale meat alongside fishcakes and fresh and dried fish. We tried all 6 varieties of fishcake, a local specialty. Keir flew home to Edinburgh from Trondheim, via Oslo. I thought of giving you a recipe for Whale but thought Troll Cream would be more exciting! Norway is famous for trolls and they are in every souvenir shop. Troll Cream (first catch the troll)
Combine: 3 cups lingonberries, ½ cup sugar and 1 egg white in a food processor and process until thick and stiff. Transfer to a dessert glass and serve with whole berries and mint leaf.
There is so much to see that cruising south from here will keep us busy for the rest of summer. We will work our way south towards Bergen, where we hope to be by mid June, and then on to Oslo by mid July. We have some friends joining us, and hopefully Gilbert, Olivia and James will be able to come at some time. We plan to be in Sweden in early August, and in Denmark in early September.
We will update our diary after we have seen some more of Norway, in a month or so.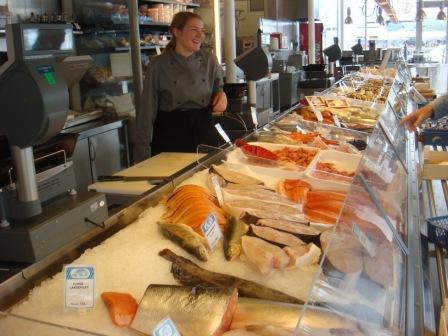 ---