Fw: 57.29 n 4.14w INVERNESS, End of the Caledonian Canal

Restless of Auckland
Roland and Consie Lennox-King
Sat 3 May 2008 19:58
26th April we entered the Caledonian canal at the western end, at Corpach, on Loch Linnhe, buying an 8-day passage ticket.
We had arrived at the pontoon in Corpach on the western end in icy rain and 20 kts wind the night before, and tied up for a bumpy night. We could see snow on about 10 mountains nearby, including Ben Nevis, tallest mountain in Britain Over (4,000 ft). It was a dreich night, cold, windy. We woke up to another dreich day, icy cold, blowing 20-30 kts, and raining.
The canal office opened at 8:30 so we went to check in with all our wet weather gear on, like michelin men, and then walked to the nearby village to get the cash to pay our way, 250 sterling.
We set off at 9, with the wind blowing us off course and thank goodness for the bowthruster, and lots of fenders. We could not have managed with 2 of us, lucky we had Keir, and also 2 lock keepers to help us. First we had 2 normal locks, maybe 2 metres rising in each one, then off we set up Neptune's Staircase, a row of 8 spectacular locks rising 62 feet, set in a quarter of mile of continuous masonry hewn out of solid rock by navvies working with hand-held tools. We arrived at 1230 hrs and tied up for the night at Banavie, on the Caledonian canal, a few miles northwest of Fort William, which is by Loch Linnhe with a superb view of Ben Nevis, covered with snow. At Banavie there were hot showers and a laundry, and we walked along to a nearby pub (Lochy), for dinner, and I had baked potato stuffed with haggis (4 quid) while the men had fish and chips (8 quid). Still light at 9 pm. In NZ several people said they enjoyed my web diary, but would like to know how much things cost, what do you think?
The 8 locks today were very exhausting, as the wind was blowing about 20kts so it was hard to stay alongside the wall, and it was pouring, icy cold and windy, so we were all dressed in wet weather gear. 2 canal workers were running backwards and forwards opening and shutting the locks, and we could not have done with less than 3 people, in fact 4 would have been better. Roland on the helm (thank goodness for the bowthruster) Keir running along the wall with the ropes and tying them up every time a gust blew us off, and me on the bow, adjusting the line.
We are about 70 ft above sealevel, and can still see loch Linnhe below us, and also icing snow on the mountains nearby, majestic Mt Nevis and her sisters. The sun is shining on the snow on Mt Nevis, looks wonderful, but we can't figure out how to get the boat and the mountain into the same photo.
The Caledonian canal is 60 miles long, with 29 locks, in 4 Lochs: Loch Lochy, Oich, Dochfour and Ness, stretching from Fort William to Inverness and going through The Great Glen, slicing across Scotland. Walking along the canal is about 77 miles.
We are a bit early in the season, which is nice for us as it is not very crowded.
27.4.08
Now it is Sunday morning, sunny and warm and after a quick breakfast we walked back to Corpach village, 4 km there and back to get the paper. Then we put Keir up the mast so he could take photos of Neptune's staircase. He used to go paragliding, so he is quite comfortable at 60 ft. We all thought of Gil, who regularly goes up to 200 ft.
We set off at 1230 through Muirshearlich through Loy, Moy, 2 swingbridges and a lock at Gairlochy, arrived at 1615 at Laggan, by the lock, and with laundry, showers and a barge tied up which is normally a restaurant, The Eagle Inn, but closed at the moment. We had a gorgeous day, even got sunburnt.
It rained most of the night and today we woke up to a cold, and rainy day.
David and Donald joined us by car from Loch Duich, and we set off from Laggan at noon. Again it was rainy and icy cold.
We motored through Loch Oich, and The Great Glen, about 10 miles, with mountain ranges on both sides with snow on their peaks. The whole route was quite unpopulated, a few boats and a few hotels along the way.
Donald left us to drive back to Letterfearn, in Loch Duich, and David stayed the night.
We arrived in Fort Augustus, right by the top lock, at 1530, a barge was moored in the same basin. We went and got fish and chips at the pub, and are tied up at a pontoon, with a small yacht beside us.
29.04.08
We have 5 locks down to Loch Ness from Fort Augustus. There are some tourist shops and a small general store, butcher, fish and chips shop, 2 pubs and a post office.
1100 We set off down the last 5 locks in a row and are now in Loch Ness, arrived at 1215.
30.4.08
Soft rain today, and we filled up with water from the pontoon at the entrance to Loch Ness. Went to have coffee on Timchris II, a powerboat that has cruised around Scotland and Holland, and we swapped information.
1.5.08
We put Keir on the bus to Edinburgh, said goodbye to the other boats on the pontoon, and motored out into Loch Ness.
Loch Ness is famous for bad weather, as the wind roars along it with high mountains on both sides, and it is so huge and the water is so deep (we saw 192 metres deep at one place), but we were lucky, it rained a bit, then the sun shone and then it rained again, then sunny and then rainy again, no wind and flat calm.
We passed the ruins of Urquhart Castle, and took lots of photos. The sun was shining and there were lots of tourists running around and waving to us.
Roland swam at lunchtime, and said it was the coldest water he had swum in, about 10'C. He stayed in as long as he could, but Nessie was not enticed by his bag of bones. We searched the water for a ripple, but no sign of anything. The water was flat calm and if she had been around, we would have seen something. But of course, she likes rough weather, and maybe she hunts early morning and late at night. Keir said he wished he had been with us, though he doesn't have a lot more fat on him to lure Nessie up from the deep either.
We arrived at the entrance to the lock at Dochgarroch at 3 pm, and tied up at the lock-keeper's instructions and I walked off to see the only shop around, and then had a hot shower in the ancient barn beside the lock. When I came out of the shower it was pouring with rain again, and the lock-keeper wanted us to move down through the lock as a barge was coming, the gorgeous Fingal of Caledonia, painted red green and yellow.
There were 2 young Australians standing watching us, so we invited them to lock down with us, which they did, and we tied up to a pontoon at the lower side of the lock and the Australians returned to their car and we had dinner.
2.5.08
It was a lovely sunny morning, and we went down 4 locks in a row into a marina in Inverness, Seaport Marina. The weather changed from sunny to rainy to sunny to rainy. We tied up at a pontoon and there are many ducks, seagulls and a couple of swans. There are showers, loos and a laundry and I went and did all our laundry. There are 2 huge supermarkets nearby, and it's a short walk into town. Again, there is a mountain range in the distance to the north of us, with icing snow trickling down. We now have only 2 more locks into the sea, and then we are off to the Orkneys, waiting for good weather.
We walked into Inverness and it is beautiful, big wide old river with ancient buildings on both sides, 4 giant church spires on each side, and then in the distance a huge pink castle. The stone here seems to be pink and many of the houses are built with pink stones.
We have had a great time in the canals, we had a lot of rainy icy days, but 2 wonderful sunny days and I am very glad we did it. Most of the locks (29) were a couple of meters only, so not hard to climb up the hill and back down again, and the canal is 60 miles long, through the Great Glen. Not many houses and at this time of the year not many boats either, and the locks have toilets and some have showers and laundries. There are also commercial barges (like the Dutch ones) fantastically painted, and they carry about a dozen people and their kayaks and bikes, so some people walk the canal (or bike) and then sleep on the barges, one is called Fingal of Caledonia, another is Scottish Highlander, if you want to look up the web.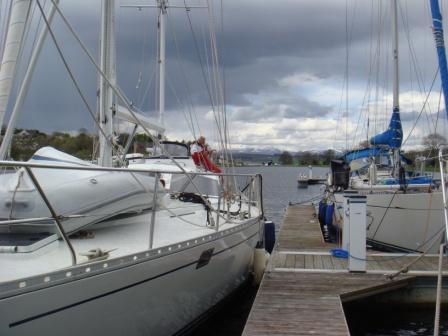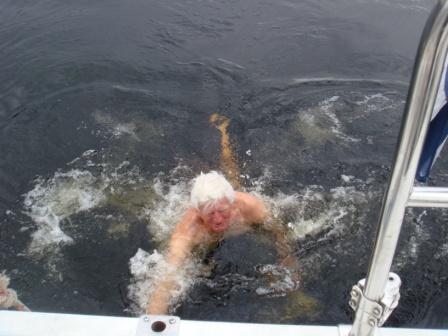 ---