BAHAMAS TO MAINE in June, 44:05.00N 69:05.00W

Restless of Auckland
Roland and Consie Lennox-King
Sat 2 Jul 2016 02:36
End May 2016 we said goodbye to daughter Olivia and her boyfriend Shenton, had a couple of days to provision with food, water and fuel, as well as do some small painting and varnishing jobs, before our friend Keir arrived from Scotland, to sail with us from the Bahamas to Maine, some 1,500nmiles.
Keir arrived 1 June, and we set off to Bakers Bay, on Great Guana Cay for the night, and 0630 the next morning we set off for the United States. We motored and sailed depending on the wind, taking 75 hours to make the 464nmiles to Beaufort, North Carolina. We caught a nice Mahi Mahi/dolphinfish on the way. Beaufort had not changed much in the 11 years since we were last there. We had a great meal at the same Ribeye restaurant, and were tied up by the same dockmaster at the City Dock. The Immigration Port Director came down to the boat to clear us into the States. We went to the Museum, which used to be the best Shell Museum, but it has changed into a Pirate Museum. Blackbeard's ship, 'Queen Anne's Revenge' had been identified as one of the wrecks out on the dangerous shoals outside the harbour.
After a calm night in the marina, we set off next day up the Intra-Coastal Waterway, touching the bottom almost immediately, a timely reminder to watch out for the Red and Green channel markers, placed the opposite way in many parts of the waterway system; the problem was not helped by a barge blocking the main thoroughfare. No damage, with our lifting centerboard and rudder bouncing out of danger on the soft sand. We motored 41.5nmiles to Campbells Creek, passing families of dolphin, stingrays, and many different birds. We continued on the next few days to Pungo Creek and Belhaven, the Pungo and Alligator Rivers, and to Elizabeth City. Then we locked up to the Great Dismal Swamp canal, and motored down the narrow and shallow waterways, with trees often meeting overhead. We saw a snake, many turtles, and again, as we saw the previous time, many alligators disguised as logs. 11 June we locked back down into Deep Creek, having motored about 180nmiles in the ICW.
The Gilberton bridgemaster asked us for a haka in exchange for raising his railway bridge at an unscheduled time whilst we motored into Norfolk, where there was a Tall Ship Regatta, with a Rescue Helicopter demonstration. We counted 30 U.S. Navy ships in Norfolk, as we motorsailed across to Hampton, anchoring 100 yards away from where we set off on our Atlantic Crossing in 2007.
12 June we had a terrific 45nmile sail from Hampton to Deltaville, our new sails gave us 8.5 knots of speed in 20-25 knots of wind. We had left Restless in Deltaville Boatyard for the winter in 2006, and returned to find many familiar faces there. We needed some parts serviced, so Roland removed the faulty parts, and left them, to be forwarded to us in a couple of weeks, further up the East coast. We left on 15 June for another sail north up to Solomons Island on the Patuxent river, where we had a good anchorage in Mill Creek. Next day it was a good motor up the Choptank river into Tred Avon river.
16 June we arrived at Tred Avon Yacht Club, Oxford, to be welcomed by Sandy and Clacky, friends we had met in the ICW 11 years ago. They invited us to dinner in their home, and the next day Clacky drove us to the Amish market. That evening we joined them for their Friday night get together at the Yacht Club, meeting up with people we had met there 10 years ago.
Next morning we reversed our track back into the Chesapeake Bay, and up the Severn River past Annapolis, where we had dinner with friends of kiwi friends Karin and Jim, tying up to their dock in Clements Creek. Carol and John had a boat like our past boat 'Reverie' and we shed a nostalgic tear. There were ospreys nesting on the channel markers around us, and one pair started building a nest at our masthead, covering up the light, and Roland had to go up and clear away the mess of twigs (no eggs yet). Another night we anchored in the Bohemia river. This enabled us to get up early next morning to time the tides into the Chesapeake Delaware canal and south through Delaware bay. It was a long day, but at least it was fine and sunny and we could see the next marker.
We hurtled past treacherous Cape May, with strong currents, rocks and shoals, ending at dusk with a tricky maneuver into the safe harbour in front of the Coastguard Station. Not such a safe harbour after all! A lousy weather forecast kept us in harbour the next day, and at 1600 a storm/tornado hit us, later named a Microburst, we saw over 56 knots on our anemometer in a wall of water, with lightning, thunder and heavy rain. Microbursts do reach 90MPH.
22.6 at 0500 we took a deep breath, hoping there were no more Microbursts out off the coast, and set off from Cape May north for Block Island. We motored with zero wind, on a beautiful, cold, moonlit night, to arrive 30 hours and 222nmiles later. What did we see? Fishing boats, dolphins, a sunfish, and a submarine! The Cruising Club of America's members thoughtfully allow members to use their moorings and kindly offer RCC members the same privilege so we found one in Great Salt Pond, went ashore for a hamburger, and gratefully settled down for a quiet night.
24.6 We motorsailed 42nmiles the next day to Cuttyhunk island, tied up to a mooring in the crowded harbour, put the dinghy in the water and set off ashore. We walked around the tiny village, with many wrecks on the beach, bought some fresh oysters, and went back aboard for dinner and a peaceful night. The next day we motored out of the channel, sailed 22.8nmiles across Buzzards Bay, and caught a nice Bluefish. We anchored in Onset, repeated the day before's exercise and walked around town, which did not take long. We returned to Restless and fresh fish for dinner.
We timed our departure the next morning to catch the tides through the Cape Cod Canal; we waited for the Railway Bridge to be raised, and at 0940 we set off with up to 4 knots of tide with us, to transit the canal in very fast time. Once in Cape Cod bay we sailed past Plymouth, where the Mayflower landed with the first settlers . We were hampered by hundreds of crab-pot buoys, but missed all as we sailed in a good 20 knot sea breeze to Bumkin island, near Hingham, in outer Boston Harbour, a total of 52.12nmiles for the day.
27.6 We set off for Marblehead, 16nmiles away, with a good ebb tide. Here we had an introduction to Michael, past Commodore of the Boston Yacht Club, the mecca of sailing. We were allocated a mooring by the lighthouse, which proved to be very roly. Michael kindly took us to a supermarket the next day and received a spare part, which had been forwarded to him. We stayed 2 nights, and refuelled and filled up with water, ready for a passage to Rockland, Maine.
We set off at noon, and soon after, caught a petrel in our fishing line. Keir's hand was pecked while we cut it free. We saw a small whale at dusk, we think it was a humpback, it sounded a few times before we lost sight of it. We sailed through the night, a cold, foggy night, with fishing boats on the AIS and radar, to arrive at 1030 hours, 140nmiles and 22 hours later, at Rockland, Maine on 30 June. We saw some seals playing around the many lobster pot buoys. Keir worked out that he had sailed 1,560nmiles with us from the Bahamas.
Some kiwi friends, Sue and Simon, are arriving in Rockland tomorrow, and we will go to Camden to see the 4th July fireworks for Independence Day, they will be with us about 10 days, cruising in Maine. While we wait, we have been looking at local boatyards, and thinking about whether we will winter Restless here this winter. We can't believe we are already half-way through our sailing season, planning to return to NZ end-September.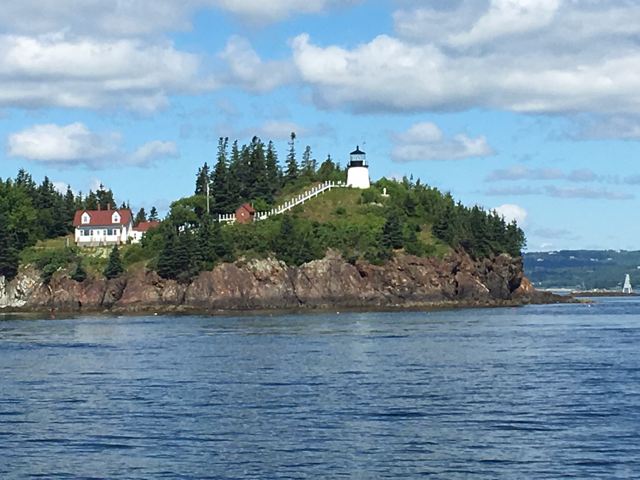 ---