Restless down the Thorny Path and into the BVIs!

Restless of Auckland
Roland and Consie Lennox-King
Wed 22 Feb 2006 01:15
This section of the Web Diary is written by daughter Olivia:
I arrived to join Mum and Dad aboard for 2 months on Christmas Eve in Miami. Well actually, it was supposed to be in Nassau but I think Mum and Dad have taken to traveling on "Caribbean maybe time", so after a phone call on the 23rd I hastily rerouted my flight to get off at Miami. I was looking forward to immediately immersing myself in sun and rum, but instead I was shuffled off by car out to Vero Beach, 3 hours drive away, where mum dad and I began the slow trip to Miami after celebrating Christmas with some neighbouring yachties, Lennox-King style – the more the merrier! We were joined in Miami on 4 January by Gilbert, his girlfriend Jacqui and my friend Miranda. A full house aboard Restless, quite a change for mum and dad who are used to just the two of them rattling around inside 51ft!
We had a rough and windy crossing down from Miami to Nassau, but once there we were very pleased with what we found! Being a James Bond fan I was very excited to see the town where numerous James Bond films have been set and filmed, although (strangely enough) 30 years, American capitalism and the cruise ship industry has changed Nassau a lot from the films. Still, Miranda and I had a fantastic time hitting the markets, the jewelry shops, the tourist shops, the ice cream shops, the rum shops…..as well as the casinos, bars and restaurants. Nassau is a good place to have fun and meet people, even if the casino slot machines are a bloody rip off and ate my $10 in 4 minutes!
Now my idea of a holiday really began, and as we began cruising down the Exuma chain at a more leisurely pace, I began to appreciate and switch my own clock to "Caribbean maybe time". On my last trip here, the _expression_ "just now" as an answer to when something would be happening infuriated me as it can mean anything from 2 minutes to 2 weeks! We hopped from Bottom Harbour, Allens Cay, Normans Cay, Normans Pond, O'Briens Cay, Staniel Cay (where Miranda left us), Black Point Cay, Little Farmers Cay, Farmers Cay, Ruddicutt Cay, Lee Stocking Island, Georgetown, and Red Shanks (where Gilbert and Jacqui left us). The highlights? There were thousands! The iguanas in Allens Cay, diving on the submerged Cessna in Normans Cay, another Cessna in O'Briens Cay (careless pilots here in the Caribbean apparently). Another major was Thunderball grotto, which the Bond films 'Thunderball' and 'Never Say Never Again' both featured. The grotto has amazing fish life and snorkeling, I loved it. The Bahamas as a whole was awesome, I had the best time. I NEVER WANT TO GO HOME!
It was sad to see Gilbert and Jacqui go, especially since there were only 3 of us to do the watches down the Thorny Path from Georgetown to St Thomas. Yeah right! Less thorny and more like the 'Dagger Ridden path', 700 miles of wind on the nose, lumpy seas and generally rubbish weather (my parents have censored my language for general consumption). We passed the Turks and Caicos Islands, Hispaniola (the Dominican Republic), down the Mona Passage and along the south coast of Puerto Rico before we finally reached St Thomas, where 2 white whales were mating in the harbour entrance, an amazing sight! Still, Dad was definitely the least popular member of the crew, at least until hot showers were delivered and the St Thomas shops had taken a decent hammering.
So we begin the Virgin Islands! After retail therapy had been administered, we were off to St Johns National Park for a few days, where mum dad and I swam and played with turtles and had some great snorkeling. We also went sightseeing in the wonderfully colourful Cruz Bay (NZ has a lot to learn about house paint – it comes in colours other than French White – who knew??! Red, green, orange, purple, blue, pink….I'm painting my house ice cream coloured when I get home!) before clearing out and heading to the less wonderful Road Harbour in Tortola, BVIs. Note to visitors: customs officials are RUDE and have nonsensical rules about staying 30 days and after that you pay $200, even if you are only one day over! But there is not much else to complain about, the BVIs are wonderful.
So, as I sit in the cockpit 2 nights before I leave, I have been well immersed in sunshine (I have a tan, and I have photos to prove it!), well preserved in rum and have had the best holiday ever. Have you been to visit mum and dad? If not, why not? Did I mention that I NEVER WANT TO GO HOME!!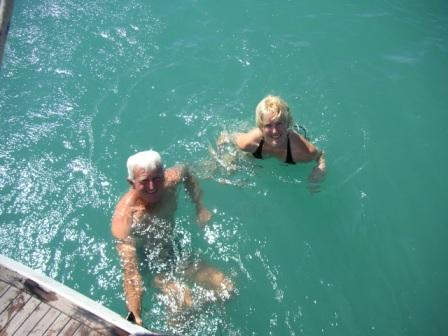 ---