Bodrum, TURKEY, September 2012, 37:01.70N 27:26.50E

Restless of Auckland
Roland and Consie Lennox-King
Sun 23 Sep 2012 10:13
Bodrum, TURKEY, September 2012, 37:01.70N 27:26.50E
15.8 Feyona and Andre arrived in Poros to sail with us for a month, from Greece to Turkey, as mentioned in our last webdiary.
22.8 The weather report said the meltemi winds were easing off for a few days, so we said goodbye to cousin Mia and Giorgos, cleared out of Poros and set sail for Turkey. We stopped in Sounion with its Temple of Poseidon, then Kea, and Tinos with its healing Panayia church.
26.8 Set off at 0630 and sailed 71n miles to Patmos, where we anchored in a bay just north of Skala Patmos. It was a good walk or short taxi ride to town, which we enjoyed. We ended up staying 7 nights while the meltemi blew, and Feyona and I painted! We visited the hilltop monastery/ fort, and our friend David joined us for a week, by hydrofoil from Kos, and ferry from Bodrum. Patmos is not far from Turkey, but it is not an exit port, so we sailed south to Lipso, where we anchored outside town in a very strong breeze in a bay that was solely occupied by the brightest white and blue church that one could imagine. The custom is that a church should be tidy for its "saint" day and we deducted that this church must have had its day very recently. It blew hard that night, but with our new Rocna anchor and 50m of chain we were fine. Another brisk sail turned slowly into a sloppy motorsail, but we made Lakki on Nisos Leros for lunch, giving us plenty of time to explore the (ugly) ex-Italian art deco style naval town. It was here that the HMS Intrepid was blown up in the harbour with several Greek ships in 1943, with a great loss of life. We were told there was a chance they may clear us out from Leros, but the answer was no, but we had only to pay 80c port tax!! Before motoring south to Kalymnos to check out of Greece, we stayed our final night at Ormos Xerokambos, a nice bay on the south end of Leros. The twins found another beautiful church ashore and after a surprise catch-up with the crew of RCC yacht 'Verity' who came sailing in at drinks time, we ate at a waterside taverna ashore for our last night in Greece.
6 September we motored 12nmiles south to the port of Kalymnos, where a very efficient pleasant young man cleared the boat and ourselves out of Greece. Kiwis are allowed to stay 90 days out of 180 in an EU country, and our time was up! Three days short to be exact, but the boat incurs a tax if it stays over 90 days, so we were fine. We now have to be out of the EU for 90 days.
What we thought was going to be a brisk sail became a drift so we stopped for lunch and a swim at a beautiful bay with crystal clear water and a sandy bottom. Two goats sighted ashore made the bay's name "two goat bay" however this had to be altered to "many ---" as at least 20 were sighted by the time we left to cross in the late afternoon to the Turkish Coast.
7.9 After a pleasant night anchored in the "aquarium" as the locals call a nice cove, we arrived in Bodrum, TURKEY! With its massive Crusader Castle dominating the harbour, Bodrum is still impressive, though the castle is now surrounded by marinas, tavernas and tourist shops. When we sailed here in 'Reverie' Bodrum was a large bay where you could anchor where you liked. We managed to get a berth in the Marina for one night (our first for many months) at over a hundred Euros. The marina organised our new Turkish Transit log, which allows us to stay 5 years (we wonder where we will be in 5 years?) renewing each year. As Kiwis we are also allowed to stay a year, something our European friends are envious of, as they can only stay 90 days. Could it be a legacy from the war??
Feyona and Consie visited Bodrum castle with museums in the turrets, and amphorae lying in piles everywhere. American friends Jane and Dick from our '505' sailing days had chartered a super deluxe gullet, 'Serenity' and we had a Turkish meal together, then sailed to Orak Odasi for cocktails on board, together with '505' sailors Sue and Mark, Amber, Annie and John. Who would have thought that 40 years after we all met and sailed against each other in Hong Kong we would be afloat together in the Aegean. It was a great catch up!!
9.9 David left us for a long journey home to Scotland. We managed to get him on a bus from a resort hotel to Bodrum, where he caught a bus to Dalaman and a flight back to the UK. We thought the hotel looked attractive, but were told very firmly it was for guests only, money was not used and everything we asked was NO.
Andre had booked a day-tour to Ephesus by bus, so we motored back to anchor off the Castle in Bodrum, so the three of us could leave at 0630 for a very long day trip to the site. We walked the ruins of the ancient city with its marble and mosaic streets, palaces, temples, baths, fountains, theatres, gymnasium, brothels, latrines, agora, slave market, library, shops and homes, with a very knowledgeable tourguide who had studied archaeology. Feyona and I also went to the last home of the Virgin Mary, now a holy shrine in the hills near Ephesus. We learned one useful Turkish word Tesekkurler (thank you).
Feyona and Andre's month cruising with us was soon up, and they flew to Istanbul on 14 September where they planned to have dinner with Joanie and Rory, who are due on the 18th in Bodrum for a fortnight cruising the southern Turquoise coast with us. After that Annette and David will join us for a few days before we finish our cruising for this year.
We are gathering information about Turkish boatyards, as we will be leaving 'Restless' somewhere around Bodrum at the end of October, while Roland goes on the ARC with kiwis Pam and Keith on their Hanse 53, 'Savarna', and Consie returns to NZ via HK and Sydney.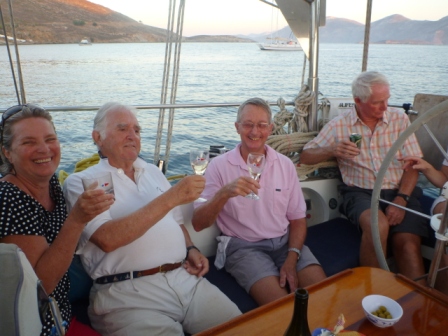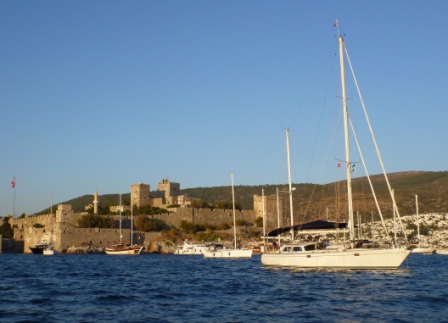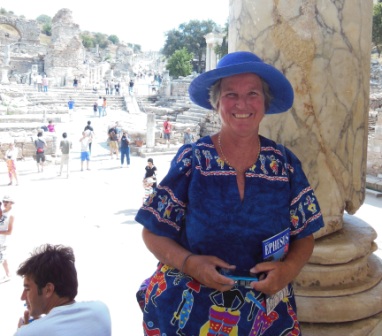 ---