May 2014, MARMARIS AND NORTH TO PORT ST PAUL, 37:39.30N 27:00.50E

Restless of Auckland
Roland and Consie Lennox-King
Tue 13 May 2014 14:08
May 2014, MARMARIS AND NORTH TO PORT ST PAUL, 37:39.30N 27:00.50E
The start of another season in the Mediterranean, in Turkey and Greece.
We left New Zealand, stopping for a week in Hong Kong to catch up with our young, and arrived in Marmaris to find 'Restless' had wintered well on the hard, aside from some muddy rain. Our agent Ali had carried out some remedial work, as well as some work to keep Restless up to date after her thirtieth birthday.
Our Olivia and friend Katie were joining us on 18.4, so we had a few days to get Restless back into the water, booked for 11.4.
All yachties have an endless list of pre-launching jobs, and ours included:
Check all computers/ipad/phones/cameras/satphone/radios and dongle have simcards/batteries/chargers. Check all boat lights and navigation lights working.
Put new labels on anchor chain to indicate how far out the chain is dropped. Check Windlass, bowthruster. Check hatches.
Check toilets and clean out bilges and holding tank, make sure they are working.
Check propeller and coaming. Check Generator and main Engine.
Check Hotwater system, Fridge, Heater. Check watermaker, replace filters and membrane. Check hydraulic systems in rudder, centreplate, backstay.
Check Radar, AIS, GPS, Radio, Depth Sounder, Speedometer, Wind meter, Epirb, Fire Extinguishers.
Check Liferaft, Grab bag, First Aid Boxes, Lifejackets. Check dinghy and repaint.
Check Sheets, halyards, and bend on sails. Check wind vanes, mast lights, polish mast(s) and boom(s). Polish lifelines, winches, deck gear, windows.
Air all mattresses, bedding, wet weather gear and clothes. Steam-clean squabs.
Polish the hull, Antifoul the bottom, Paint decks.
Test autopilot. Hoist Flag, Ensign, Burgee. Pay hardstanding and Agent's bills.
Get in food supplies. Fill up with water, cooking gas, outboard fuel, and fuel tanks. Launch 'Restless'.
Our plan for this year's cruising is to sail north from Marmaris towards Istanbul, to Gallipoli and Troy along to Thessalonika, and south to Halkidiki, and northern Sporades, pass inside Evia to Athens and Poros. Then cross the Corinth canal into the Ionian, leaving Restless in Corfu for 3 weeks to fly to UK for son Gilbert and Pip's wedding 6.9 on the Thames. Return to boat to cruise till mid-October, and plan to leave Restless to return to NZ for the Christmas season.
Now we are back in the land of Allah, with the minarets calling the faithful to prayer 5 times a day. Olivia and Katie went to Marmaris Hamam to see what a Turkish Bath is really like:
Enter into a waiting area and you get a Menu to choose from, the basic was the Hamam, 20 mins in the steam room, then scrub, soap and massage, about TL50.
The works includes, mud mask, honey mask, medicinal massage, foot massage, fish nibbling feet for TL150. They chose all but the fish nibbling and the medicinal massage. They had 2 hours of pampering, and returned glowing, were a bit surprised to have 2 large muscular men scrub, soap, and massage them, and were horrified at the amount of dirt that rolled off.
We set off from Marmaris on a flatcalm day, with a couple of hours of nice sailing, and arrived in Buzburun, a small seaside harbour with a large silver-domed mosque. Two storks were setting up an untidy nest of twigs at the top of the dome. About 20 Dutch charterboats were tied up to the dock, and we ate dinner together and then visited some of the many small supermarkets, to buy fresh vegetables and village bread. From Buzburun we sailed 16nmiles to Keci Buku, by ancient Bybassus, a fertile valley between hills. We anchored by a small island with the ruins of a Byzantine fort perched on top, with hundreds of black and white rabbits hopping around. We walked through the ancient village, every house seemed to be in stages of rebuilding, and we bought fresh vegetables from the back of a truck. It was dusk and many of the villagers were taking their sheep, cows or goats for an evening walk. We had Turkish mezzes and a meal called 'Sultans of Anatolia' in a restaurant on the water and watched a pink sunset.The next day we sailed 22nmiles to Datca, anchored in a horseshoe bay and walked through this town past hundreds of resorts and restaurants getting ready for the tourist season.
26 April we motorsailed 20nmiles to ancient Knidos, arrived in time to visit the ruins with temples to Aphrodite and Demeter, and 2 large amphitheatres, the smaller of which fitted 5,000 spectators. A tour-guide said a rough guideline is that amphitheatres were built to seat 10% of the population. An isthmus to a small island meant there were 2 sheltered harbours for triremes, and as it is on a western point of Turkey, there is a small military base there.
The next day we had a lovely 14nmile sail to Bodrum and anchored by the Crusader castle for the night. We went ashore as a huge lightning storm arrived, and hurried through a meal to return for a rolly night. We awoke next morning feeling seasick, so went into Bodrum marina for a very expensive night, about E130. Katie was leaving to return to Hong Kong, so we rushed through the bazaar, getting Turkish souvenirs: handknitted socks, Turkish delight, scarves, and she just made her taxi and flight in time. The next morning Olivia and I went to visit Bodrum castle, with its several museums of glass and shipwrecks. After provisioning, we set off east up the gulf of Gokova 30nmiles to anchor in deserted North Cove. The following day we explored one anchorage after another, and spent a night in English harbour, in the company of nesting gulls, other nights we anchored in Yedi Adalari and Degirmen Buku.
Olivia is a vegetarian, and whilst she was aboard she cooked all the meals. Turkey is a vegetarian's delight, with a huge variety of vegetables, nuts, beans, herbs, hummus, fetas, olives, yogurts, cheeses, bulgurs and lentils. Most restaurants have a large selection of mezzes/ starters to choose from, and 3 or 4 of these make an interesting meal.
5 May Olivia departed from Bodrum to return to Hong Kong, and our kiwi friends Ingrid and John arrived from Cappadocia, for a week with us, cruising north a total of 150nmiles, anchoring at Gundogan, Talianaki, Didim, Altinkum and Sigacik. 8.5 We set off from Didim, and with up to 37kts of catabatic winds off the mountains, we managed to slip into the tiny bay of Port St Paul, where St Paul sheltered from similar winds on his way north to Ephesus. The next day was quiet and we motored to Cam Limani and on to Sigacik/ ancient Teos, in time for our friends to take a dolmus to Izmir to catch a bus to Istanbul, to get a flight to Manila for an adventure on mutual friends' superyacht, 'Big Fish'.
Sunday is market day in one of the towers of the walled city of Sigacik, and the vendors spilled into the narrow streets, selling artichokes, beans, herbs and fresh vegetables. Locals came to buy their produce and have lunch of Gozleme and Baklava in the hastily set up stalls. We also saw the auction of the night's fish catch. 12 May we walked to the ruins of ancient Teos, saw the remaining stones of the large temple of Dionysus and an amphitheatre, walked to the remains of the Acropolis, theatre and cistern. Our next visitor is Dutch cousin Maurits, in a week's time, 19.5, so we are doing some varnishing and boatwork. Together we will sail north about 200nmiles.
---
| | |
| --- | --- |
| | This email is free from viruses and malware because avast! Antivirus protection is active. |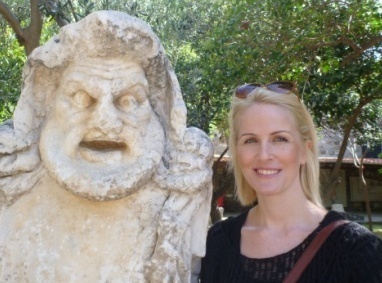 ---