AMSTERDAM!!!!! 52.23.03N, 4.55.14E

Restless of Auckland
Roland and Consie Lennox-King
Mon 19 Oct 2009 06:35
Our last web diary was sent 19 September from Leeuwarden, Friesland, where Papa's family came from. It was Saturday, market day, and we had a lovely anchorage tied up to the canal bank in the middle of the town park. We cycled into the centre of town and bought cheese, herring, croquettes, speculaas, fresh bread and milk. The next day we left early and motored south through numerous town bridges, but when we reached the train bridge it did not open. A power shortage saw us sit there for three hours whilst yachts banked up on each side and all the motor boats passed on through. Eventually it opened and we spent a pleasant Sunday afternoon motoring down the canals to Sneek.  We had been there 35 years earlier visiting friends working with Gaastra sails, we found the Gaastra logo, the ancient entrance to town, but did not recognise much from our last visit as we cycled around the cobbled streets beside the narrow canals. Our folding bikes have had a good work out since we have been in Holland.
We left Sneek on Tuesday, and waved goodbye to our British friends on 'Constellation' who had been a mine of information and good company since we met in the Kiel Yacht Club some two weeks before.
South of Sneek we passed through the big locks used for flood protection and out into rough weather in the Ijselmeer, famous for its nasty short seas. Roland enjoyed one of his last sails of the season, with a good beat in 25-30 kts of wind, before we tied up on the sea wall at Urk. Urk is a picturesque town that used to be an island, now part of the huge Flevo polder system. We went ashore for croquettes and chips. The town is now a big fishing and shipyard base, although it is still some distance from the north sea, across the Ijselmeer. Whilst there we had a phonecall from friends we had met on their boat 'Eider' whilst transiting  the Gota Canal in Sweden. They were leaving in a few days to live in Gisborne, NZ, but  kindly found time to pick us up and take us to their lovely home-farm in Apeldoorn. There we used their internet to contact the many boatyards Mechelien had listed for us as possible winter-homes for 'Restless'. They were busy packing up, but made us delicious Dutch meals, hopefully  we will see them in the Bay of Islands soon.
The next day we set off across the Ijselmeer to Enkhuizen, where we anchored by the Zuiderzee museum. Let's clear up the confusion that the Zuiderzee became the Ijselmeer after the sea was enclosed by the dykes and waterways which make up a large part of Holland which used to be underwater. On Friday 25 Sept. C's cousin Maurits drove up to Enkhuizen after work, and stayed on board for the weekend. We had not seen each other for 50 years, and had a great time catching up. Maurits steered and we had a lovely sail  back and forth across the Ijselmeer, ending up in Medemblik, where we tied up, three deep, in the centre of town with many botters (huge old Dutch sailing barges) carousing nearby. We sat near them at an open-air bar and had some bitterbollen and Dutch beer before dinner. At the first bridge opening on Sunday, a huge botter motored through town playing reveille on a bugle, to rouse everyone for a botter race. It was magical to see about 20 of these 100 year old boats drifting around the buoys, like an old Dutch sea painting, and we sailed with them back to Enkhuizen. Maurits left us to drive home, just as June and Pat arrived at the trainstation, to spend afew days with us. They are looking for a boat in Europe and plan to liveaboard for a few years, like us.
We walked around the Zuiderzee open air museum at Enkhuizen on Monday morning. It was washing day, and all the laundry was out to dry. It is a lovely reconstructed village with many of the ancient crafts on show, sweetshop, cheese, apothecary, coopers, sailmakers, boatbuilders, and fresh smoked herrings and eels, heerlijk! We set off in the afternoon for Hoorn, another picturesque town. We used our dinghy to motor through the tiny canals around town, famous because it was where the East India merchants set off in the 1500s, long before there was any thought of this being cut off from the North Sea. We left in misty light rain the next day for Edam, everyone knows what Edam is famous for! The cheese market is not as busy at this time of year, but we still enjoyed buying balls of Edam cheese and fresh herring, croquettes, cinnamon cake and mouse-shaped sweets and chocolates in the traditional snoepjewinkel (sweetshop). Then it was on  to Monnickendam, about 5miles south, where we tied up alongside a huge blue Dutch botter, near the centre of town. There is an old church with a clock tower and Consie remembered seeing this many years ago with her family. When the clock strikes the hour a group of jousting men on horseback chase each other in a circle, and the angel blows his bugle, all proceeded by a carillon of church bells. Quite something!
1st October we set off from Monnickendam and arrived in Amsterdam! We tied up in a tiny marina called Aeolus by 15 Motorkade, from where we could get a free ferry to the central station of Amsterdam; very convenient for June and Pat to catch the train to Paris and on to Barcelona  to see the next boats on their list. We did however have time for an evening out in town and the required walk through the red light district.
Another evening we met up with cousin Katrien and her family in the central Dam square and visited some of the oldest koffie houses in town dating back to the early 16th century.
Roland  was anxious to see one prospective yard and spent two hours in the rain cycling to Zaandam, which was much further away than he thought. It is relatively new, but huge and very suitable to  take Restless in for her winter hibernation. The liftout will be on 15 October, which  has given us a chance to get many  jobs done, to take the sails off, and prepare the masts  for being lifted, etc.....
Cousin Maurits took a day off from work  last week to take us sightseeing in The Hague. We visited  the Mauritshuis to see The Girl with the Pearl Earring and other Dutch art from the Golden Age, including the world's biggest collection of Rembrandts. We also went to Panorama Mesdag, a favourite gallery with a painting 120 metres x 14 metres in a circle, panorama of Scheveningen beach from 1800, still as fresh as it was when Consie last visited it 38 years ago with her grandmother. 
Saturday afternoon Roland put the dinghy into the water and we took it across the punte/ harbour into the canals of Amsterdam, motored past the house of Anne Frank, the Nieuwe Kerk, Oude Kerk, the red light district, and the narrow canals and low bridges from the 1700s. The last day aboard Restless we woke up to find ice on deck! Time indeed to go south!!! The day turned into a beautiful day and a 50-ton crane lifted Restless easily out of the water and she is hibernating in a warm shed in Zaandam.
We are booked to leave Amsterdam Monday 19 Oct, before which we hope to catch up with some more of C's Dutch cousins. We will stop in England a few days, staying with sailing friends Annette and David in Lymington and also to catch up with friends. Then we will fly to Hong Kong to stay with Olivia and James for 3 weeks. Son Gilbert arrives there in early November, after a very busy year in the Med. It will be great to see him before we fly home to Auckland, mid-November. C will then make a side trip to Sydney to see her mother and family.
We plan to stay in New Zealand until mid-March 2010, before returning to Restless via HK again. After preparing for our next cruise we hope to see a bit more of the Dutch canals, before sailing south in early May down the coasts of France, Portugal and Spain into the Mediterranean.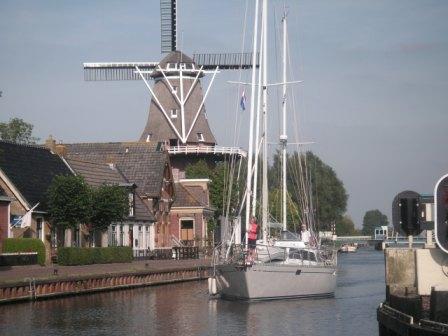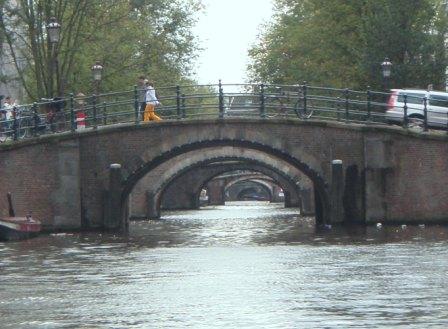 ---