Baddeck, Bras d'Or Lake, Cape Breton, Nova Scotia, 45:05.93N, 60:44.66W

Restless of Auckland
Roland and Consie Lennox-King
Wed 17 Aug 2016 17:12
27.7 we arrived at the Royal Nova Scotia Yacht Squadron, Halifax, where we were made very welcome, and tied to a mooring for 3 days, while we explored the waterfront and Citadel of Halifax. We saw the Scottish pipers and guards of the Citadel, in kilts and buzbies. We had dinner at the RNSYS, sister-club to the Royal New Zealand Yacht Squadron.
Sat. 30.7 we refueled and filled up with water. Set off down the 'Northwest Arm' to the Atlantic Ocean, but not far out of the RNSYS the fog enveloped us. We were in a busy shipping lane, and it was scarey knowing we were wearing our 'invisible cloak' as we felt our way beside the land. Three ships passed us, and we crossed the channel safely out to sea. It was a long day with 5 hours of dense fog, and we were glad to anchor after 84nmiles of motorsailing, at Spanish Ship bay, by Liscomb. It was not to be a quiet night, however, C's 5 sisters and brothers phoned at 0430 to say that our mother had died, peacefully, they were all by her side in Sydney. We felt very far away, almost as far away as one could get, with poor internet and phone connections.
31.7 we motorsailed 50nmiles in sunshine to Dover Bay, where we anchored near a welcoming committee of a dozen seals on a ledge nearby. Two men in a boat with a Labrador and her 2 chocolate pups came to welcome us to their bay, and the pups scrambled around the deck exploring. It would be nice to have a pet, but it does not suit this travelling lifestyle.
1.8 we set off again, heading for Canso, the most eastern town on the north American mainland, and out across Chedabucto bay to the Lennox Passage and the entrance to the Bras d'Or lakes at St. Peters. We saw 2 whales enroute. We locked up about a meter into the Lake, and anchored by St Peters marina for 3 nights, while we provisioned, and gathered information from the locals about good anchorages. (Also they had free wifi, and we wanted to reach Olivia to say Happy Birthday on 4.8).
4.8 we sailed north to Eskasoni, an Indian reservation, where we were picking up Jane and Oliver, who had taken a taxi from Sydney airport on 5.8. We walked around, and saw Indian tepees and canoes, put up for tourists. Wherever we went, locals came to ask us if we needed any information or help. The next day we motored into 30+ knots of wind, and anchored in Johnstown harbour. The following day we sailed to Pringle island, hoping to find wild blueberries, as mentioned in the Guidebook. We were lucky, found blueberries, and some locals, Rita and Stan, who came to invite us to their beach house for a drink, and dinner the following night. We sailed across to Marble Mountain, an abandoned marble quarry, and went for a walk, returned to Pringle island for dinner with our new friends and their family.
9.8, after a visit from another local, we sailed to Gillis Cove, where we stopped for a walk ashore. The next day we dinghied into Orangedale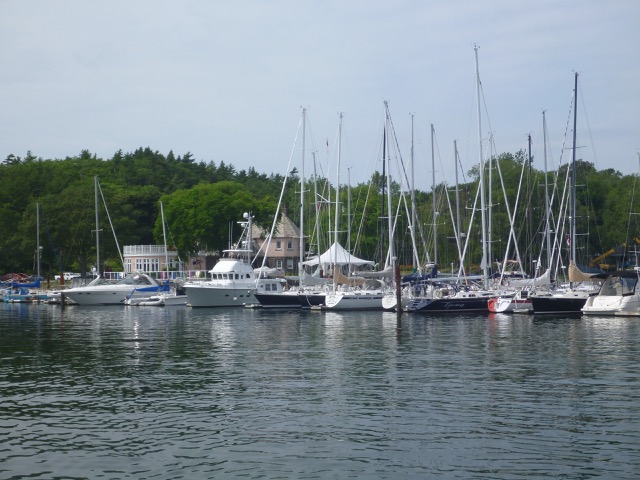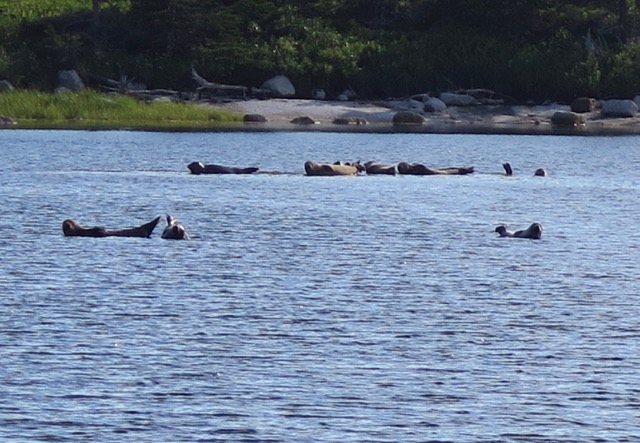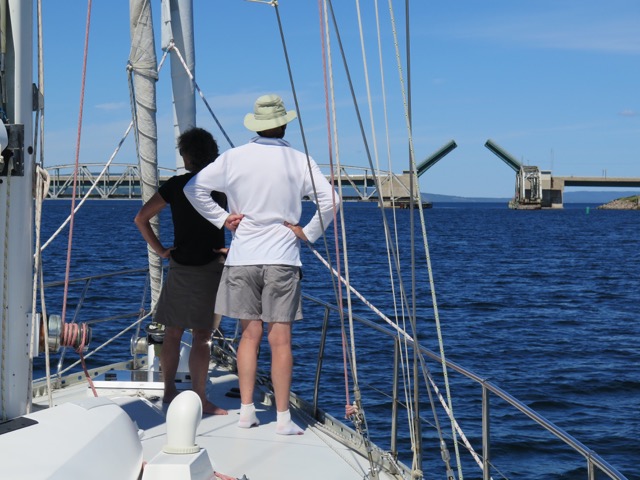 ---