MARMARIS, TURKEY, October 2012, 36:49.00N 28:18.00E

Restless of Auckland
Roland and Consie Lennox-King
Fri 19 Oct 2012 14:47
Marmaris, TURKEY, October 2012, 36:50.00N 28:18.00E
Merhaba (hello)
After Feyona and Andre's month cruising with us in Greece and Turkey, Joanie and Rory joined us for 8 days on 18.9 in Bodrum (Turkey). We had dinner together, şiş kebabs, with June and Pat, who put 'Antares' away in Bodrum for the winter. First a tour round Bodrum's Crusader Castle with underwater museums full of amphorae and glass from ancient wrecks in the morning, and then we were off sailing to Knidos. The 4th century BC ruins called us ashore in the relative cool of the evening, and we climbed up to the ruins of an observatory, sundial, temples, amphitheatres, as we looked over the 2 harbours, joined by an isthmus, both harbours once filled with triremes. If only we had a time-machine to go back and see some of these places 2,000 years ago. The next day we scrambled in 32'C over broken pieces of amphorae past the harbours out to Cape Krio lighthouse, the division between the Aegean sea and the Mediterranean sea. We snorkelled in the bay, but found no sunken wrecks – others had been before us. We sailed 15 nmiles to Datça, where we had fish dinner ashore, followed by baklava/ baklava. Rory and Roland tried kahve/ Turkish coffee, Joanie and Consie had cay/ tea. A meltemi wind blew up, so we took shelter in Degirmen bay, and next morning sailed 13.6 nmiles to Bozburun, a protected harbour dominated by a lovely silver-roofed mosque with its blue minaret. We met up with RCC yacht 'Octavia' for drinks with Harry and Ann, they have cruised Turkey for years, had lots of useful advice.
Another day, another bay, and after sailing 11.7 nmiles we were at Bozuk Bűkű, the ancient city of Loryma, where a walk ashore found a very dry rocky landscape with ancient rock walls and the remains of rock houses, but now all that remained were a few donkeys and an ancient well, and the rocks. A young woman in a dinghy, Jaylan, brought us fresh bread baked by her mother in their handmade woodfire oven, as eaten a thousand years ago! There are a few tavernas in the bay for yachties, the people who run them live there the 6 summer months in tents and on little fishing boats. After breakfast we walked up to the citadel, an unfinished castle with massive stone walls overlooking the enclosed bay.
25.9 we had a lovely lazy 20 nmile run in a light sea-breeze to the entrance of Marmaris bay, where we anchored for the night in front of a thousand hotels, and next day motored into Marmaris to anchor in front of another Crusader Castle, with an enormous Turkish flag. We had Rory's birthday dinner ashore, and heard the muezzins' calls echoing around this tourist town at sunset and at dawn, in fact, 5 times a day, sometimes more tuneful than others. We ordered new mattresses, and Rory helped us to manipulate our old ones into the dinghy and through town. Could we resist a Turkish rug? No, we could not, and Restless is more colourful because of it. Joanie and Rory had a good peep at our lives aboard, and left by dolmuş/ bus the next day for Pamukkale, Aphrodisia, and to Cappadocia, where they spent 3 nights with our friends Viv and Will in their cave-houses. Will booked them a balloon flight over Cappadocia! That's one for the Bucket List! Blow the budget. We met Will 22 years ago, when we sailed up the Red Sea on 'Reverie', and he and his family were on 'Tin Fin'. We hope to visit them next year.
Sunday 30.10 friends from NZ, on catamaran 'Solanjo' arrived in Marmaris bay, and we had lunch and took a dolmuş/ minibus into town for dinner together. We had a drink in a rooftop bar, overlooking the castle and harbours, then ate lamb and beef döner kebabs in a stall behind a mosque. Together we met several other people who were keeping their boats in Marmaris for the winter.
We had several recommendations for Marmaris Yat Marine, so decided to check it out. We found a city of 1600 boats, restaurant, pool, supermarket, library, marine shops, and agents and engineers for most jobs. We ordered "chaps" for our dinghy (protective covers), new cockpit cushions, new mattresses, had our windlass serviced, sorted out an electrical problem, and got designs for a much-needed new galley /kitchen. We went to a close of season party with Turkish folkdancing. All this decided us to sign up for a year's contract at the marina, and we are booked to haul-out 19 October and to go back into the water 25 April 2013. It is a relief to have our winter storage booked. Olivia has booked our flights out of Turkey.
6.10 we woke up at anchor outside Marmaris Yatmarine, to find dolphins fishing in the bay, and a kingfisher swooped past Consie's ear while she was taking photos. Friends David and Annette arrived from Lymington to cruise for a fortnight with us, and we set off next morning for Ekinjik, where we met up with RCC friends Annabelle and Stuart on 'Troubadour' last seen 8 years ago in NZ, we had dinner together on the black sand beach.
8.10 We agreed to hire a riverboat together and go up the river through reeds to the nearby ruins of ancient Caunos. We walked around the amphitheatre and baths, then went on past the Lycian cliffside tombs, stopping for lunch and a walk round Dalyan village, before returning to our boats. We saw several turtles being teased with crabs on a string by local fishermen.
9.10 we had a rare sail 23nmiles to anchor and take lines ashore again at Kűçűk Kuyruk, where we had dinner aboard 'Troubadour'. The next day we motored into Fethiye, much changed since our last visit some 20 years ago, with a huge marina now. We anchored in the first rain we had seen for several months, and heard the muezzins call 5 times a day, echo around the bay. Annette and I visited the museum, while Roland and David visited the local boatyards.
12.10 No sign of any wind, so we hired a car and drove up into the mountains from Fethiye, up to Seki, where there was a market day, everyone dressed in woollen coats and beanies because it was high in the mountains and cold. Then we carried on up mountains with no people anywhere, along stony tracks (in a hire car – which you know can go anywhere – even where 4-wheel drives cannot go) up through ski tracks and down into a valley with a big shallow lake. We asked the way from goatherders, past some of the biggest dogs we have ever seen, guarding sheep and goats, they raced along beside the car, faces at eye-level, I think they would have liked to eat us. We eventually got to Kas, looked at the new marina, had gözleme pancakes from the back of a van in the local market, then went down to the old harbour. We drove back along the motorway, passed Kalkan, missing the ancient ruins of Letoon, Xanthos, and back to Fethiye.
13.10 we left Fethiye, and motorsailed to 22 fathom cove, 11.5 nmiles away, where we anchored and took 2 lines ashore to the rocks. 'Troubadour' came along and joined us, and we had dinner together aboard Restless, dolma vine leaves stuffed with rice, and köfte meatballs.
The next day we set off for a walk to see some ruins, 'Cleopatra's baths'? Well, there are many places that are called Cleopatra's baths, but these ruins were in the water. There were some other small ruins in the bay, and we walked around to where there was a restaurant and had pide lunch, wraps with mince and cheese, baked into a flat pizza with curled up edges. That evening we were invited to drinks on an Amel, called 'Lorna' with a Swedish couple whom Annette and David had met in Vanuatu, Vivimai and Bo. We were invited to dinner on 'Troubadour', a very social evening, we are all trying to empty out our stores before winter when the boats are put away for several months.
15.10 We motored a couple of miles to Tersane creek, a bay with about 20 ruined buildings, an ancient Byzantine and Lycian village with small harbour, some of the buildings have been turned into a small restaurant, and we had a delicious lamb dinner ashore.
All the rules and regulations regarding visas, transit logs, holding tanks, simcards, phones, internet dongles, etc. are not enough to deter people from this wonderful cruising area, with its turquoise waters, friendly people and interesting ruins.
19.10 We hauled 'Restless' at Marmaris Yatmarine, for the winter. Consie flies on 20.10 to HK – Sydney - NZ, and Roland will go to Scotland for a few days and on 3 November will fly to Cartagena to sail on the ARC with kiwis Pam and Keith on their Hanse 53, 'Savarna'. He will fly home to NZ from Santa Lucia on 20 Dec, at the same time as Gilbert and Pip, who will be with us for Christmas in the Bay of Islands.
In 2012 we have sailed from the central coast of Croatia south to Montenegro and Greece, through the Ionian and around the Peloponnese to Poros, from there to Marmaris in Turkey, roughly 1,500 nmiles. Turkey is as colourful and friendly as we remembered it.
See how many words you have learned? Not too hard, is it? It's only difficult when they respond in top speed and you have no idea what they have said.
Allahaismarladik is goodbye, but Gűle gűle (bye from here) is much easier to say.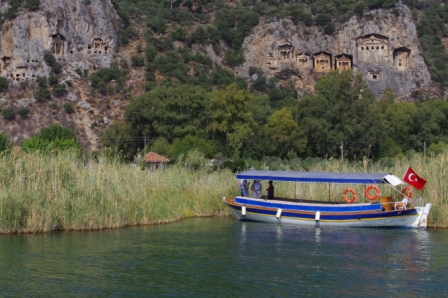 ---