May 2015, CORFU, GREECE TO SIRACUSA, ITALY 37:03.50N 15:16.80E

Restless of Auckland
Roland and Consie Lennox-King
Tue 16 Jun 2015 07:13
May 2015, CORFU, GREECE TO SIRACUSA, ITALY, 37:03.50N 15:16.80E
We anchored in a bay near Gouvia marina, Corfu, getting jobs done aboard, cleaning and varnishing, putting up new mast lights and navigation lights, and met up with some kiwis on Lurata, John and Ken, swapped a few sailing yarns.
Consie's sister Bonnie went into hospital in Sydney with back pain, and their mother went into a private hospital until Bonnie could go home. Our other sister Feyona found a specialist who saw Bonnie, and operated on her back, all in the same day. Hard to be so far away when things like this happen, but hopefully everything will settle down.
20 May we set off to Corfu town to clear out of Greece at the Customs and Port Police, and handed over our Transit Log, walked to the supermarket for provisions, and got ready for sea. We were sad to leave Greece, we have loved sailing around the islands, met wonderful people.
21.5 We did get some sea, and some wind, and it was hazy and cold! We sailed 45nmiles across to the Greek island Othoni, but found the southern Ammou harbour had a huge swell coming in, so sailed around to the northern side of the island, which has a large bay, deserted except by seagulls, which was a good anchorage. Like a lot of Med anchorages still suffered from a swell and was very rolly.
22.5 We set off for Italy soon after dawn, in big confused seas and strong winds the closer we got to Italy. It was 56nmiles to Ste. Maria di Leuca, on the heel of Italy. On the way we used up the remaining Greek minutes on our mobile phone. Due to the big swell we went into the marina, but it too was still rolly. We went ashore and had a real Italian pizza, the town was quite empty, with many eccentric villas, some striped, some with turrets and a blue and white Chinese villa, some were dilapidated, many were for sale. The next day we walked up Mussolini's 288 steps, to the lighthouse at the top of the hill, and a huge Church (at the End of the World) where an Italian wedding was taking place, complete with Rolls Royce and Stretch limo.
24.5 We set off at 0600, as we knew we had about 75nmiles to Crotone, and once again found it very rough and windy at sea, with dark skies and sunny but cold. That night we anchored off the town at Crotone, for yet another rolly night, as the wind swung, but the sea did not. In the morning we filled up with fuel and tied up stern-to the quay. We then walked into town to find the sand-coloured fort we could see from out at sea. This is a living fort, houses and shops have been built into the walls, and the town square was a huge open-air market. A friendly Taswegian from Hobart came aboard for drinks and he won the unofficial competition for storytelling.
26.5 We set off at 0600 for another 75nmile day of sailing, lumpy seas, wind on the nose, and cold and showery. Two pods of porpoises joined us for short visits, and we carefully nosed into the marina at Rocello Ionica, which has a very shallow difficult entrance with reefs. 'You have to line up the fort and tower at the top of 2 hills, then turn east parallel with the breakwater, close to the beach because of reefs' and a friendly harbourmaster, Mr Lombardo, was standing on the rocks telling us to head straight for him, and turn at the last possible second. Here we had a peaceful night after a wonderful pizza – served on a plank of wood, a foot long for each diner - in the marina restaurant, and a good hot shower. The next day we hired a car and drove up into the mountains of the boot of Italy, and walked around an ancient walled town, Gerace, where the tiny crooked houses are connected, and they have plantpots instead of gardens. Very friendly! We then drove back to the town by the marina, and walked up to the fort, only got halfway as they are rebuilding the walkway and restoring the fortress. Needless to say, we also found a supermarket which enabled us to take advantage of having a car and stock up with heavy items.
Another 2 foot long pizza, and if this carries on we will get very FAT!
29.5 This day we set off at 0500 for a long 100nmiles to Siracusa, southern Sicily. This was a much nicer sunny day, with some wind and some moderate seas. We motorsailed past Mt Etna, with head in her own smoke-clouds, to arrive before dark and anchored near Dionysos fort, built 450BC, still very impressive. The next day Roland could not resist getting the Bic dinghy out for a zip around the bay. We took our dinghy into the canal and walked around the fortress island of Ortigia, found the open-air market and bought fresh tuna, fruit and vegetables, and explored the narrow alleyways and the open-air archaeologists' digs of the Temple of Apollo. We took our dinghy around the edges of the island to see the fortress ramparts.
2.6 We swapped cruising information with the owners of Benevenuto and Three Sheets, they are heading towards Greece and Turkey, then we set off to motorsail 27nmiles to Marzamemi, which has a small, but friendly marina, at the bottom of Sicily, which was to be our jumping off point to Malta.
Much has been on the news about the hundreds of thousands of migrants setting off from Africa in overcrowded boats, and we have seen some of these brightly painted boats on the rocks outside marinas, probably left there by the coastguards, abandoned to tell their own tales of misery.
We will update in a couple of days with the news of our new granddaughter Mia's arrival in Hong Kong on 11 June!
---
This email has been checked for viruses by Avast antivirus software.
www.avast.com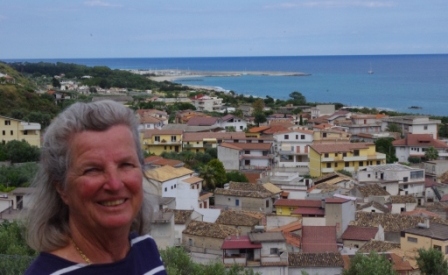 ---